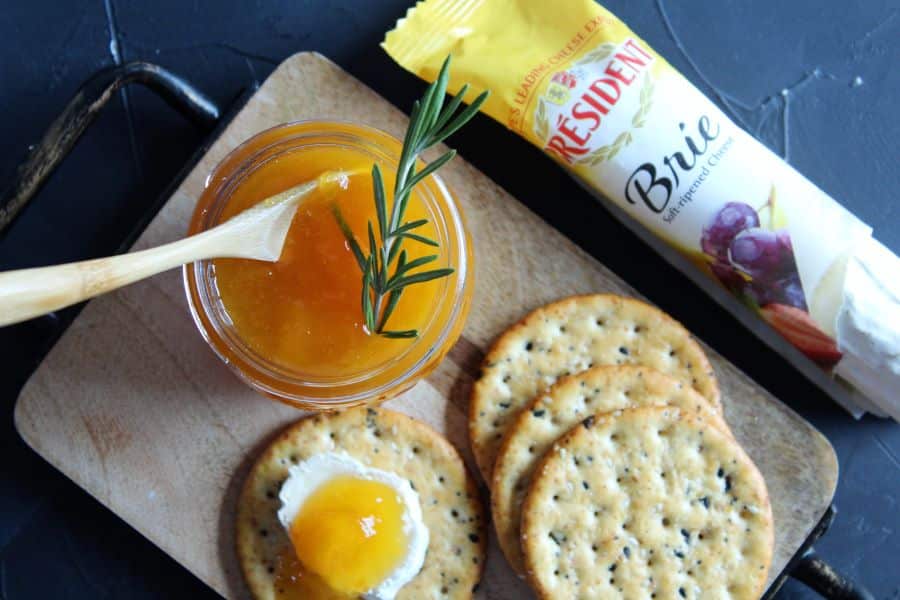 Homemade Rosemary Infused Peach Jam
Yes, homemade jam can be easy, especially with this Rosemary Infused Peach Jam recipe. With just five simple ingredients this jam comes together in one pot and in about an hour. Sure, you could pick up a jar from the store, but there's a sense of satisfaction in knowing that you created something so delicious and beautiful yourself.
Stone fruits work beautifully in jam and they pair wonderfully with a bloomy cheese like Président® Brie. This recipe uses peaches, but you can substitute nectarines or apricots if you prefer. The added rosemary brightens up the flavors without being too overwhelming. First, rosemary greets your taste buds, followed by the fruity flavors of sweet jam and creamy Président® Brie – a truly perfect pairing!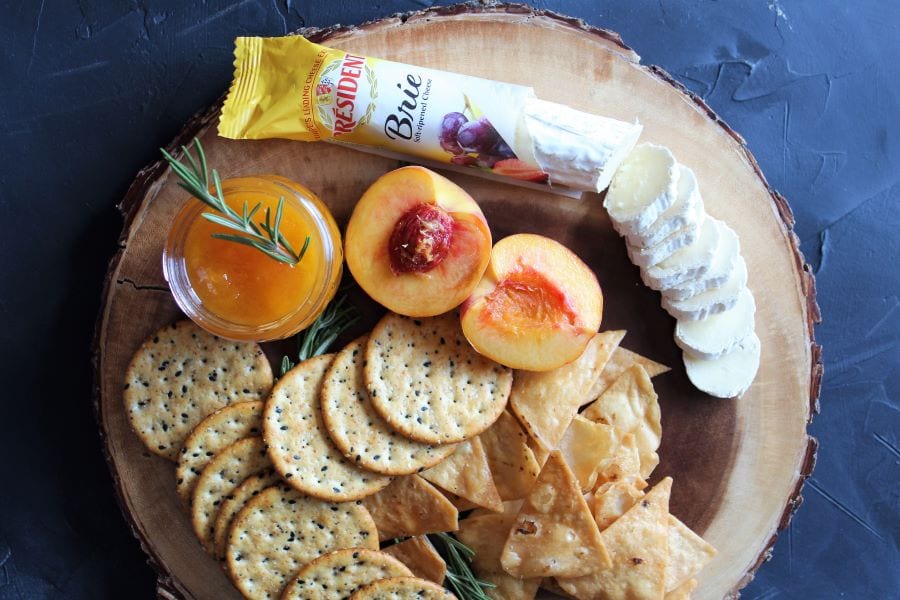 Typically, pectin, a naturally occurring substance found in some fruits, is added to jams as a thickener. You can get that familiar texture in jams and jellies by combining pectin with sugar during the cooking process. However, this simple recipe doesn't need added pectin to get a great texture. Instead, the lemon juice and sugar will thicken the jam as it cooks down and cools. Combine gently mashed peaches, lemon juice, sugar and a sprig of fresh rosemary and cook together for about an hour. As the mixture cools, it becomes thick.
When served, the smooth and creamy texture of Président® Brie pairs perfectly with the sweet jam atop a crispy cracker. The addition of rosemary adds a sophisticated touch without extra work or stress.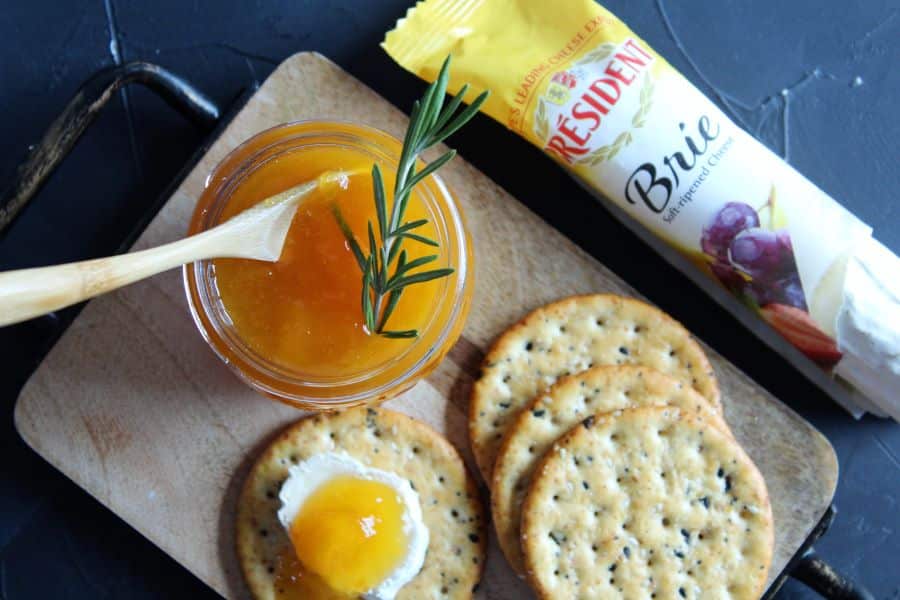 This homemade Rosemary Infused Peach Jam is best after it has cooled and been chilled to set, making it perfect to prepare ahead of time. When it's time to put your serving plate together, grab your favorite crackers or flatbread and Président® Brie! The sliceable Brie log is perfect for letting guests serve themselves. But if you know that your guests are jam aficionados, you can pour the jam over a Brie round for a simple and elegant presentation. Garnish your fixings with fresh rosemary and serve this tasty board of flavors and textures at your next book club, girls' night or date night in!
Rosemary Infused Peach Jam
Prep time: 15 minutes
Cook time: 1 hour
Makes: about 2 cups
Ingredients
2 lbs. fresh ripe peaches, peeled and chopped
2 tsp lemon zest
2 tbsp fresh lemon juice
2 cups white sugar
1 sprig fresh rosemary
TIP: Nectarines or apricots can be substituted for peaches.
Directions
Add chopped peaches, lemon zest, and lemon juice into a large pot, such as a Dutch oven. Heat over medium heat for about 15 minutes. Stir occasionally, and mash peaches with either a masher or back of a wooden spoon as you're stirring. A few chunks are ok.
Stir in the sugar until it is completely dissolved. Stir in the whole rosemary sprig.
Bring to a boil over med-high heat while stirring, for about five minutes. Reduce the heat to low, and simmer for about an hour, stirring occasionally.
Remove from heat. Remove the sprig of rosemary, and any leaves that may have fallen off. Cool completely. The jam will thicken as it cools and chills.
Store in an airtight jar or container in the refrigerator.
Serve with crackers and Président® Brie