President Cheese
Président® Valbreso Feta® 100% Sheep's Milk Feta Chunk
Made from 100% sheep's milk in the southern region of France, Président® Valbreso Feta® has a unique creaminess. It is a delicate balance of rich tanginess that is like no other.
PRODUCT OF France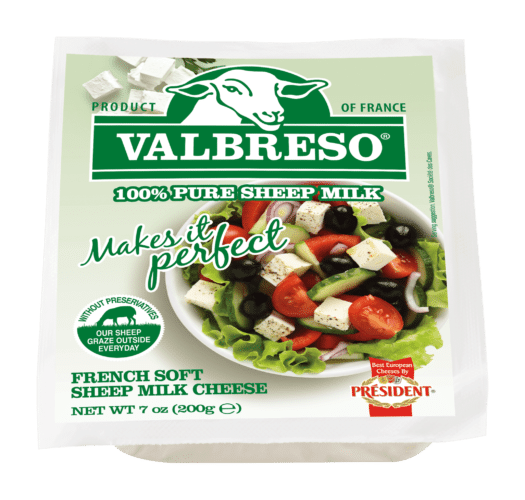 Wine Pairing
Metaxa, Ouzo, Sauvignon Blanc, Dry Greek wines, Retsina, pinot noir, light reds, Beaujolais, and Gewurztraminer
Food Pairing
Olives, cucumbers, herbes de Provence, tomatoes, beets, endive, dill, and mint.
Beer Pairing
American Pale Ale (APA), Belgian IPA, Belgian Pale Ale, English Bitter, English Strong Ale, Hefeweizen
2020
World Championship Cheese Contest (Wisconsin Cheese Makers Association Awards)
Président® Valbreso Feta® 100% Sheep's Milk Feta Chunk
1998
World Championship Cheese Contest (Wisconsin Cheese Makers Association Awards)
Président® Valbreso Feta® 100% Sheep's Milk Feta Chunk
Sheep's Milk Cheeses Category
2006
World Championship Cheese Contest (Wisconsin Cheese Makers Association Awards)
Président® Valbreso Feta® 100% Sheep's Milk Feta Chunk
Soft and Semi Soft Sheep's Milk Cheeses Category
1997
US Championship Cheese Contest (Wisconsin Cheese Makers Association Awards)
Président® Valbreso Feta® 100% Sheep's Milk Feta Chunk
Feta Category
2002
World Championship Cheese Contest (Wisconsin Cheese Makers Association Awards)
Président® Valbreso Feta® 100% Sheep's Milk Feta Chunk
Sheep's Milk Cheeses Category
| | | |
| --- | --- | --- |
| Per 1oz (28g) serving | | % Daily Value |
| Calories | 70 | - |
| Total Fat | 6 g | 8 |
| Saturated Fat | 4.5 g | 22 |
| Trans Fat | 0 g | - |
| Cholesterol | 20 mg | 6 |
| Sodium | 300 mg | 13 |
| Total Carbohydrate | 0 g | 0 |
| Dietary Fiber | 0 g | 0 |
| Sugars | 0 g | - |
| Protein | 4 g | - |
| Vitamin D | 0 mg | 0 |
| Calcium | 67 mg | 6 |
| Iron | 0 mg | 0 |
| Potassium | 17 mg | 0 |