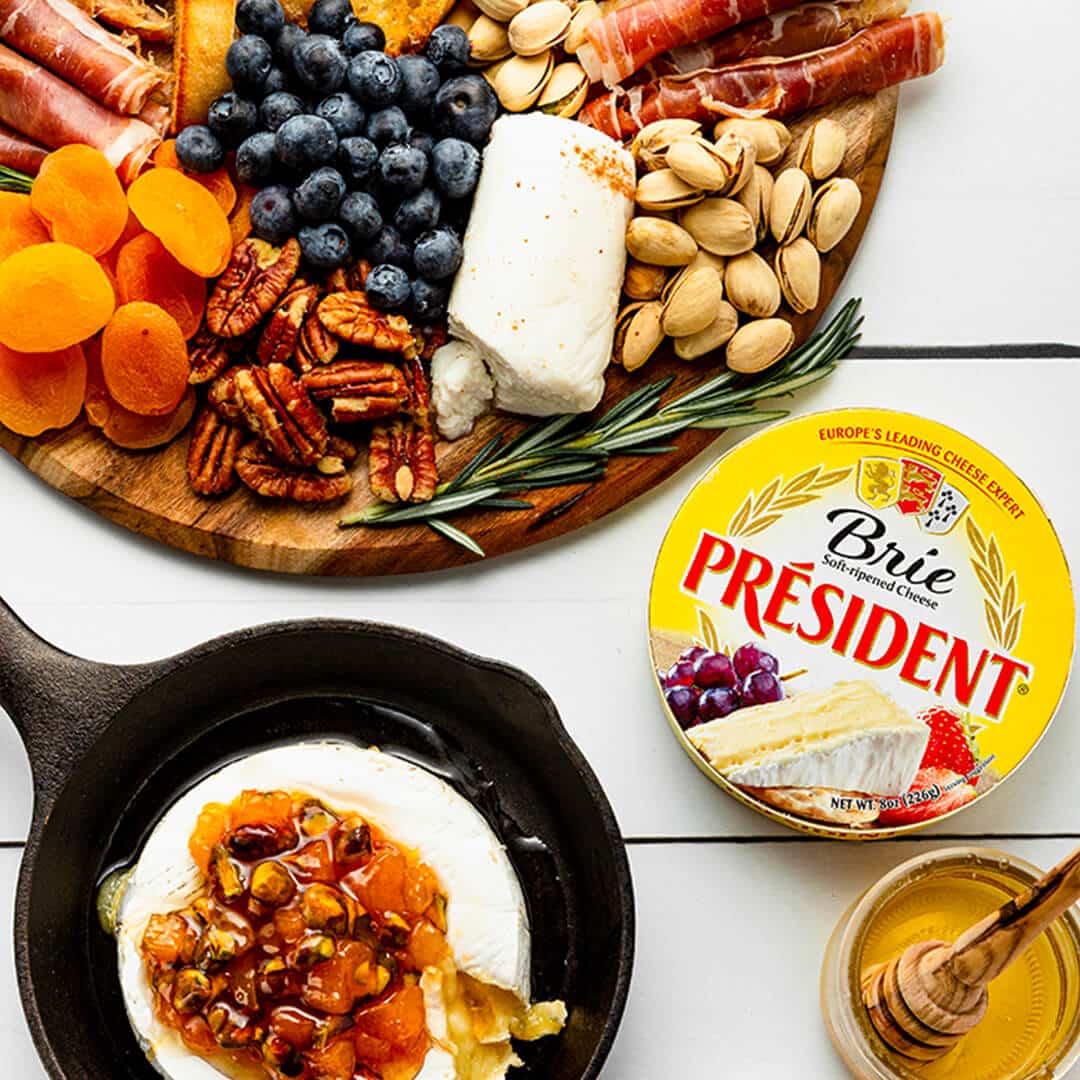 Président® Brie Sweet Cheese Board with Caramelized Nuts and Jam
Hold onto the sweet taste of summer with this Brie appetizer topped with caramelized nuts and apricot jam. This appetizer will offer your guests the perfect sweet cheese board, which will leave them coming back for more!
Prep Time
20 min
Cook Time
25 min
Ingredients
1 French baguette, thinly sliced
2 tbsp Président® Unsalted Butter, melted
1 Clove garlic, peeled
3/4 cup Apricot jam or preserves, divided
1/4 cup pistachios, de-shelled and chopped
1/4 cup pecans, chopped
8 oz Président Brie Cheese Round, rind on
5.28 oz Président Don Bernardo® Manchego Cheese wedge
4 oz Président Goat Cheese Log
1 cup Fresh blueberries
1 cup Dried apricots pieces
1 cup pistachios, shells on
1/2 cup Whole pecans
1/2 lb prosciutto, thinly sliced
Fresh rosemary twigs, for garnish
Optional: Fresh honey, to drizzle
Instructions
Preheat the oven to 375 degrees fahrenheit.
Cut the baguette into 1⁄2 inch slices and arrange on a foil lined baking sheet.
Evenly brush the melted Président® Unsalted butter onto the open tops of the bread slices. Holding the peeled garlic clove, gently rub the garlic onto the buttered bread. Put the pan in the oven and toast for 10 minutes, or until the tops are slightly golden. Remove from the baking sheet.
In a small bowl, combine the 2 tablespoons of the apricot jam, 1/4 cup chopped pistachios and 1⁄4 cup chopped pecans. Mix until all the nuts are evenly coated and set aside.
Place the Président® Brie round in a small oven safe dish or small cast-iron skillet. Gently spread 1 tablespoon of apricot jam over the top of the brie. Top the brie with the jam and nut mixture.
Place the dish (or skillet) on the baking sheet to catch any melted cheese. Bake for 10-15 minutes on the middle rack. The brie should be softened and just starting to melt. Remove from the oven and let cool slightly before placing onto your serving board.
Arrange the serving board with a wedge of Président® Manchego cheese, Président® Goat Herb Log, toasted baguette slices, fresh blueberries, dried apricots, shelled pistachios, whole pecans, sliced prosciutto and rosemary twigs. Place remaining jam in a small dish with a jelly knife for serving.
Optional, drizzle fresh honey over the baked brie for an added touch of sweetness.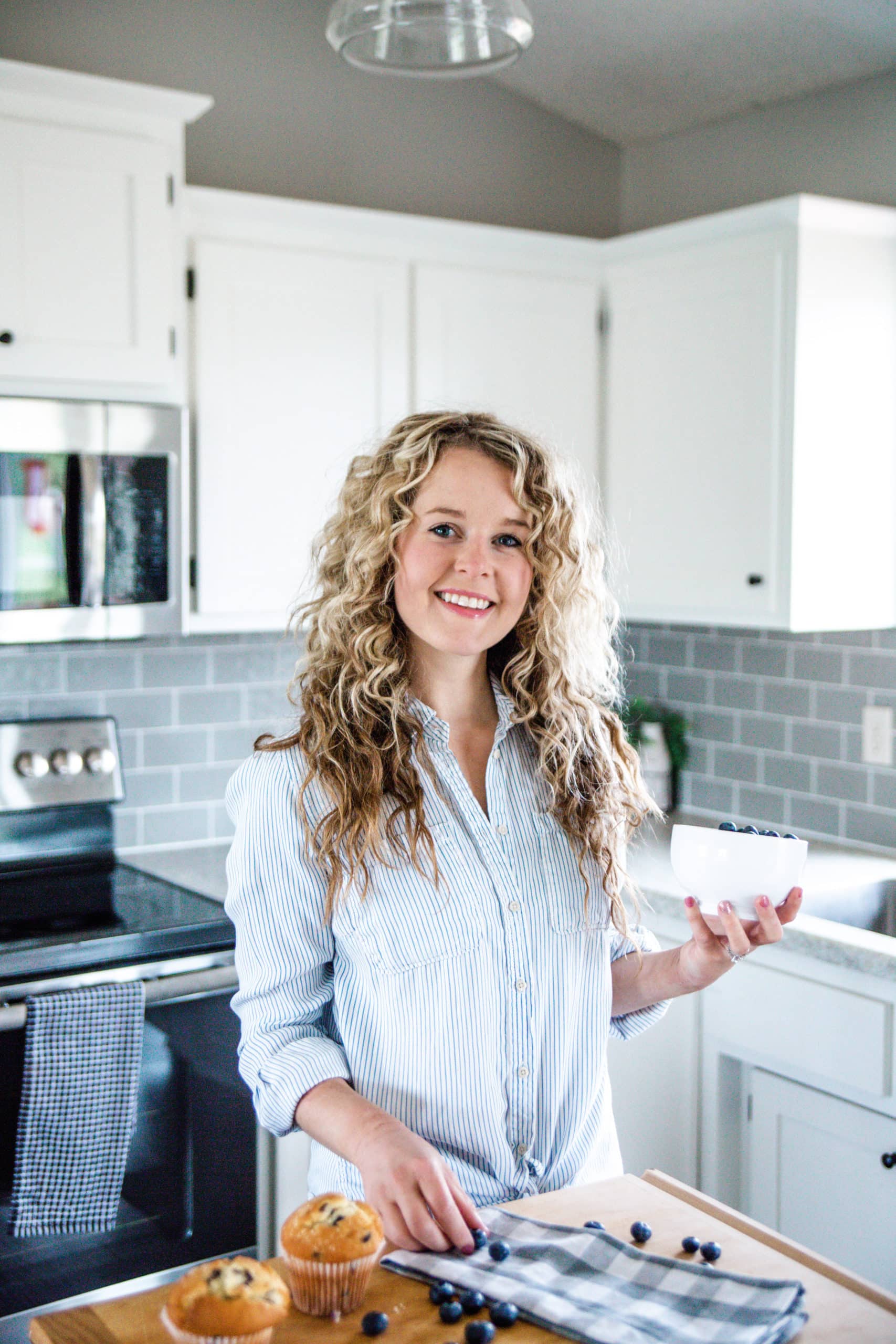 Recipe by
Sarah Marier
Sarah is a recipe developer and commercial food photographer at The Dainty Blueberry. Her passion is to create recipes that not only bring families back together around the table, but look beautiful too. Sarah is a busy mom of five little ones and loves getting them involved with cooking in the kitchen. When she is not behind the camera, Sarah can be found exploring the great outdoors with her husband and children in the beautiful state of Minnesota.
The Dainty Blueberry