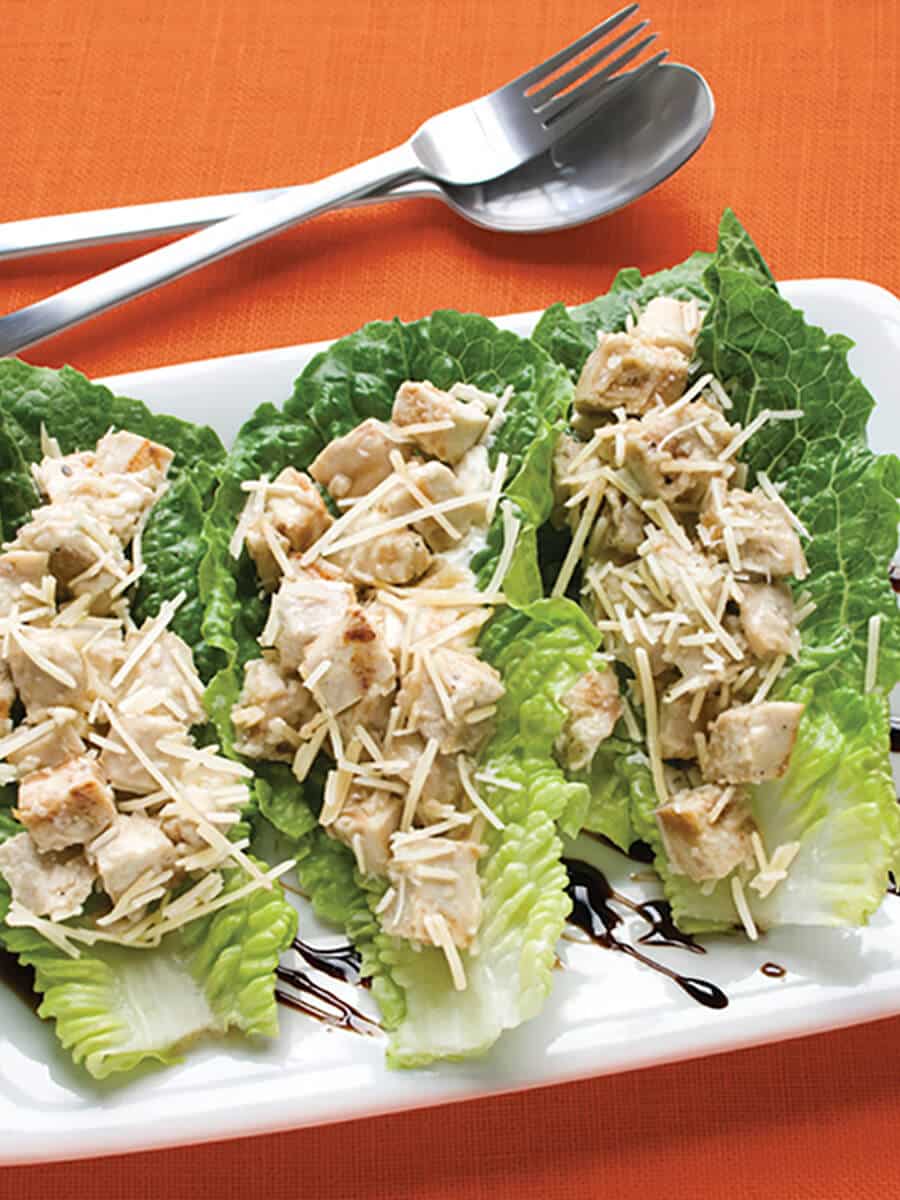 Gourmet Spreadable Cheese & Chicken Caesar Salad
A twist on a classic Caesar salad, rondelé Peppercorn & Parmesan Gourmet Spreadable Cheese adds a boost of creamy decadence. Romaine leaves are brushed with a generous layer of the spreadable cheese, topped with grilled chicken and drizzled with a sweet balsamic reduction.
Prep Time
60 min
Cook Time
25 min
Ingredients
8 oz Skinless Boneless Chicken Breasts
2 tbsp Olive Oil (Extra Virgin)
Sea salt
Ground Black Pepper fresh
1 cup Balsamic Vinegar
1/4 cup Brown Sugar
2 cup Parmesan Cheese grated
1/4 cup Caesar Dressing prepared
2 Romaine Hearts
8 oz rondelé® by Président® Peppercorn Parmesan Gourmet Spreadable Cheese
Directions
Preheat grill to medium high.
Toss the chicken in a bowl with olive oil, and season with salt and pepper.
Grill chicken breasts 3-4 minutes per side until done.
Cool slightly and dice into 1/4" cubes. Chill.
Heat vinegar and brown sugar in a non-reactive saucepan over medium high heat until reduced by 3/4 of its original volume, approximately 10-15 minutes.
Chill balsamic reduction for 40 minutes.
Toss chicken with the dressing and one cup of Parmesan cheese and set aside.
Remove 12 inner romaine leaves from the hearts, using just the smaller 6" leaves (reserve the outer leaves for another dish). Wash the inner leaves, stuff each romaine leaf with 2 tablespoons rondelé® by Président® Peppercorn Parmesan Gourmet Spreadable Cheese.
Spoon chicken mixture onto stuffed romaine leaves. Top with remaining Parmesan cheese.
Can be prepared up to this point and stored, tightly wrapped in the refrigerator for up to 1 hour prior to serving.
To serve, drizzle the balsamic reduction on each plate or on the platter and then place the stuffed romaine leaves on top. Serve chilled.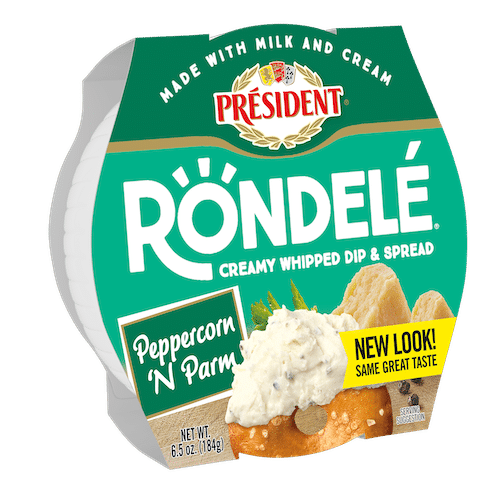 Rondelé® by Président® Peppercorn 'N Parm
Touch of parmesan and kick of pepper in this distinct spread.
Learn More