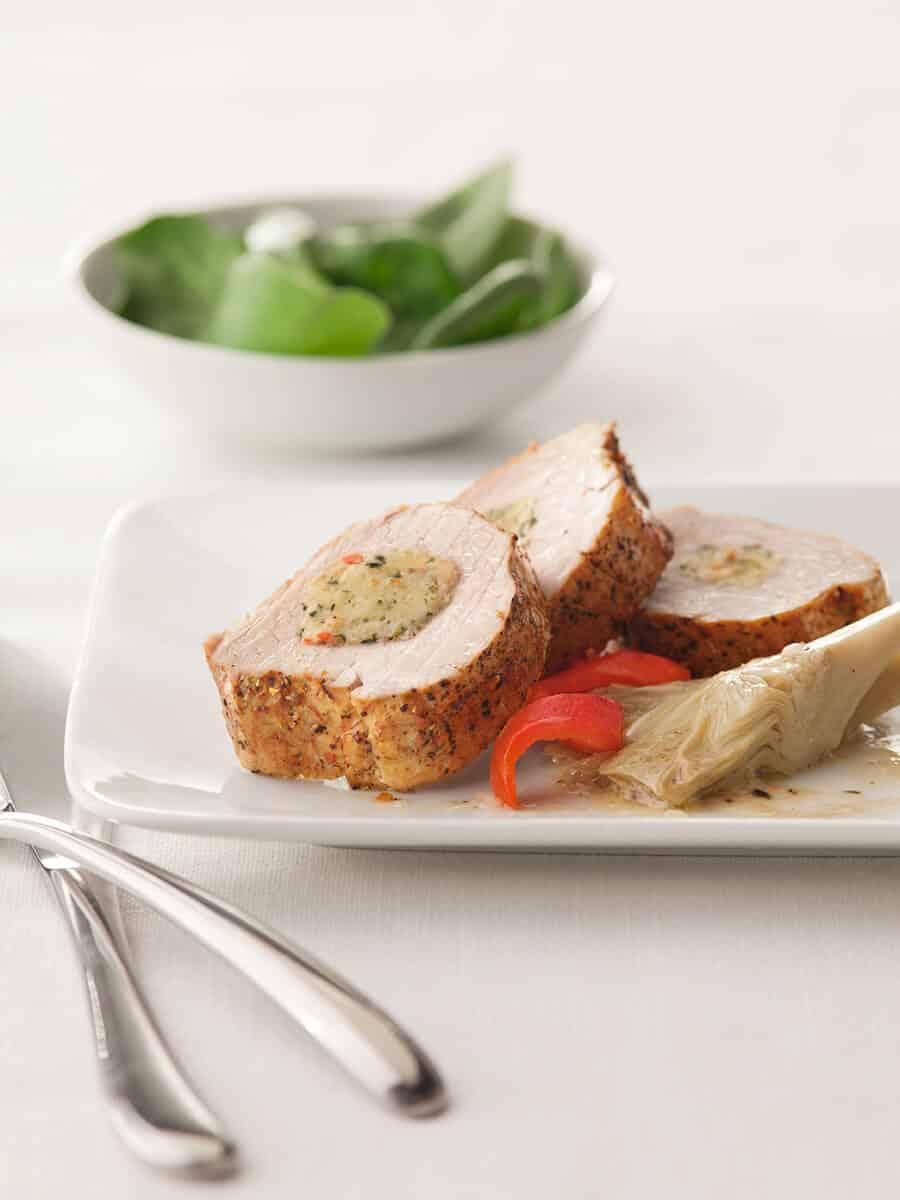 Pork Tenderloin with rondelé® by Président® Garlic & Herbs Cheese Spread and Roman Artichokes
Pork tenderloin is stuffed with a delicate blend of spinach, panko breadcrumbs, roasted red peppers and rondelé Garlic & Herbs Cheese Spread. A sherry wine and cream sauce beautifully complements the juicy sweetness of the pork.
Prep Time
30 min
Cook Time
50 min
Ingredients
18 oz Pork Tenderloin
4 oz rondelé® by Président® Garlic & Herbs Cheese Spread
1 cup Panko Breadcrumbs
1/4 cup Roasted Red Peppers diced small pieces
4 tbsp Butter
2 cup Baby Spinach
1 Egg
2 tbsp Olive Oil
Salt and Pepper
1/4 cup Dry Sherry
2 tbsp Heavy Cream
Directions
Preheat grill on low.
Cut pork tenderloin skin in half.
With a long knife, make a slit in the middle of each so stuffing can be piped in. Trim pork tenderloin of silver.
On medium heat, melt 2 tablespoons butter.
Add spinach. As it begins to wilt, add rondelé garlic and herb spread, panko and roasted red peppers. Stir and remove from heat.
Add 1 egg beaten to mixture and stir. Remove from pan and let cool for 15 minutes in refrigerator.
Place filling in a pastry bag and fill both pieces of pork tenderloin.
Coat pork in olive oil, dash salt and pepper. Place on grill for approximately 25 minutes turning gently every 5 minutes to cook all sides. Remove from grill.
Heat a 12-inch sauté pan on medium heat. Add sherry wine, bring to a simmer.
Add 4 tablespoons rondelé garlic and herb spreadable cheese, 2 tablespoons butter, 2 roman artichokes (marinated artichokes) cut in half lengthwise. Simmer and add 2 tablespoons heavy cream. Simmer for a minute until sauce comes together.
Slice pork tenderloin in 2 inch slices. Arrange on a dish with artichokes and finish with sherry cream sauce.