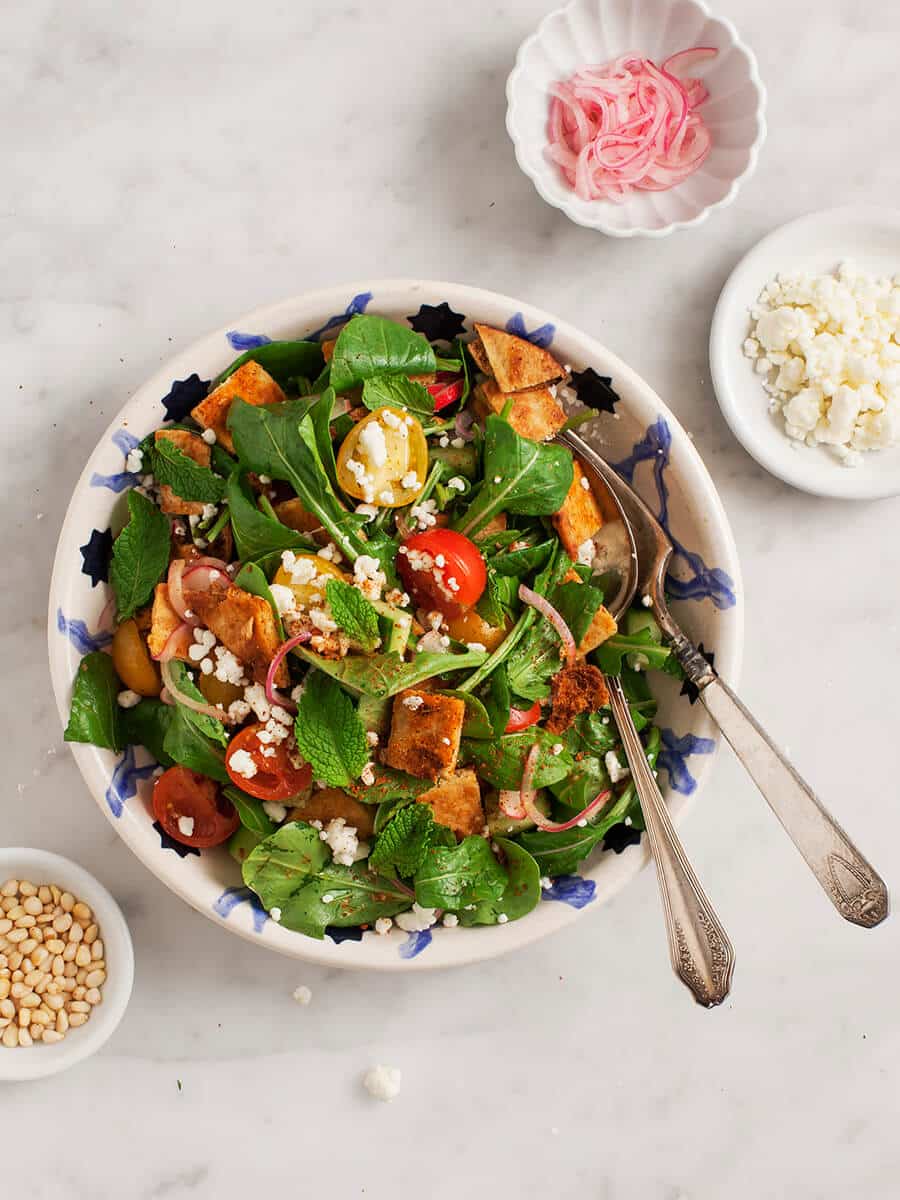 The Feta Fattoush(-ish)
A Middle Eastern bread salad made with toasted stale pita, tomatoes, cucumbers, Feta and smoky Harissa. The Feta balances out the smoky flavors with its tangy saltiness in this uniquely bold salad.
Prep Time
20 min
Cook Time
15 min
Ingredients
2-3 whole wheat pitas
Few tbsp olive oil
Few tbsp dried harissa
1 cup cherry tomatoes halved
1/2 tbsp sherry vinegar
2 cup arugula
1 medium cucumber diced
3 radishes sliced thin
1/4 cup pickled red onions* (optional)
1/4 cup Président® Regular Feta Crumbles
1/4 cup Président® Valbreso Feta® Crumbles
1/4 cup pine nuts
handful of mint leaves
Salt & pepper to taste
Salad Directions
Preheat oven to 350 degrees.
Slice pitas into 1-inch pieces. Toss with 1 teaspoon olive oil, salt, pepper and dried harissa spice.
Bake in the oven until golden brown and toasted (about 10-15 minutes).
Place sliced tomatoes in a small bowl, along with a drizzle of olive oil, sherry vinegar (about 1/2 tablespoon each) and a generous amount of salt and pepper. Let sit at room temperature for about 20 minutes, while you assemble the other ingredients.
Assemble the salad with arugula, diced cucumber, sliced radishes, pickled onions, Président® regular feta crumbled plain and Président® Valbreso Feta, tomatoes, toasted pita, pine nuts and mint. Add more harissa to taste.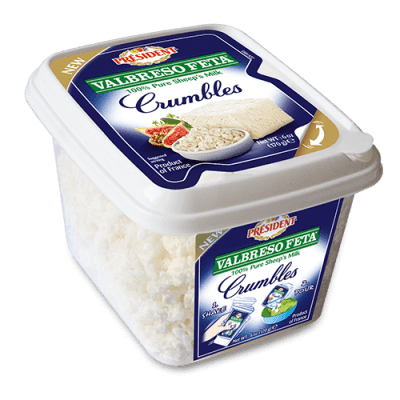 Président® Valbreso Feta® 100% Sheep's Milk Feta Crumbles
Crumbly white cheese with a fresh, tart taste.
Learn More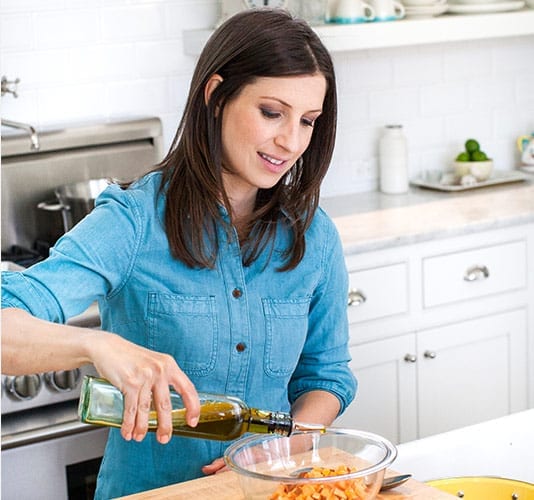 Recipe by
Jeanine
Jeanine, the voice behind Love & Lemons, loves to cook and is inspired by seasonal produce—the more colorful, the better! She has created all of the mostly vegetarian recipes since beginning the blog in 2011; her husband Jack helps taste-test, and together they photograph the finished products in their kitchen in Austin, Texas. Jeanine's goal is to inspire her readers to get creative with vegetables, whether they're vegan, gluten-free or just love good food. In addition to writing Love & Lemons, Jeanine also contributes to sites like Food 52, Refinery29 and SELF magazine.
Love & Lemons