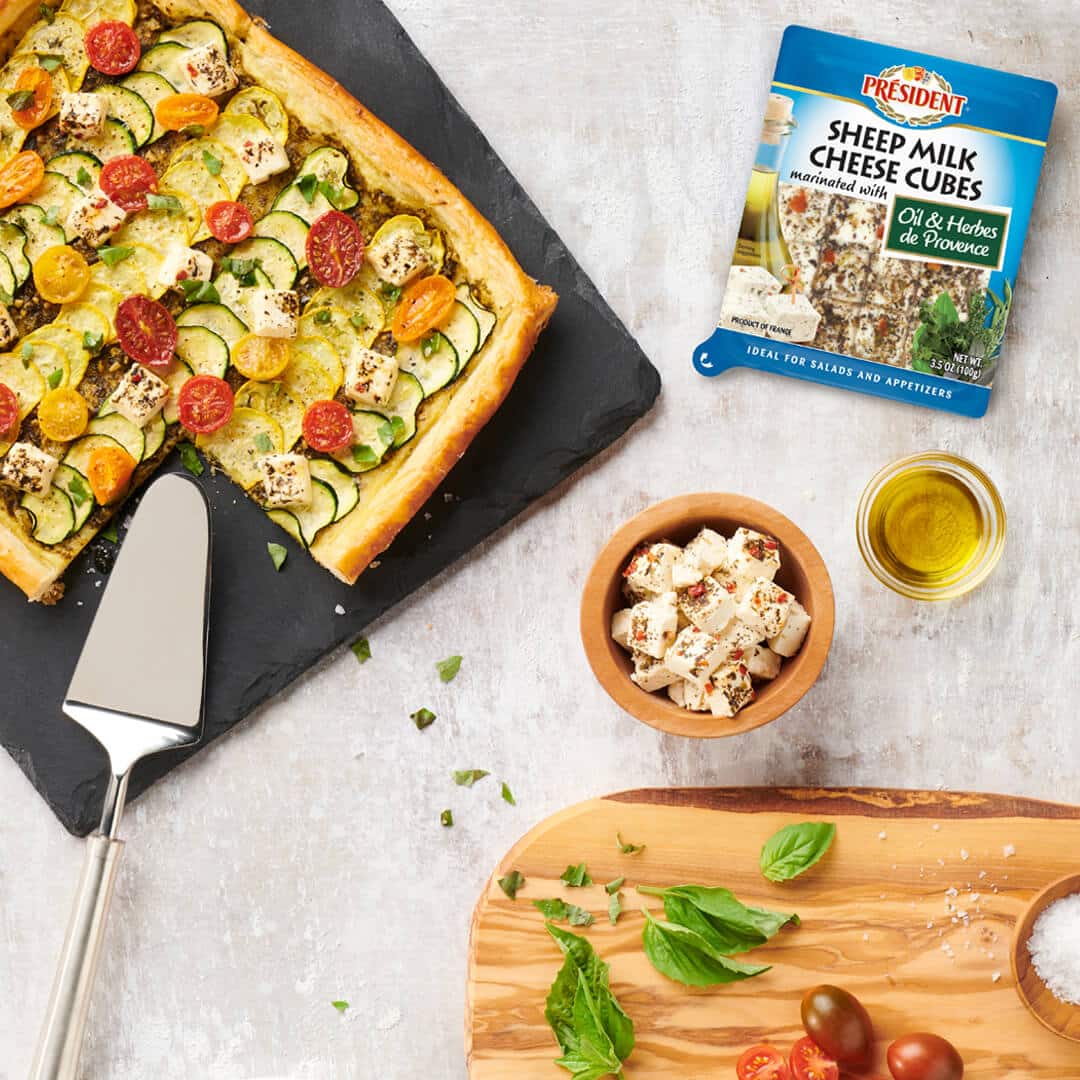 Layered Squash & Tomato Président® Sheep Milk Cheese Cubes Tart
Prep Time
15 min
Cook Time
20 min
Ingredients
3/4 package Président® Sheep Milk Cheese Cubes Best Flavor Match: Oil & Herbes de Provence
OR 1 package Président® Feta Chunk, sliced into cubes
1 whole Zucchini Small, Thinly Sliced
1 whole Yellow Summer Squash Small, Thinly Sliced
1/4 tsp Salt
1 whole Frozen Puff Pastry Thawed
2 tbsp Pesto
10 whole Cherry Tomatoes Halved
1 whole Large Egg Whisked
2 tbsp Basil Leaves Coarsely Chopped
1 pinch Flaky Salt
Instructions
In a bowl, toss zucchini and summer squash with salt. Let sit for 10 minutes. This will help pull some of the moisture out of the vegetables. Then use paper towels to dry off moisture from zucchini and summer squash.
Put a piece of parchment paper onto a baking sheet. While waiting, use rolling pin to gently roll out puff pastry on the parchment, lightly stretching.
Use a knife to make a 3/4 inch border around the edges, being careful not to cut all the way through the puff pastry. With a fork, poke crust in five spots inside the border.
Brush puff pastry with pesto, inside the border only. Arrange summer squash and zucchini inside the border, on top of pesto. Top veggies with tomatoes. Brush border of puff pastry with egg wash.
Bake for 10 minutes, then distribute Président® Sheep Milk Cheese Cubes OR Président® Feta Chunk sliced into cubes evenly over vegetables. Bake another 10 minutes, until edges of pastry are golden brown and puffed up. Remove from oven and top with basil leaves and a few pinches of flaky salt, drizzle of olive oil. Cut into squares and serve.