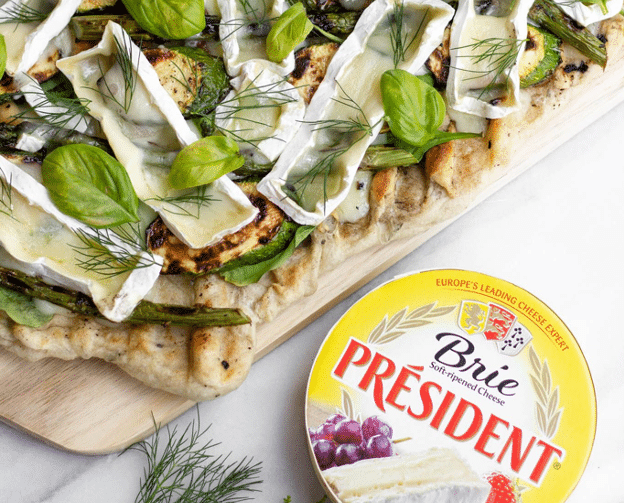 Président® Brie Farmer's Market Grilled Pizza
Fire up the grill! You don't need a fancy wood-burning oven to create a delicious and gourmet pizza. Use your favorite pizza dough (a store-bought version is just fine in a pinch), some fresh-picked produce and delicious Président® Brie to make your new go-to grilled supper!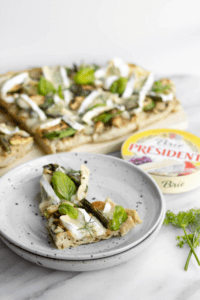 Farmer's Market Fresh
Using fresh and seasonal ingredients is the key to making the most flavorful pizza (or any recipe for that matter) because when you use ingredients that are in-season, they're picked at their peak ripeness.
The beauty of a recipe like this is you get to choose what ingredients you want to include: you can pick up whatever is in season at your local Farmer's Market. This time of year, I found plenty of green things at the Farmer's Market: zucchini, kale, spinach, and asparagus. However, later in the summer, depending on where you're shopping, you may find freshly picked corn, tomatoes, zucchini, onions…the options are endless. Choose your favorite and get grilling!
It's In The Dough
While the convenience of a store-bought pizza dough may be tempting, try your hand at making your own, this way you control the ingredients going into it. Adding fresh herbs in this recipe creates a dough that has all that Farmer's Market freshness built right into the pizza's crust. A little extra planning is required, but you won't regret the extra time spent taking the crust to the next level.
The Fine Finish
What really makes this pizza special is the cheese. Président® Brie adds an elegant element to this beautiful Farmer's Market Grilled Pizza. The Brie slices are added last, when the pizza is just about finished, slowly melting into every tiny nook that isn't already covered by lightly charred vegetables. The cheese's decadence offsets the smokiness in an unexpected yet complimentary way.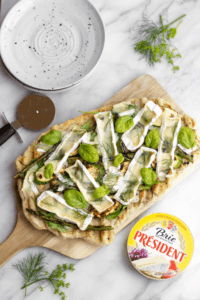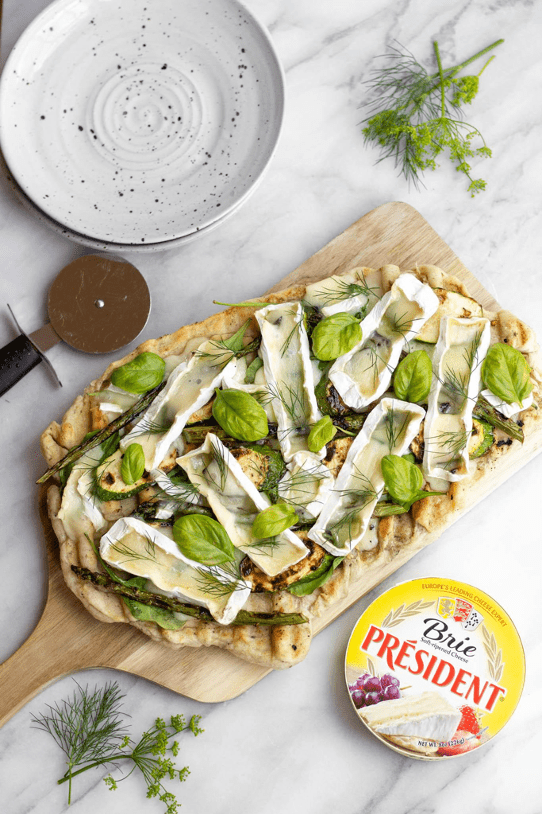 Recipe
Herby Pizza Dough:
1 cup warm water (between 100 and 110 degrees)
1 package dry yeast (about 2 ¼ teaspoons)
1 tsp sugar
2 cups plus 2 Tbsp all-purpose flour (extra for working)
1 Tbsp + 2 tsp olive oil, divided
1 tsp each fresh thyme and rosemary, chopped
½ tsp salt
For the Pizza:
1 wheel of Président® Brie Cheese
2 Tbsp olive oil
2 cloves garlic
1 small zucchini, cut into ¼ inch slices
4-5 asparagus spears
½ cup spinach leaves
Cup delicate herbs chopped, such as basil, dill, or oregano

Instructions
Herby Pizza Dough:
In a small bowl mix water, yeast, and sugar. Once combined, cover and allow to stand for 10 minutes, until bubbly.
In the bowl of a standing mixer with the dough hook attached, add the flour, 1 tablespoon olive oil, herbs, and salt. Once the yeast mixture is ready, add to the flour.
Mix until combined and a soft dough forms, about 5 minutes. Place dough in a large bowl coated with cooking spray.
Cover with a dishtowel and place it in a warm corner of your kitchen. Allow to rise at least 6 hours. (You can make this dough in advance; allowing it to rise in the refrigerator will take 24 hours.)

If refrigerated, remove an hour before you're ready to use, allowing it to come to room temperature. Punch dough down.

Brush 1 teaspoon olive oil on baking sheet. Transfer dough to a baking sheet, using lightly oiled fingers to shape the dough into your desired shape. Brush remaining teaspoon of oil on top of the dough.
Pizza:
Preheat the grill to 400 degrees Fahrenheit
Add zucchini slices and asparagus to a medium bowl. Add 2 cloves minced garlic and drizzle with 2 tablespoons olive oil. Toss to combine.
Add vegetables to grill using a grilling basket or take extra caution to place the vegetables perpendicular to the grill grates so they don't fall through. Grill until softened and slightly charred, about 5 minutes total. Remove from grill and set aside.
Invert pizza crust on to grill from baking sheet. Allow to grill until lightly charred, about 2 minutes. Flip pizza crust and immediately start layering on grilled zucchini, asparagus, and spinach. Cover grill, cooking for 4 minutes.
Add slices of Président® Brie Cheese, closing the lid to allow the cheese to melt, about 2 minutes.
Once the cheese is melted and vegetables have softened, remove pizza from grill and allow to slightly cool before enjoying!
About The Author:
Jamie is the voice, author, and creator of the food and lifestyle blog, So Happy You Liked It. Focused on balance, her website provides helpful tips, nutritious recipes (with the occasional indulgence), and an authentic inflection in her writing. When not creating in the kitchen, you can find her teaching cycling, entertaining, or planning her next adventure.