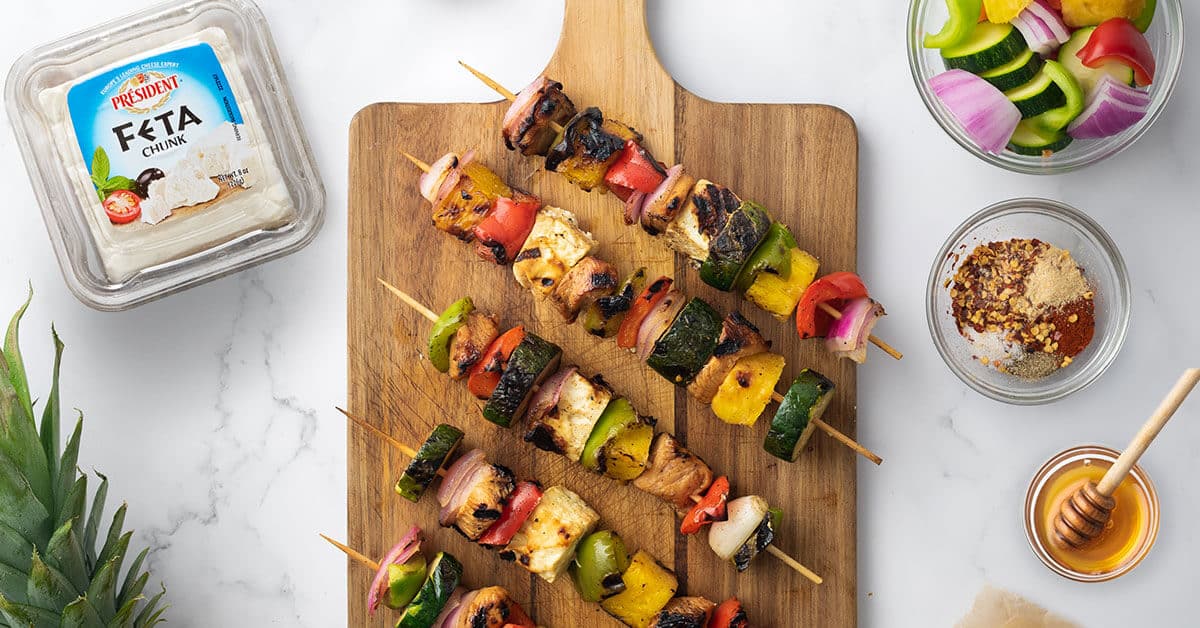 Flavorful Recipes For Your 4th of July Festivities
Hosting friends and family is one of the best ways to connect with loved ones during the busy summer months, so we've prepared the ultimate menu for your backyard festivities this 4th of July. From savory and sweet appetizers to melt-in-your-mouth entrees, there's something for everyone to enjoy when accompanied by our wide range of Président® cheeses. Better yet, these recipes have been curated with the environment in mind. Meaning, we've incorporated a variety of ingredients that can be sourced from your backyard or local farmer's market (like fresh fruit and veggies), and provided substitutes for consuming less meat.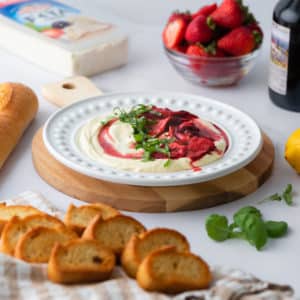 Decadent flavors of sweet roasted strawberries and tangy whipped Président Feta make a delicious and summery appetizer. With simple preparation and classic flavors everyone will love, this is bound to be a crowd favorite. Serve alongside your favorite toasted bread for a show-stopping starter. Substitute with other seasonal fruits as desired.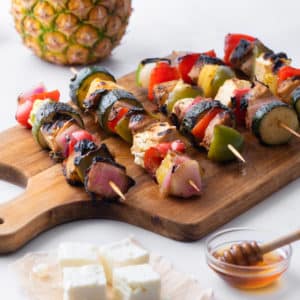 Don't underestimate the bite-sized chicken pieces in this recipe—they're packed with flavor from being marinated overnight. Grilled chicken paired with salty notes of grilled Président Feta, onions, and sweet (or spicy) peppers is a combination you can't miss out on. This kabob recipe will have your guests coming back for round two. Serve with glazed peaches for some additional sweetness and a pop of color.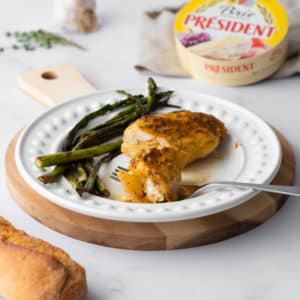 If you haven't tried ooey-gooey melted Brie and sweet apples stuffed inside a tender chicken breast, it's a must. Especially since this recipe is topped with a savory maple glaze that complements every flavor in the dish.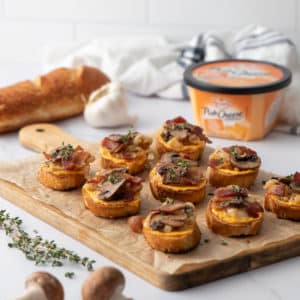 If the picture alone doesn't make your mouth water, wait until you make it! From caramelized onions and crispy bacon bits to the whipped and creamy taste of Pub Cheese by Président, this crostini is packed with flavor.
A unique spin on the traditional mushroom burger, this recipe is elevated with the slightly buttery taste of Président Emmental cheese and caramelized onions on a toasty brioche bun. Perfect portions for sharing.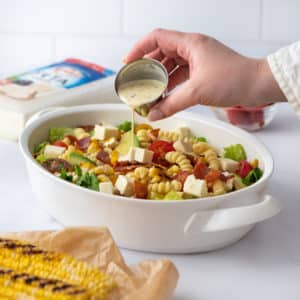 If you think a BLT is an irresistible summer sandwich, this pasta salad is for you. It includes all the ingredients from the seasonal favorite but takes the taste profile to a new level with tangy Président Feta and the sweet addition of grilled or steamed corn. Plus, it pairs well with just about any entree.
Whether you're looking for a quick and delicious dish or entertaining family and friends for your 4th of July get-together, these recipes are sure to make your holiday celebration a memorable event for everyone.