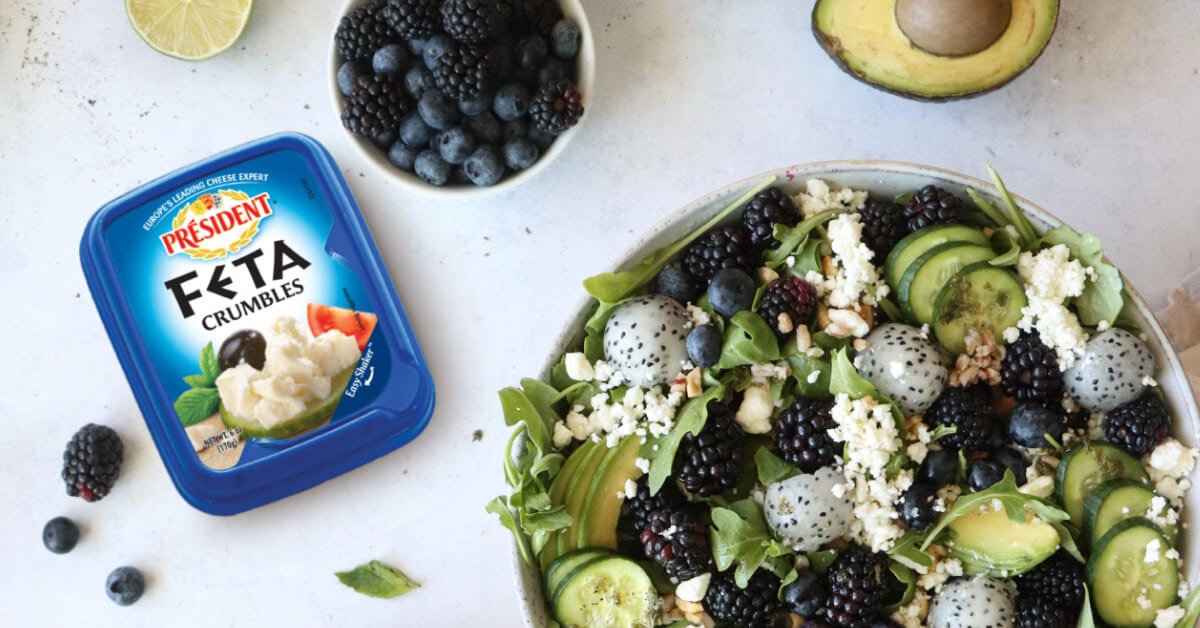 Four Refreshing Recipes You Need To try Before The End Of Summer
Creating seasonal recipes with summer produce is pure joy. The bright colors serve as inspiration to make something new and when Président® products are included, they're sure to be extra flavorful. Even though there's more sunlight in the day, this season always slips by so fast and suddenly it's nearing September. Usually, a small panic sets in this time of the year, and you're not alone if you're asking yourself if you took advantage of all the fresh foods of summertime. The truth is these foods will still be available in the cooler days of fall and winter, but they simply won't have the same flavor as when they're in season,and can never be as thoroughly enjoyed as they are when they're accompanied by the heat of a golden sun. Thankfully, it's not the last call for your favorite summer recipes just yet. If you get cooking right now, there is still plenty of time! Here are a few delicious ideas to help you savor every flavor of summer.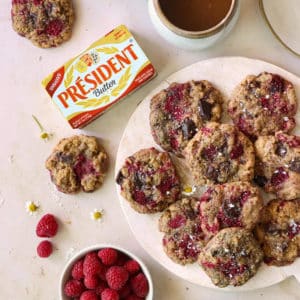 Président Butter Raspberry Chocolate Cookies
Pairing tart, juicy raspberries with smooth, rich dark chocolate is simply perfection, especially when you fold those flavors up in a brown butter dough. Soft and gooey with just the right amount of chew, these cookies are everything you never realized your life was missing.
It's just one secret ingredient that takes this recipe to the next level—brown butter with Président Unsalted Butter or beurre noisette, a classic French staple in the kitchen. Brown butter is basically melted butter with a nutty and bold flavor achieved by gently cooking it on the stovetop. In around 5 minutes, butter sizzles, browns, and acquires a decadent nutty and caramelized flavor that vastly elevates any recipe.
Browning butter is simple. We recommend using a medium skillet, preferably light-colored to be able to see the changing color of the butter. Little brown bits will form on the bottom of the pan. Don't get rid of those! What you see are the nutty little bits that will make your recipes extra delicious. It's super easy to whip up these cookies, as you can simply whisk the ingredients together and no mixer is needed to beat the butter as in most cookie recipes. Simple as that.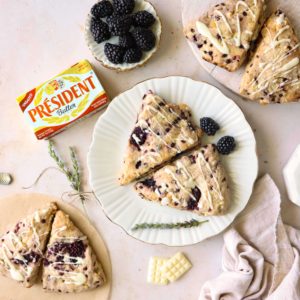 Président Butter Lavender Blackberry Scones
These Lavender Blackberry Scones are an elegant, bright addition to any end-of-summer brunch or breakfast table! They are buttery and flaky, moist and soft inside, crumbly on the edges, not dry and not dense like most scones. They are bursting with juicy blackberries and white chocolate chunks and have a light drizzle of white chocolate infused with aromatic lavender extract. Lavender surely turns a simple scone or biscuit into a summery delight.
Pro Tip: Approach with caution as adding too much lavender will overpower your dish. When working with lavender, just know that less is always more.
We love adding cream and a whole block of Président Unsalted Butter for extra flavor, too. The best part is that these scones are super easy to make without the hours of chilling time. Eat them warm, right out of the oven, drizzled generously with a sweet lavender white chocolate glaze.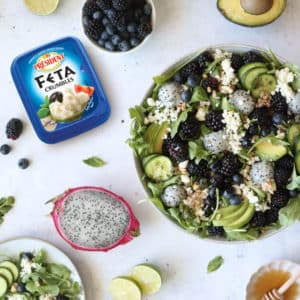 Président® Feta Blackberry Arugula Salad
There's just something extraordinary about the peppery punch of an arugula salad. This Blackberry Arugula Salad makes the most of fresh produce with a generous arugula base, creamy Président Feta Crumbles, juicy blackberries, blueberries, dragonfruit, cucumber, avocado, and a super refreshing lime mint vinaigrette.
If you haven't tried putting berries or other fruits in a salad before, you're really missing out. This salad is perfect in late summer when blackberries are dripping off the vine. Add Président Feta Crumbles for that mildly salty, tangy, and creamy flavor that pairs so well with fresh ingredients like cucumbers, berries, and arugula.The best part about Présdient Feta is that in addition to good fats and calcium, it also has a high protein content.
Adding some type of grain to a salad is always a win for a more wholesome and satisfying meal. This recipe includes farro, which is an ancient grain with a nutty flavor and is popular in Mediterranean cuisine. Farro is a favorite in salads as it's a good source of fiber and protein. Dry farro is cooked in less than 30 minutes on the stovetop, and way less in a pressure cooker.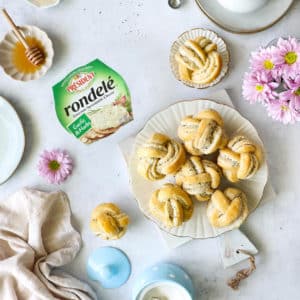 Rondelé® Garlic Herb Knots
Enhance your gathering with these extra soft, fluffy, and flavorful Garlic Herb Knots. The soft dough is made from scratch with minimal ingredients and spread with a thick layer of Garlic & Herb Rondelé®. This whipped and creamy spread amplifies the dough's flavor and adds a mild salty kick. These are probably one of the easiest baked bread bites and they can be a meal on their own or added to a charcuterie or cheese platter.
Pro Tip: Decrease the rising time of your dough by placing in a turned-off warm oven for 30 minutes.
With Labor Day around the corner, these end-of-summer dishes will add a colorful and flavorful touch to any occasion. After all, it's a celebration of hard work and labor, so you deserve something special.