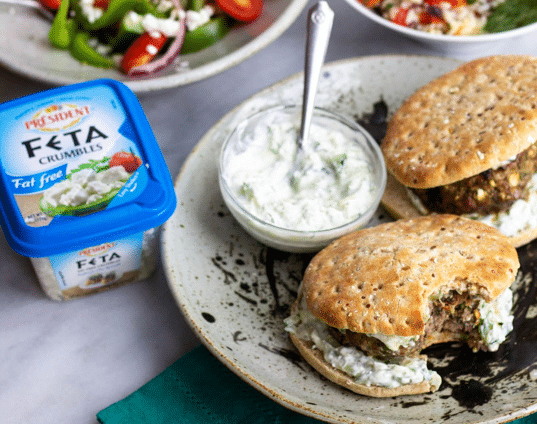 Lamb Burgers with Lemony Président® Feta Tzatziki
With summer in full swing, there's no better time to fire up the grill and make a delicious burger. Rather than making the standard beef burger with cheddar cheese, turn it up a notch with these Lamb Burgers with Lemony Feta Tzatziki featuring Président® Fat-Free Crumbled Feta Cheese!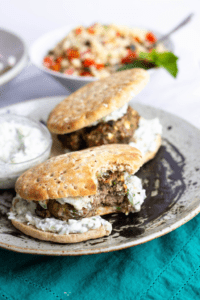 Creating the Perfect Burger
The following equation is proven to take your burger patty from "good" to "mouth-wateringly delicious" every time.
Choose Your Protein:

Pick your favorite meat to use as your base: beef, chicken, turkey, pork, or lamb, as used here. Start with 1 pound of meat, adjusting the amount based on how many people you're serving. A good rule of thumb is 1 pound of meat for 2 burgers, but you can make up to 4 burgers if you're looking to make smaller sandwiches.

Add The Must-Haves:

In my opinion, some type of onion or garlic (or both) belongs in every burger. Add to your taste, but a general rule of thumb is 1-2 cloves of garlic and about 2 tablespoons of minced onion per pound of meat.

Pick Your Flavors:

This is where herbs come in! Depending on what type of meat you choose or flavor profile you're going for pick flavors that work well together, such as cilantro and jalapeño or rosemary and shallot.

Time For Cheese:

This is the fun part. The secret step is to put the cheese inside the burger patty instead of adding it on top. Mixing the cheese into the burger means you'll get a delicious bite every time. I love using crumbled cheese, like Président® Fat-Free Crumbled Feta Cheese, as I do in this recipe. But shredded Président® Manchego or big shards of Président® Comté are delicious options as well!
Burgers are the perfect summer meal. Handheld, cooked outdoors with the ability to personalize each one with toppings. They're sure to please your whole crew!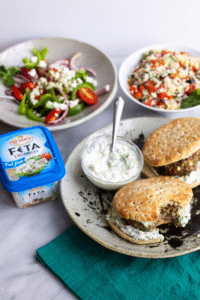 These Lamb Burgers with Lemony Feta Tzatziki featuring Président® Fat-Free Crumbled Feta Cheese are a fun new twist on a classic summer meal!
Ingredients
Lamb Burgers:
2 Tbsp Président® Fat-Free Crumbled Feta Cheese
1 lb ground lamb
2 tsp fresh dill, chopped
1 tsp fresh mint, chopped
1 tsp fresh oregano, chopped
2 cloves garlic, minced
Lemony Feta Tzatziki:
¼ cup Président® Fat-Free Crumbled Feta Cheese
1 cup Greek yogurt
½ cup shredded cucumber
½ cup fresh dill, chopped
3 cloves garlic, minced
1 Tbsp freshly squeezed lemon juice
1 tsp dried oregano
Salt and freshly cracked pepper
To Serve:
2 hamburger buns, pitas, or sandwich thins
Instructions
Lamb Burgers:
In a medium bowl, combine all ingredients gently, being careful to leave large chunks of Président® Feta. Form mixture into two patties.
Preheat the grill to 500 degrees Fahrenheit. Add burgers, allowing to sear on one side for about 2 minutes, or until nice and charred. Flip burgers, cooking until internal cooking temperature registers at 160 degrees Fahrenheit. Remove from grill and allow to rest for at least 5 minutes before arranging.
Lemony Feta Tzatziki:
Set shredded cucumber in a mesh strainer over or bowl or the sink. Sprinkle lightly with salt which will draw out some of the liquid from the cucumber. Allow to drain for at least 15 minutes, and then press the cucumber to remove as much liquid as possible.
Add the drained cucumber to a medium bowl. Add remaining ingredients. Stir to combine.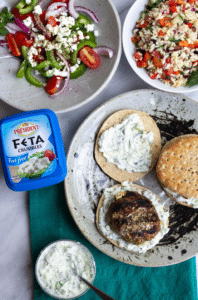 To Serve:
Spread Lemony Feta Tzatziki on your hamburger bun, pita, or sandwich thin. Top with the lamb burger. Enjoy!
ABOUT THE AUTHOR:
Jamie is the voice, author, and creator of the food and lifestyle blog, So Happy You Liked It. Focused on balance, her website provides helpful tips, nutritious recipes (with the occasional indulgence), and an authentic inflection in her writing. When not creating in the kitchen, you can find her teaching cycling, entertaining, or planning her next adventure.