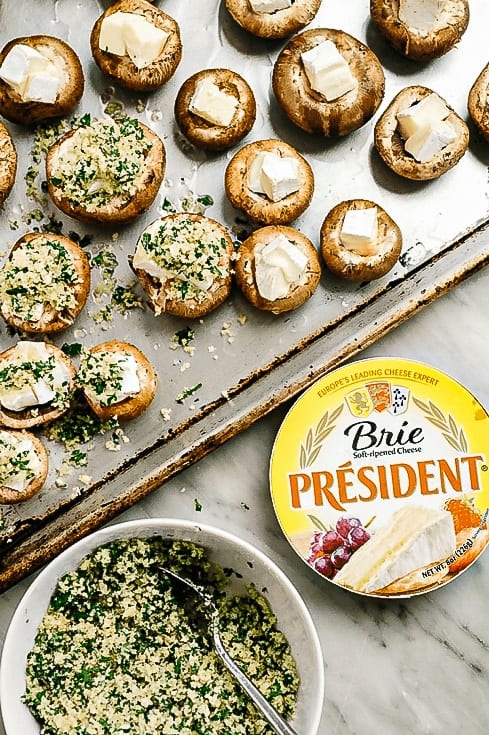 How To Make Brie-Stuffed Mushrooms
The holiday season is in full swing, and we all know that any good party requires delicious food. During this time of year when we find ourselves incredibly busy, the last thing we need is to add stress by fussing over complicated dishes. Instead, serve a crowd-pleasing and simple appetizer at your next gathering, like our Brie-stuffed mushrooms – the perfect addition to any menu.
These Brie-stuffed mushrooms are filled with Président® Brie, breadcrumbs and parsley, then baked to golden-brown perfection. The best part about this easy and elegant party appetizer is that it can be assembled ahead of time!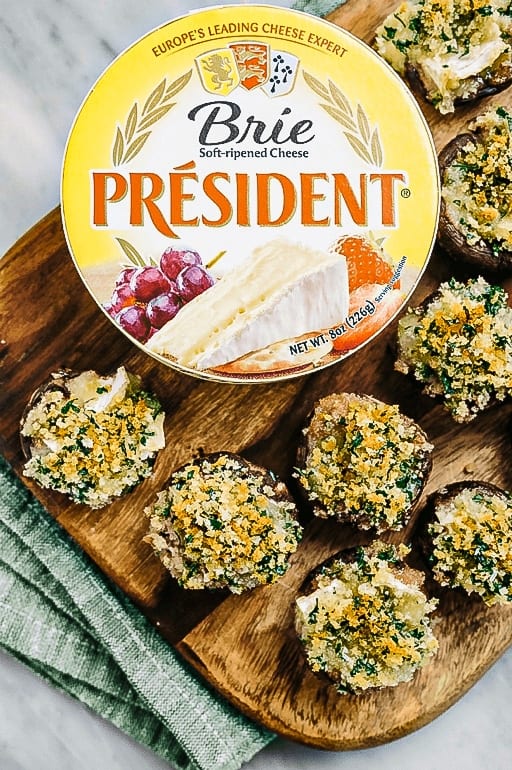 These tasty little gems are sure to leave a lasting impression on your guests — and nobody needs to know that it only requires five ingredients.
Stuffing Mushrooms with Brie
Stuffed mushrooms have been popular for decades, and rightfully so. They're bite-sized, look fabulous and taste even better. On its own, Président® Brie is creamy and smooth – combine it with the hearty breadcrumbs and juicy texture of mushrooms and these bites are equal parts delicious and irresistible.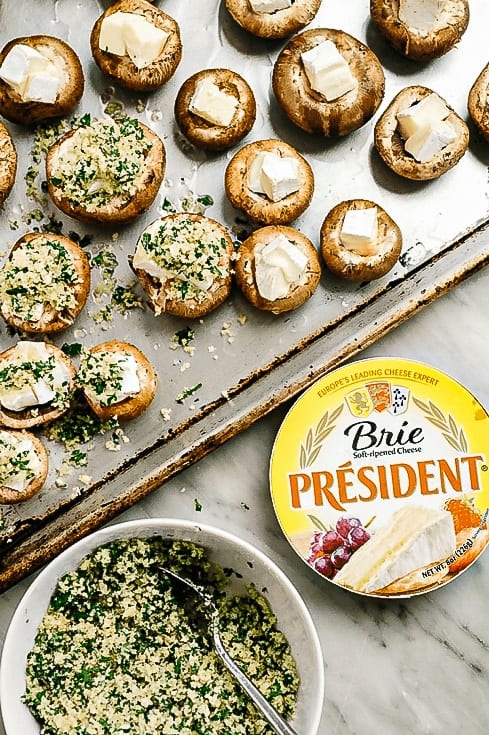 How To Make Brie-Stuffed Mushrooms
This recipe starts with about 2 pounds of mushroom caps. You'll want to remove the stems by popping them out with your fingers. Drizzle olive oil on the mushrooms and fill with the mixture of Brie, breadcrumbs, parsley and olive oil. After the mushrooms are stuffed, bake them about 20-25 minutes at 375 degrees F. The mushrooms are done when the tops are crispy and browned and the mushroom caps are tender all the way through. But be careful, if your oven is too hot the tops may burn before the mushrooms can cook thoroughly. Add a sprinkle of parsley, then serve and enjoy!
What Kind Of Mushrooms Do You Use?
You can use either baby Bella (cremini) or regular white button mushrooms. The mushrooms in this recipe are baby Bella mushrooms, which have an earthy, meatier flavor. These flavors complement the rich, creamy Brie filling. Pro Tip: Be sure to choose mushrooms that are roughly the same size so that they cook evenly.
How Do You Clean Mushrooms?
The best way to clean mushrooms is to use a damp paper towel to gently rub dirt from each mushroom. You can also rinse your mushrooms in a colander, but be sure to rinse them briefly; do not soak them. Then pat them dry with a paper towel if they are wet. Drying is important because it reduces the amount of liquid released while baking.
Prep For The Occasion
This recipe is flexible because it can be assembled up to six hours before serving, making it extra party-friendly. Store the loosely covered, prepped mushrooms in the fridge. Right before you're ready to eat, pop them back in the oven for a quick warm-up. To be safe, you may want to add a few minutes to your bake time to ensure everything is warmed all the way through.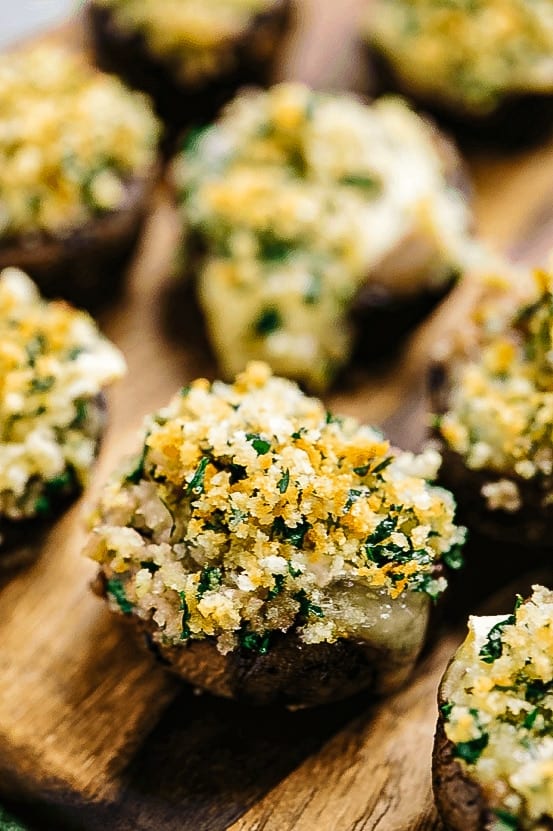 Tips
It's best to use a baking sheet or dish with sides to catch any liquid released from the mushrooms.
Don't have parsley on hand? Try chives, thyme or green onions instead.
When placing stuffed mushrooms onto a baking sheet, make sure they are in a single layer. This will ensure they cook evenly.
You can easily double this recipe to serve larger groups.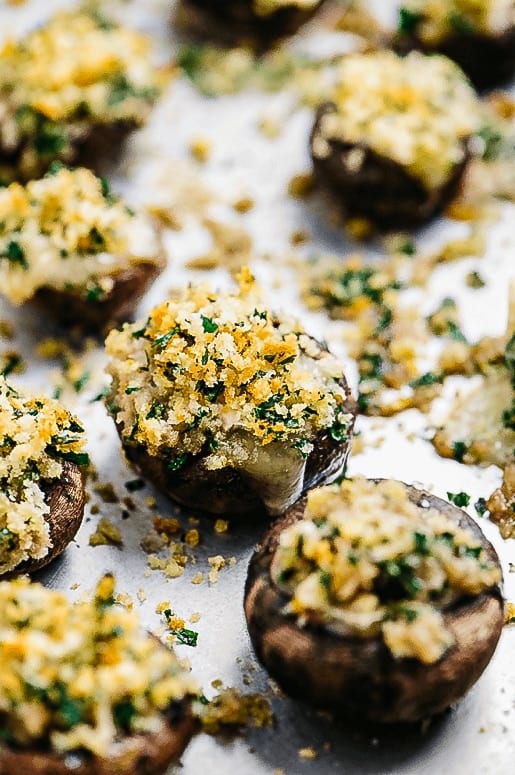 Ingredients
2 pounds baby Bella (cremini) or white button mushrooms
6 tablespoons olive oil, divided
8 ounces Président® Brie, cut into bite-size chunks
2/3 cup Panko breadcrumbs
1/3 cup fresh parsley, chopped
Kosher salt and freshly cracked black pepper
Brie-Stuffed Mushrooms Instructions
Preheat oven to 375 degrees F
Clean the mushrooms and remove the stem. Place the mushrooms bottom side up on a baking dish or rimmed sheet pan and drizzle them with 2 tablespoons of olive oil. Put about 1 tablespoon of Brie into each of the mushroom cavities.
In a small bowl, combine the breadcrumbs, parsley and about 4 tablespoons of olive oil and season the mixture with salt and pepper. Fill the mushroom cavity with a small scoop of the bread crumb mixture.
Transfer the baking dish to the oven and bake for about 20-25 minutes until the mushrooms are tender and then cheese is melted.
Remove the baking sheet from the oven and serve. You can also serve them at room temperature.
servings:15 SERVINGS (approx. 2 mushrooms per serving)
prep time: 20 MINS cook time: 20 to 25 MINS total time: 40-45 MINS
author: KIM'S CRAVINGS course: APPETIZER cuisine: AMERICAN