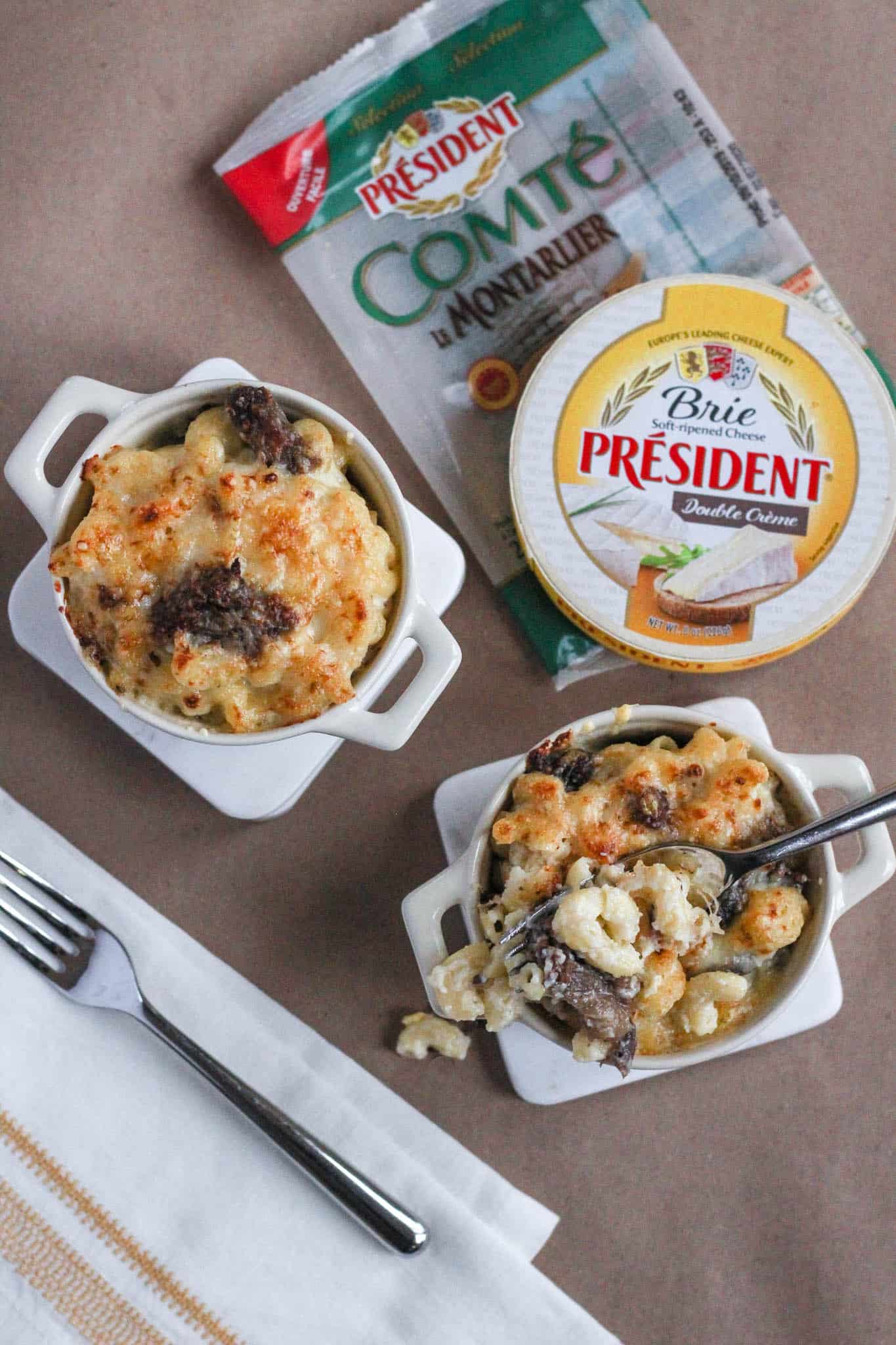 Oxtail Mac And Cheese Recipe
Macaroni and cheese is a classic dish because it's easy, delicious and calls for very few ingredients. When a meal is this simple, there's no excuse not to go for the best cheese around: Président®!
When thinking about the best mac and cheese you've had, one thing stands out: the creaminess. Dry mac and cheese will not do. The end product should be a combination of velvety, smooth and rich with big flavor. A bite that is actually impossible to have just one.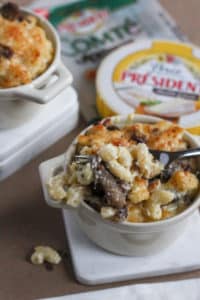 Essential Mac And Cheese Ingredients
Creamy and Easy-To-Melt Cheese

Président® Double Crème Brie or Président® Triple Crème Brie: This decadent and rich Brie creates the smoothest sauce. It melts perfectly and offers a buttery taste.
Président® Comté: This delicious hard cheese packs a lot of flavor. It's matured for 6 months, giving it its distinct nutty flavor with a hint of hazelnut. It's the perfect pair to the Brie in this unbeatable sauce.

Full-Fat Milk

When making a creamy sauce, opting for milk with higher fat content is best. To make this recipe your own, you can lighten the sauce with milk that has lower fat content or up the richness with milk that has a higher fat content. To keep calories in check, I opt for 2% or whole milk. If you want to go all out, try swapping in cream or half-and-half but for half the amount that the recipe calls for (¾ Cups vs 1 ½ Cups).

Dry Mustard

Dry mustard is doing double duty here by adding more flavor to your cheese sauce and acting as an emulsifier to keep the sauce creamy.

Président Salted Butter

Knowing that mac and cheese is already such a rich dish, you won't need much butter to round things out. This recipe calls for less butter than a classic recipe requires, but is still worth adding.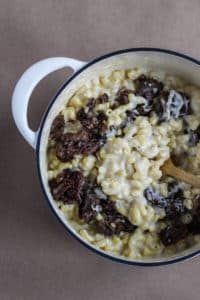 What is Oxtail?
Oxtail is quite literally the tail of an ox (or cattle in general, rather). The gelatin-rich meat is a top choice for soups and braises because it's the best for low and slow cooking. As the meat cooks, it releases rich flavors adding luxurious texture to any simmering dish.
Oxtail's popularity spans different kinds of cuisines, including Spanish, Chinese, Korean, Jamaican, Cuban, Filipino, South African, and Iranian– just to name a few!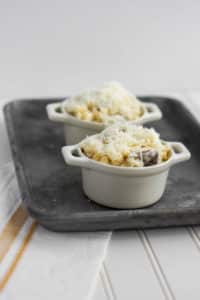 How to Cook With Oxtail
As mentioned, Oxtail does best when cooked slowly at lower temperatures. Given the high-fat content, cooking it quickly at high-heat would result in a tough texture.
However, a way around this time commitment is cooking oxtail in a pressure cooker. This is exactly why this recipe was developed– for the moments you're pressed for time but crave the comfort of a slow, home-cooked meal.
Recipe Instructions:
For the Oxtail:
1 Tbsp olive oil
2 lbs oxtail
¼ tsp salt
Freshly cracked pepper
For the Macaroni and Cheese:
12 oz macaroni
4 Tbsp Président® Salted Butter
1 Tbsp flour
1.5 cups milk, see notes
1 tsp dry mustard
1 egg
8 oz Président® Double Crème Brie or Triple Crème Brie, rind removed and chopped into pieces
8 oz Président® Comté, shredded and split
½ tsp salt
Freshly cracked pepper
For the Oxtail
Instant Pot Version:
Set your Instant Pot to the sauté function. Once it states "Hot", add olive oil. Season oxtail with salt and pepper, add to the pot. Brown for 5 minutes, flipping once to caramelize flavors.
Turn Instant Pot to pressure cook. Add a dash of beef stock, wine, or water to deglaze slightly, using a wooden spoon to unstick any browned bits on the bottom of the pot.
Cover Instant Pot, and set a timer for 40 minutes with vent closed. Allow oxtail to release for 20 minutes, or after the floating valve drops.
Carefully remove the lid, allowing oxtail to cool slightly. Once cool enough to handle, remove meat from the bones. Set aside as you prep the other ingredients.
Slow Cooker Version:
Add olive oil to a large stockpot or dutch oven set over medium heat.
As with the Instant Pot method, season the oxtail with salt and pepper. Brown for 5 minutes, flipping once to caramelize flavors.
Transfer to your slow cooker. Cook on high for 2-3 hours, or low for 4-6 hours. Keep in mind that the lower and slower you cook this meat, the more tender the end result will be!
For the Macaroni and Cheese:
As the oxtail cooks, boil the macaroni until al dente, according to package instructions. Drain and reserve.
Meanwhile, prep the cheese sauce. Add butter to a large stockpot or dutch oven. Once melted, add flour, stirring until thickened and slightly golden in color. Slowly add milk.
Mix dry mustard to 1 teaspoon warm water, mixing until a paste forms. Add to pot, along with a lightly whisked egg. Continue to stir as the sauce thickens, about 5 minutes over medium-low heat.
Once the sauce has thickened, add Brie cheese and all but 1 cup of the Comté cheese. Stir until thoroughly combined and melted together.
Add macaroni and reserved oxtail meat to the pan. Stir to combine, adding salt and pepper, adjusting to your taste.
Add to a baking dish (or individual ramekins) sprayed with cooking spray. Top with reserved Comté cheese and freshly cracked pepper. Broil until cheese is lightly golden and bubbling, about 5 minutes (watch closely so it does not burn).
If you loved this recipe and are looking for more mac and cheese inspiration, check out this recipe for Creamy Skillet Mac & Cheese.
Recipe Author: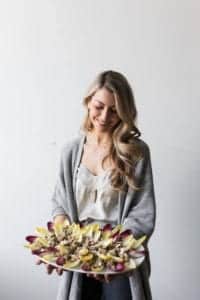 Jamie is the voice, author, and creator of the food and lifestyle blog, So Happy You Liked It. Focused on balance, her website provides helpful tips, nutritious recipes (with the occasional indulgence), and an authentic inflection in her writing. When not creating in the kitchen, you can find her teaching cycling, entertaining, or planning her next adventure.