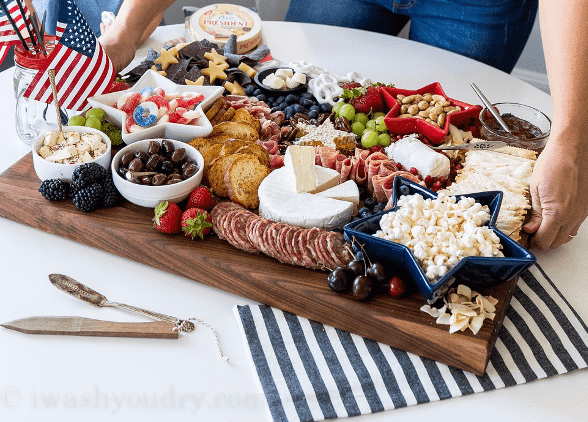 Stars, Stripes & Cheese Boards

This kid-friendly 4th of July Cheese Board is exactly what you need to get the party started and keep the kiddos' tummies happy until the main dish is served. Shawn includes fun snacks like gummies, white chocolate peanut butter cups, and yogurt covered pretzels to get her kids to try some of her favorite Président® cheeses.
What You'll Need
CHEESE
President® Brie Round, President® Comté Wedge, President® Feta Marinated Cubes Herbs de Provence, President® Fresh Goat Cheese, rondelé® by President® Sea Salt & Cracked Pepper
MEATS
Prosciutto, Hard Dry Salami, Soft Salami or Calabrese Salami
NUTS & FRUITS
Strawberries, Blueberries, Blackberries, Grapes, Pomegranate Arils, Raspberries, Cherries, Rosemary & Sea Salt Marcona Almonds, Candied Pecans, Coconut Chips
CRACKERS
Garlic Crostini, Blue Corn Tortilla Chips, Rice Crackers, White Cheddar Popcorn
SPREADS & JELLIES
Fresh Honey Comb, Spicy Pepper Jelly
CANDIES:
Yogurt Covered Pretzels, Patriotic Gummy Rings, White Chocolate Peanut Butter Cups
DECORATIONS:
Wooden Cutting Board, Mini American Flags, Star Cookie Cutter, Red, White, & Blue Striped Linens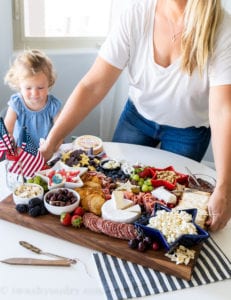 Putting It Together
Shawn prefers to start by placing her bowls on the cheese board first so she knows which flavors will take up which sections on the board. 

Next, she arranges the cheese based on what she plans to pair it with. You can see that her Président® Brie is near the charcuterie and crostini that it pairs best with. 

After the cheeses and bowls are in place, start filling in the charcuterie and bowls. Shawn used almonds, popcorn, gummies, and conveniently cut Président® Feta Marinated Cubes in her bowls. 

Now that the board is over halfway done, Shawn fills in the grapes, blue corn tortilla chips, pepper jelly, honeycomb and pomegranate seeds – a Utah classic.

Last but not least, it's time to garnish! Both our pros opted for Président® Comté cut into star shapes for that extra patriotic touch. Simply use a cookie cutter and place it on the board for a pop of fun.
Morgan's 4th of July cheese board offers an array of flavors to please any guest at your patriotic celebration. From sweet to spicy to savory, she covers all the bases with fun and unexpected pairings. Pour a glass of bubbly and start the celebration because this cheese board is a party for your taste buds.
What You'll Need
CHEESE:
President® Feta Marinated Cubes, President® Goat Cheese, President® Comté Wedge, President® Camembert Cheese, rondele® by President®, President® Creamy Brie with Truffles
MEATS:
Prosciutto, Salami
NUTS & FRUITS:
Blueberries, Strawberries, Raspberries, Blackberries, Pomegranate Seeds, Almonds
VEGETABLES:
Mini Cucumbers
CRACKERS:
Crostini, Rice Crackers
SPICES & HERBS:
Sage, Red Pepper Flakes
CONDIMENTS:
Honey
DECORATIONS:
Wooden Cutting Board, Mini American Flag Toothpicks, Red & White Linens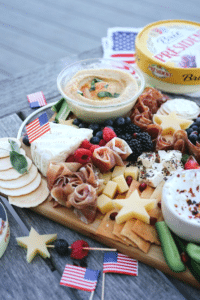 Putting It Together
Morgan starts her cheese board by placing the larger cheeses first, like the 8oz round of Président® Brie and a half wheel of Président® Camembert. 

She follows up by placing her bowls on the board so she knows where her accompaniments are supposed to go

Next, it's time to build the salami river. Do this by folding the slices of salami in half and then quarters – the best part of this is that is they stand up on their own and can divide the flavors on your cheese board. 

Now it's time to fill the bowls. Morgan fills a bowl with creamy Président® Goat Cheese and topped it with crushed red pepper flakes and a drizzle of honey – a sweet heat and refreshing treat! She filled her other bowl with delicious and garlicky homemade hummus.

To finish it off, Morgan fills in the rest of her board with fruits, nuts, crackers, veggies and those crowd-pleasing Président® Comté stars.
For more 4th of July recipe inspiration, check out our BBQ/Grilling, Desserts and Side/Appetizer recipe collections:
4th Of July BBQ & Grilling Recipes
4th Of July Side & Appetizer Recipes
4th Of July Dessert Recipes