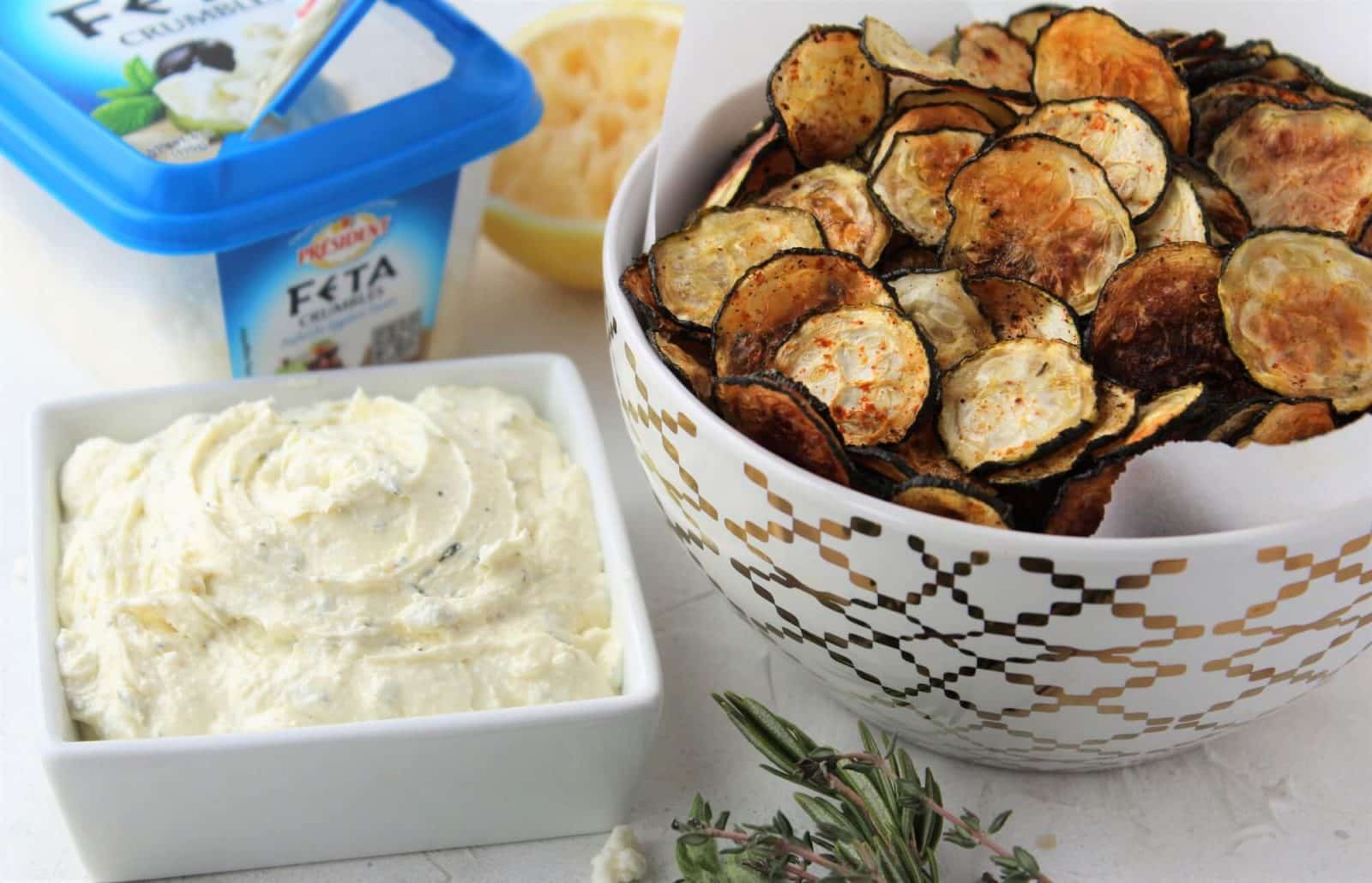 Feta Dip With Zucchini Chips Recipe
This simple recipe for zucchini chips and whipped feta dip makes for a delicious appetizer or snack, or even a great side dish for pairing with an entrée. The chips are baked instead of fried, which means the dish is healthier (and cleanup is a lot simpler).  Président Feta Crumbles blend perfectly into this luscious, tangy herb dip that compliments the simplicity of the crunchy zucchini chips.
Using a mandolin slicer to slice the zucchini will keep the chips uniform in size, which allows them to bake evenly. Before cooking, it's important to get all of the excess liquid out of the zucchini to ensure maximum crispness when baking. All these little chips need are a touch of olive oil, salt and pepper to maximize flavor and paprika for color – plus a good amount of baking time!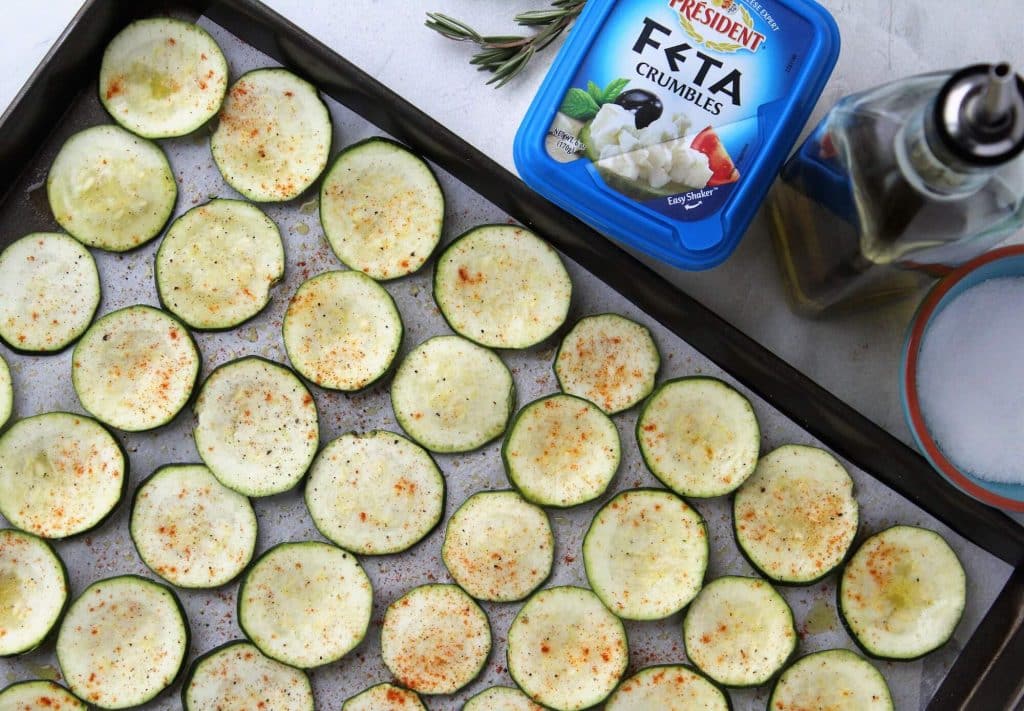 Président Feta Crumbles, olive oil, cream cheese, tangy lemon juice, and aromatic fresh herbs get blended into a perfectly dreamy and creamy cheese dip. Since the food processor does all the work, this dip is effortless! Pro tip: I keep gadgets, like the food processor or mandolin, in an easy to access area of the kitchen. It always encourages me to use them more often.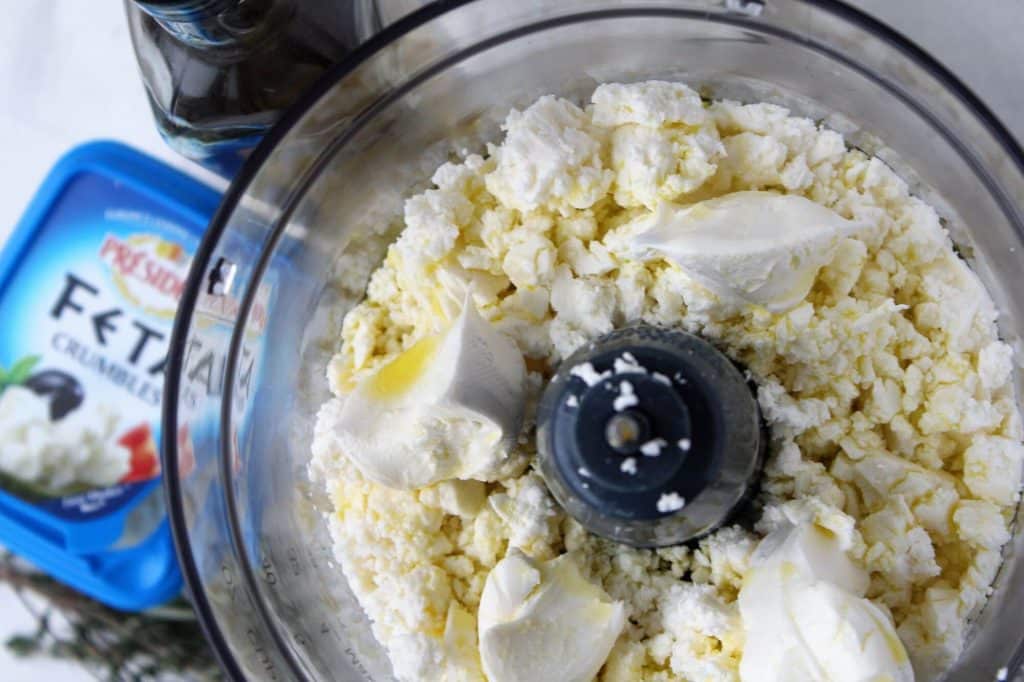 The golden color of these baked zucchini chips is really beautiful. It makes for a stunning appetizer presentation alongside the mouth-watering feta dip.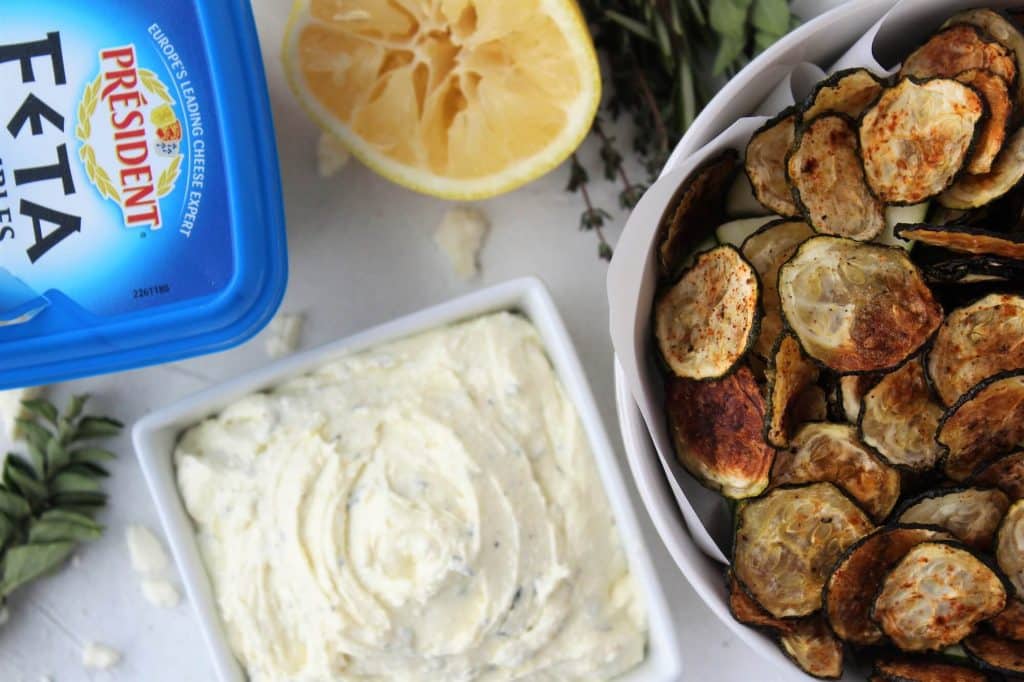 Leftover dip? No problem – the whipped feta makes a great sandwich spread, veggie dip, or can even be dolloped atop a grilled steak.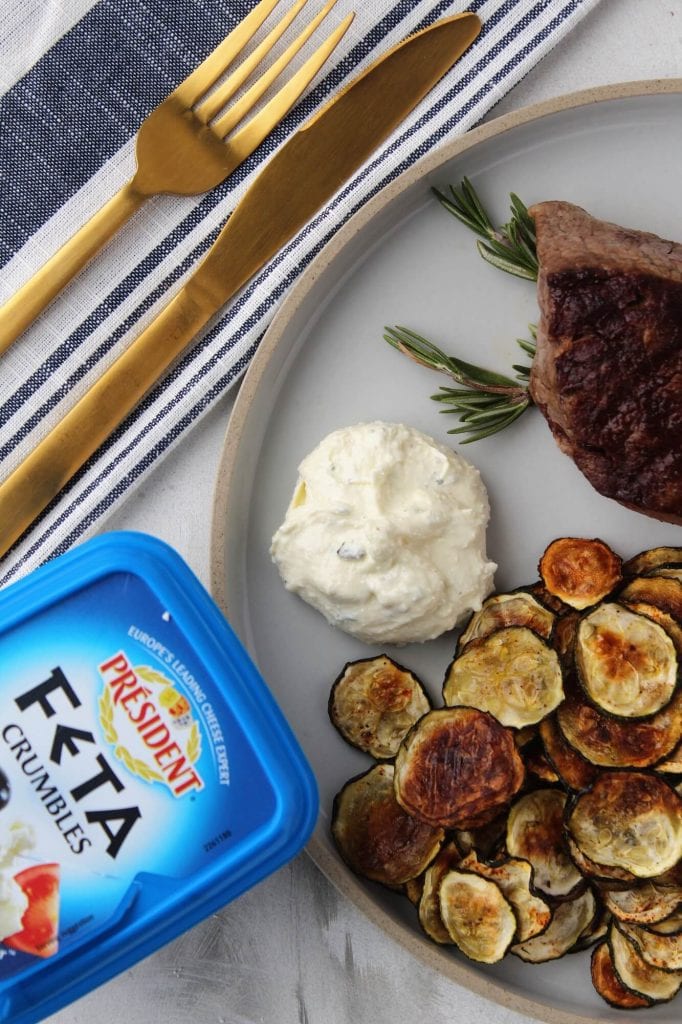 Ingredients
For the zucchini chips:
4 medium-large zucchinis
Olive oil spray
Salt
Fresh cracked pepper
½ tsp paprika
For the Feta Dip:
2 oz cream cheese, room temperature
1/3 cup good quality olive oil
2 tbsp fresh squeezed lemon juice
1 tsp fresh minced rosemary
1 tsp fresh minced oregano
1 tsp fresh minced thyme
½ tsp garlic powder
Kosher salt and fresh cracked pepper
Directions
Slice zucchini into slices, about 1/8-inch thick. Using a mandolin slicer works well to keep the slices uniform in size, but it isn't absolutely necessary that you use one. Lay the slices on a paper towel, and cover with another layer of paper towels. Use a baking pan to press down on all of the zucchini slices to get rid of as much moisture as possible.
Preheat the oven to 240 degrees. While it warms up, line 2-4 baking sheets with parchment paper, and spray a light layer of olive oil spray onto the parchment paper. Lay the zucchini in a single layer on each baking sheet. Lightly spray the zucchini with olive oil spray. Season with salt and fresh cracked pepper, and sprinkle with paprika for color.
Bake for 2 hours or until golden and crisp, rotating pans every 30 minutes for even cooking. If some slices start to get crispy and dark before the rest, remove them onto a paper towel while the rest finish baking.
While the chips are baking, prepare the feta dip. In a food processor, combine Président Feta Crumbles, room temperature cream cheese, olive oil, lemon juice, salt, pepper, garlic powder, and minced fresh herbs. Pulse on high until blended and creamy. Taste for additional seasoning, adjusting salt and pepper as necessary. Transfer the dip to a serving dish.
Once the zucchini chips are browned and crisp, remove them from oven and place them onto a paper towel to soak up any excess oil. Cool completely and serve with whipped herbed feta dip. This recipe is great as a snack or party appetizer, and is perfect to pair with your favorite protein!
Prep Time: 30 minutes
Cook Time: 2 hours
Total Time: 2 hours 30 minutes
Yield: 4-6 servings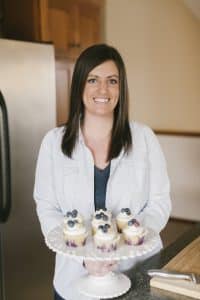 Laura is a Minnesota-based foodie, blogger, recipe developer, and food photographer. She is the creator and author of the blog waystomyheart.com. When she is not in the kitchen cooking and baking, she is likely dining out with her husband Erik at one of many fabulous Twin Cities restaurants where she gets a lot of her cooking inspiration.