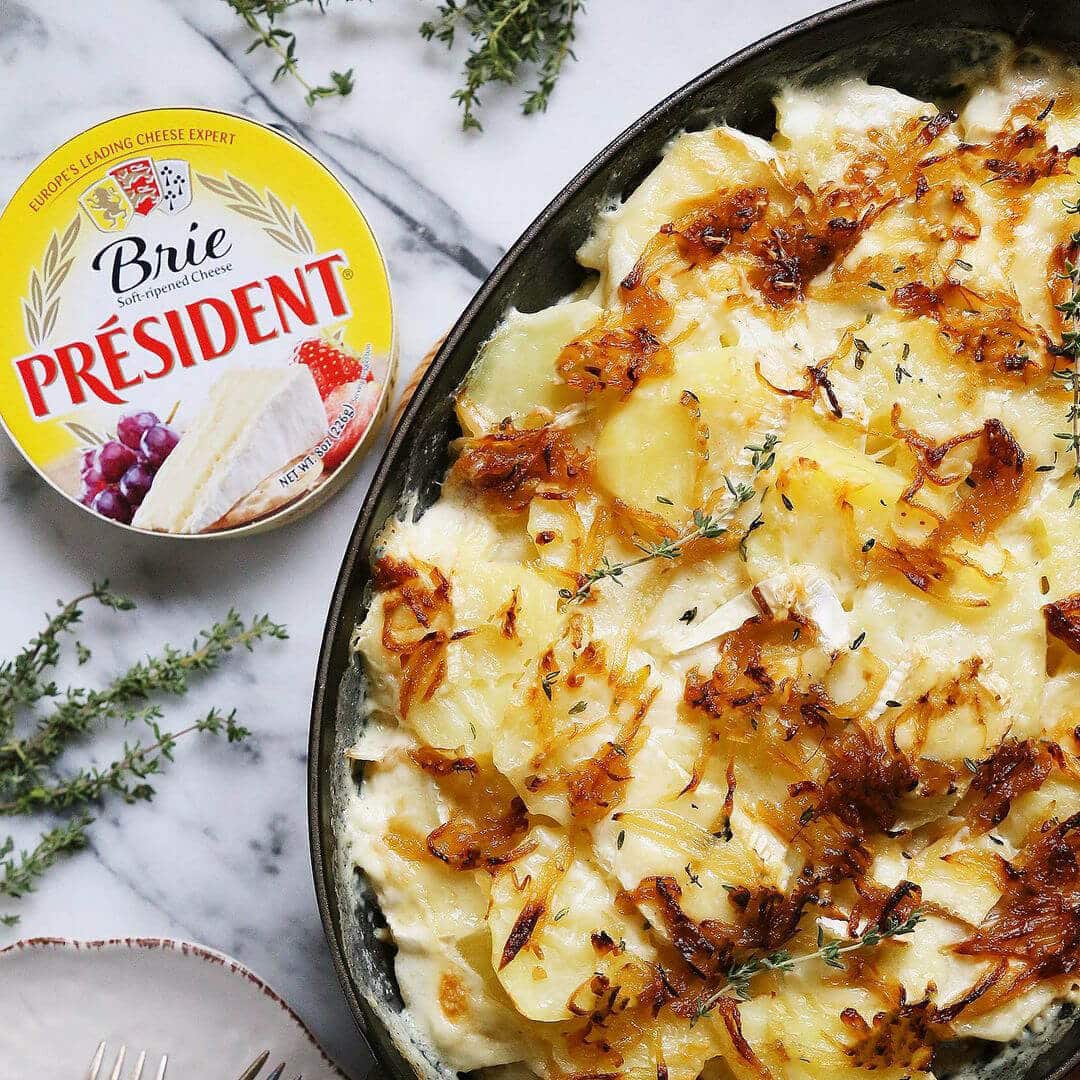 Potatoes au Gratin with Président® Brie and Caramelized Onions
This recipe was inspired by a French dish from the Savoy region called Tartiflette. These Potatoes au Gratin with Brie and Caramelized Onions will go great on your table as a side dish at family gatherings, holiday events or even as a main course paired with a nice salad.
Ingredients
8 oz Président Brie (sliced in half on the diagonal and then thinly sliced like a pie)
3 lbs of Yukon Gold Potatoes (peeled)
2 medium medium Yellow Onions (thinly sliced)
3 cloves of Garlic (minced)
2 tbsp of Unsalted Butter
1 lightly packed cup of Gruyere Cheese (freshly grated)
1/2 cup of Heavy Cream
1/2 cup of Whole Milk (Note: You can also use half and half milk instead of 2 different types of milk, if you prefer.)
1 pinch of Ground Nutmeg
1/2 tsp of Salt (and a sprinkle on onions while cooking)
Several Sprigs of Thyme
Instructions
In a large skillet, on low to medium heat, add butter. Once melted, add in yellow onions. Sauté for at least 45 minutes, stirring often to ensure they caramelize evenly. The key to this is low and slow. If they begin to get too dry then add in a tablespoon of water. Once they begin to become golden in color, add in garlic, some leaves from one of your sprigs of thyme and a sprinkle of salt and sauté until done. Set to the side once done.
While the onions are cooking, peel the potatoes and add them into a large pot. Fill with water, at least 2 inches above potatoes. Boil for 20 minutes or so depending on size. Just until they are almost soft to the fork. They will cook some more in the oven. Once done, drain and allow them to cool to the touch. Once they have cooled, thinly slice them. Roughly 1/4 inch thick.
Preheat oven to 375 degrees.
In a medium bowl, mix your heavy cream, whole milk, salt, and nutmeg together.
Lightly Grease or Butter your baking dish. You will need to form 4 layers of potatoes, so use what will work best for that. Note: If you can place you 3lb bag of potatoes in it comfortably flat, then you've got a winner.
Place the first 2 layers of your sliced potatoes in your baking dish. Pour half of your milk mixture over the potatoes. Sprinkle with half of your Gruyere Cheese, a few slices of brie (leave most of it for the top) and half of your caramelized onions. Now repeat this step placing the rest of your ingredients on the top layer with a few more leaves of thyme.
Place baking dish on center rack of oven and bake for 30 – 40 minutes. Cook until the brie is bubbly and slightly golden. If your onions begin to crisp too much, then cover lightly with aluminum foil.
Once done, serve and enjoy!
Recipe by
Michelle Braxton
"Supper with Michelle" is a place for Michelle to share her recipes and experiences in the kitchen. She's been cooking since the age that I could reach the stove and spent a lot of time in the kitchen with her awesome mom, growing up. Since 2005, she's made many personal strides in living a "healthier" lifestyle, not just in what she eats, but in everything she does. She enjoys experimenting with various spices and ingredients and try's to incorporate as many seasonal, natural and wholefood ingredients into her recipes whenever possible.
Supper With Michelle