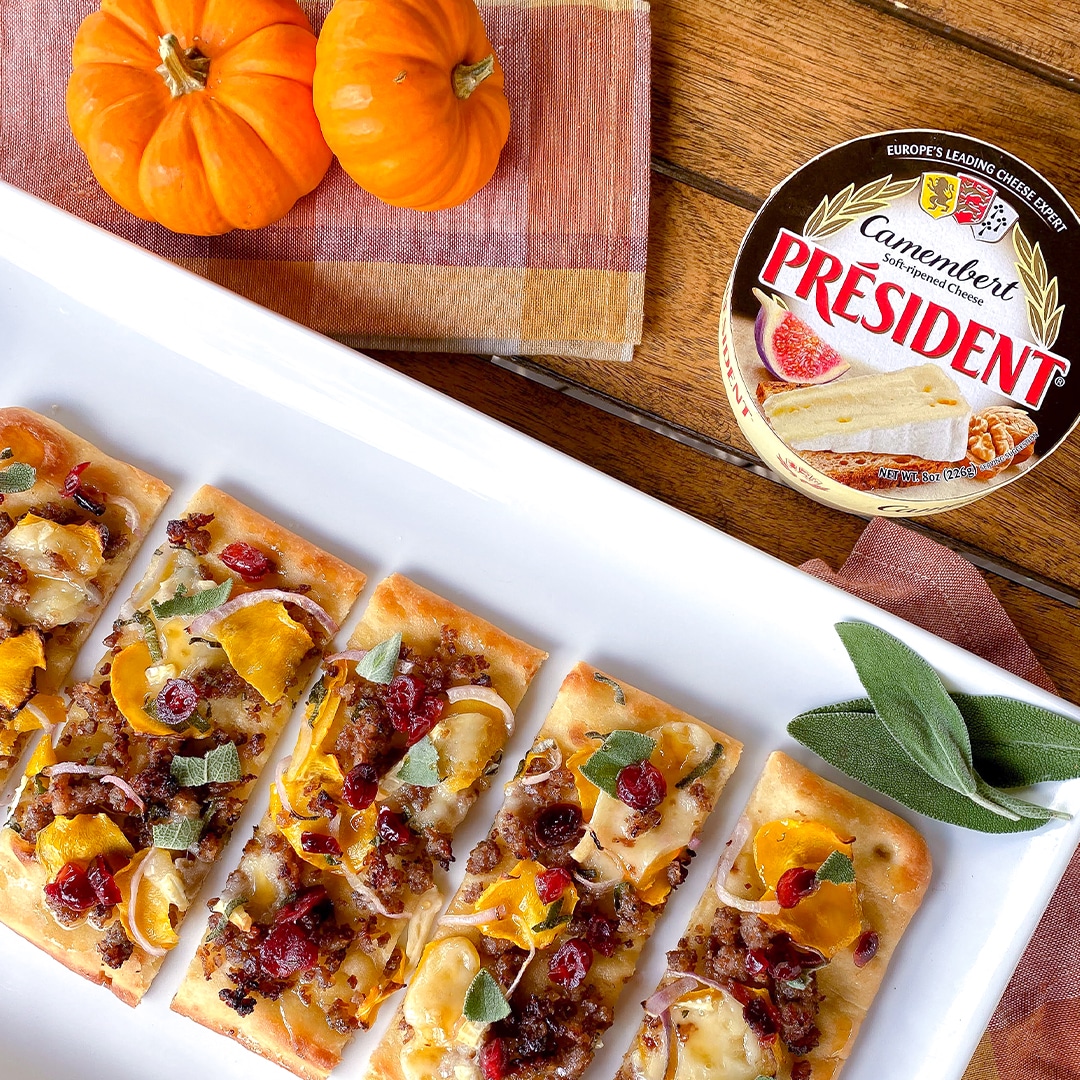 Président® Camembert Pumpkin Maple Sausage Flatbread
This Pumpkin and Maple Sausage Flatbread with Président Camembert is a delicious fall twist on pizza. Made with shaved pumpkin, maple-flavored sausage and creamy Président Camembert cheese, it's the perfect Thanksgiving entree!
Recipe created by Aleka of Bite Sized Kitchen
Prep Time
10 min
Cook Time
25 min
Ingredients
2 long store-bought flat breads (about 12" in length) (approx. 14 oz.)
8-10 oz uncooked maple sausage (turkey or pork)
8 oz Président Camembert
1 8-10 oz mini pumpkin
1/2 small red onion, thinly sliced
4-5 fresh sage leaves, chopped
1/4 cup dried cranberries
1/4 cup maple syrup
olive oil (to drizzle)
salt to taste
Instructions
Preheat oven to 425°F.
Add your maple sausage to 1 tbsp of oil and brown over medium heat. Make sure to chop your sausage into small bits as it cooks using the flat end of a wooden spatula. Set aside.
Slice your red onion into thin stands. Set aside.
Peel the skin of your pumpkin using a potato peeler. Once your pumpkin is skinned, you want to continue to peel the pulp of the pumpkin on all sides until you reach the center. You want to create thin "ribbons". (See image above.) Set ribbons aside.
Add your dried cranberries to a small bowl with enough water to cover them and microwave for 30 seconds. This will help to re-hydrate them. Strain them and set aside.
Brush or drizzle a couple tablespoons of olive oil over each flatbread. Season with salt and bake for 5 minutes. (This will help your flatbreads crisp up.)
Removebothflatbreadandevenlydistributeyoursausage,redonions,cranberries,pumpkinribbons,sage leaves and lastly, multiple dollops of Président Camembert cheese.
Drizzle the top with a little olive oil and bake for 7-10 minutes or until the cheese has melted.
Finish by drizzling each flatbread with maple syrup. Serve hot.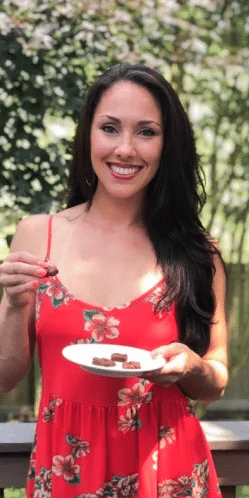 Recipe by
Aleka
Aleka is a mother of two boys, self-taught chef and entertainer at heart. When asked, "Why Bite Sized?" she simply responded, "because the best conversations revolve around food, why not have a spread out the entire party where guests can pick and nibble the entire time!?"
Bite Sized Kitchen