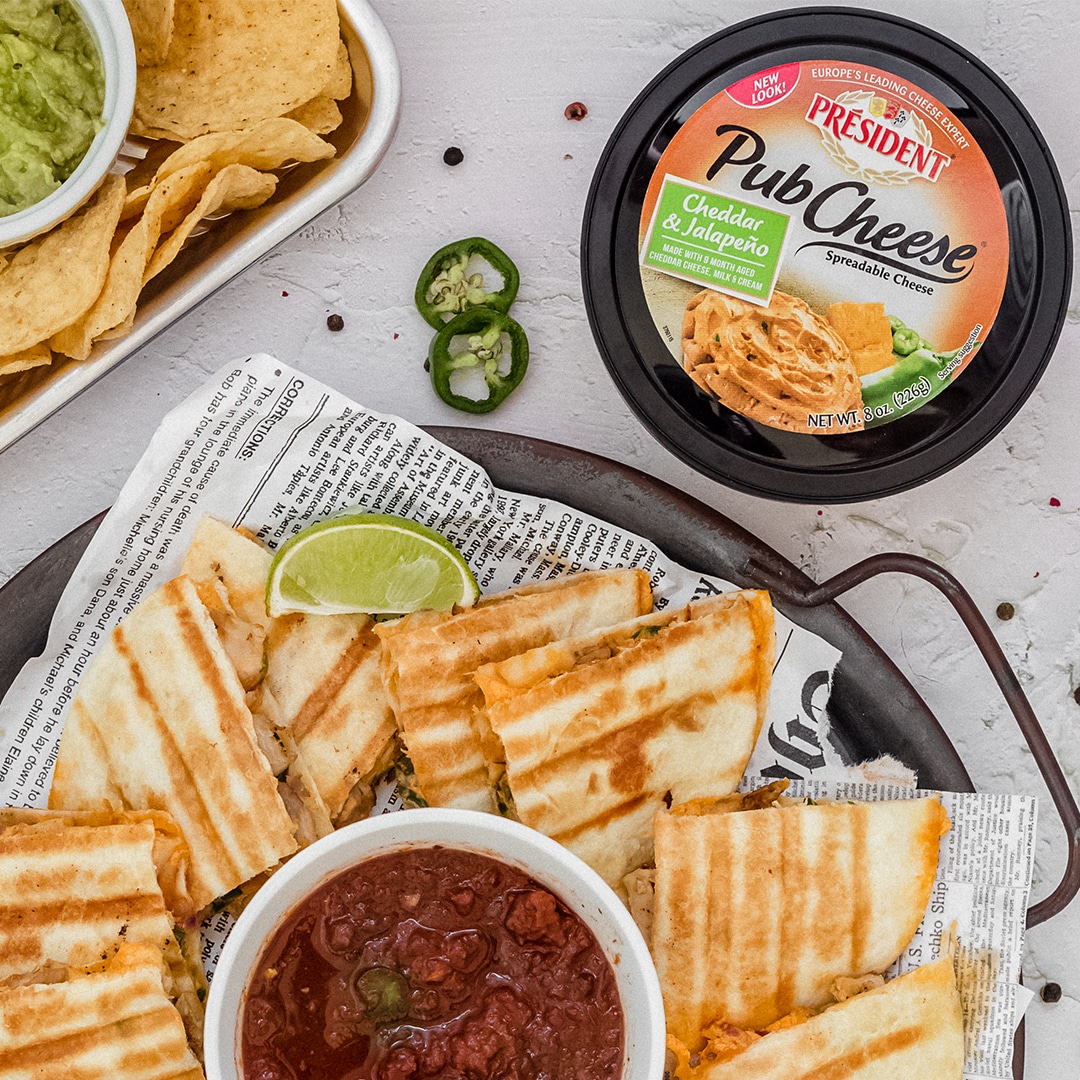 Pub Cheese® by Président® Cheddar & Jalapeño Chicken Quesadillas
Tortillas layered with Pub Cheese Cheddar & Jalapeño, grilled chicken and onions, topped with another tortilla and grilled.
Prep Time
15 min
Cook Time
15 min
Ingredients
8 oz (1 container) Pub Cheese By Président Cheddar & Jalapeño
4 skinless boneless chicken breasts
6 tbsp olive oil
2 cloves garlic minced
1 tsp black pepper
1/2 onion, diced
3-4 sliced jalapeño peppers
8 flour or corn tortillas
Instructions
Start off by placing the chicken breasts in a closed plastic bag and beat them with a rolling pin until they're slightly flattened.
Next, whisk olive oil, garlic and black pepper in a medium bowl. Coat the chicken breasts with this mixture until they're evenly coated. Let the chicken marinate in the refrigerator overnight but if you're in a pinch, 2 hours works.
After they have been marinated, cook the chicken on a well oiled skillet for about 4 minutes per side over high heat on the stovetop.
After they have cooled a bit, cut them into thin strips.
Spread half of a tortilla with about 2 tablespoons Pub Cheese Sharp Cheddar & Jalapeño, or enough to your liking.
Place half of a chicken breast on the tortilla and top with sliced jalapeño and onions.
Fold the tortilla over and press. Place the quesadillas back on the oiled skillet over a medium-low heat, and fry for 2-3 minutes on each side, or until the tortillas are toasted and the cheese has melted.
Cut the tortillas into triangles and serve while warm with sour cream, salsa or guacamole.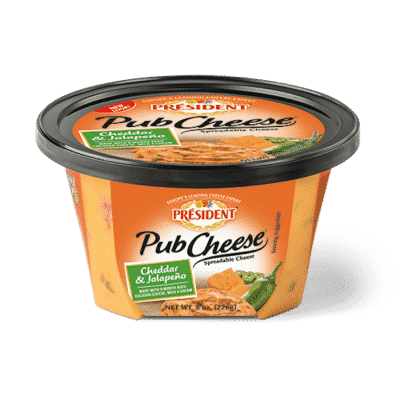 Pub Cheese® by Président® Cheddar & Jalapeno
Jalapeños spice up a blend of cheddar, milk, and cream.
Learn More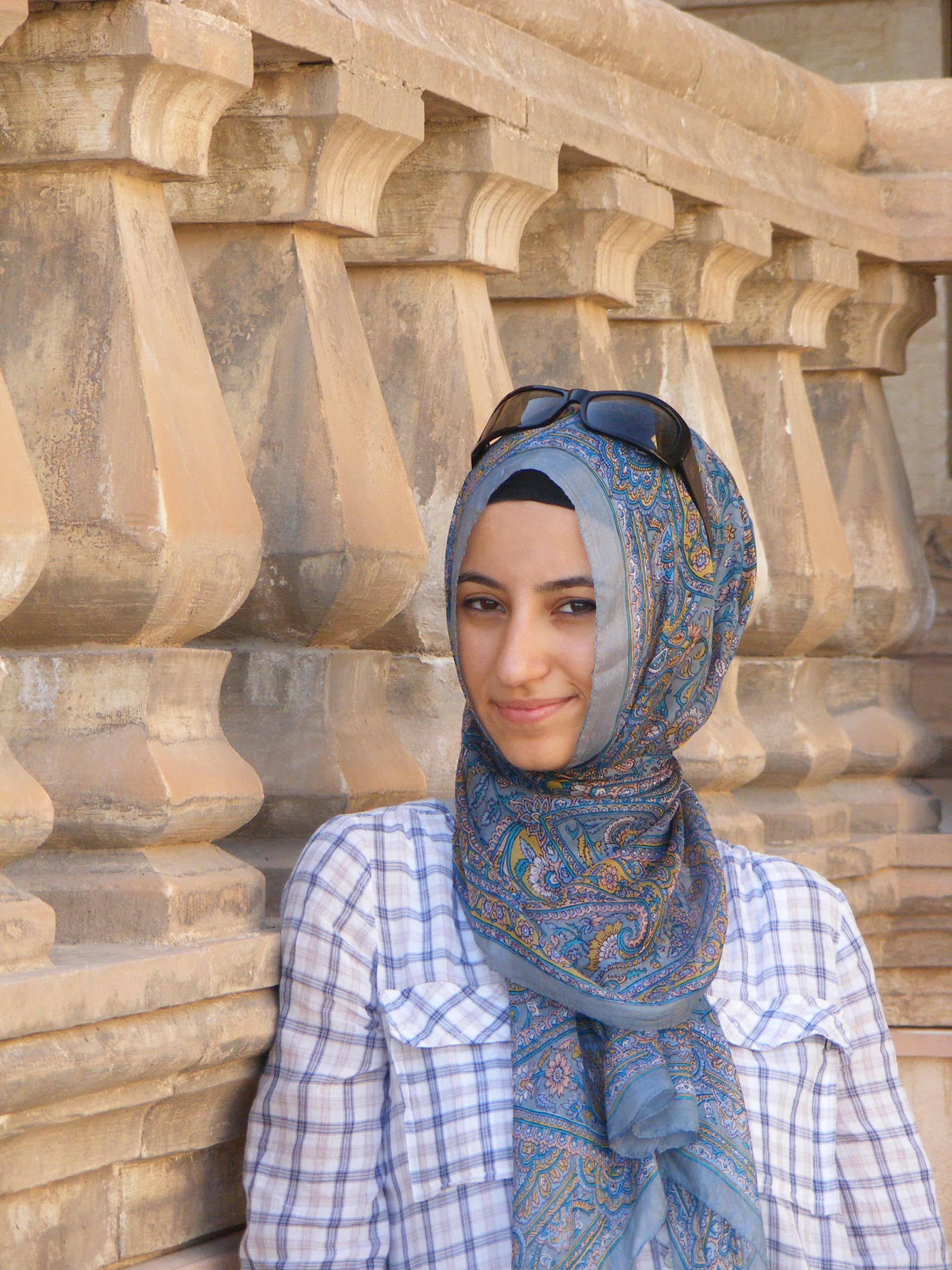 Recipe by
Esra Mese
Esra Mese is an Architect and mother to two beautiful kids. When she's off the clock, she enjoys spending her time cooking and baking. Lately, she has discovered a passion for food photography and food styling which has led to the launch of Charmer Kitchen. She loves challenging herself by trying different recipes and learning new things.
Charmer Kitchen