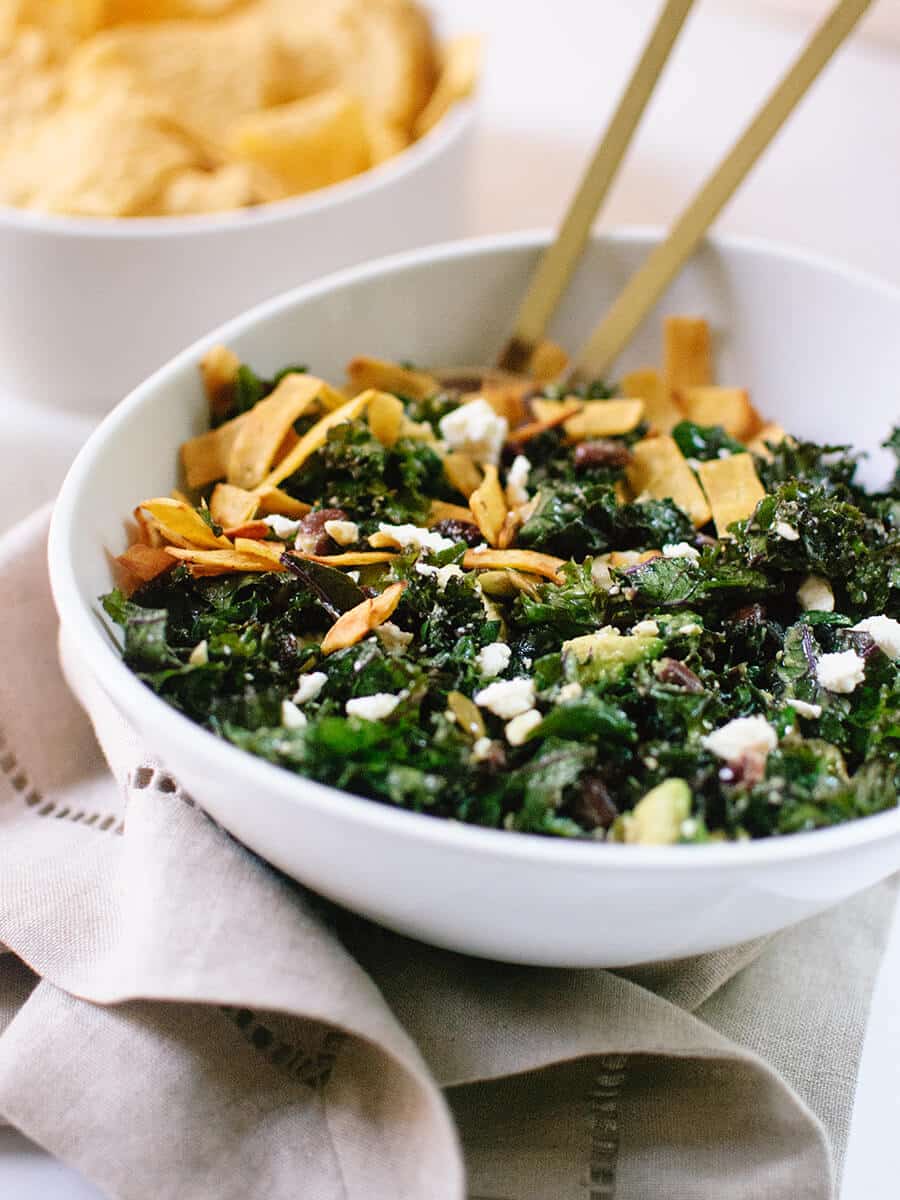 Fresh Feta Fiesta
A taco-inspired kale salad bursting with fresh flavors. Président Feta Crumbles – Cranberries tastes particularly lovely with the New World flavors of avocado, beans, corn and kick of jalapeño and pico.
Kale Salad Ingredients
1 Large Egg
1 Bunch of Kale (about 10 ounces)
15 oz Black Beans drained and rinsed
1/2 cup Président® regular feta crumbled with Cranberries (or 1/2 cup Président regular feta crumbled plain)
1 Avocado diced
1/2 cup Fresh Cilantro Leaves chopped
1/4 cup Pepitas (pumpkin seeds)
3 Corn Tortillas
Kale Salad Directions
Slice out the kale's thick ribs with a chef's knife and discard.
Chop kale leaves into small, bite-sized pieces.
Transfer kale to large salad bowl. Sprinkle a small pinch of sea salt over the kale and hand-massage the leaves by lightly scrunching big handfuls at a time, until the leaves are darker in color and fragrant.
Drizzle jalapeño-lime dressing over the kale, to taste, and toss until kale is lightly coated with dressing.
Add drained and rinsed black beans, feta, avocado and chopped cilantro to the bowl.
Toast pepitas in a skillet over medium-low heat for a few minutes, stirring frequently, until they smell fragrant and start making popping noises.
Toss toasted pepitas into salad to combine.
Stack corn tortillas and slice them into thin strips, about 2 inches long.
Heat large pan over medium heat and add drizzle of olive oil.
Once oil is shimmering, toss in tortilla slices, sprinkle them with salt and stir.
Cook until the strips are crispy and turning golden, stirring occasionally, about 5 to 10 minutes.
Remove tortilla strips from skillet and drain on a plate covered with a piece of paper towel.
Top individual portions of salad with crispy tortilla strips just before serving. (The strips tend to get soggy if they're in contact with the dressing for too long.)
Jalapeño-Lime Dressing Ingredients
3 tbsp Olive Oil
3 tbsp Fresh Lime Juice about 1 large lime
2 tbsp Chopped Jalapeño membranes and seeds removed
1 tsp Honey or Agave Nectar
1/2 tsp Ground Cumin
1/4 tsp Ground Coriander
1/8 tsp Fine Grain Sea Salt
Jalapeño-Lime Dressing Directions
Combine olive oil, lime juice, chopped jalapeño, honey, cumin, coriander and sea salt in a small bowl.
Whisk until emulsified.
Recipe by
Kate
Kate is a self-taught photographer and cook living in Kansas City, Missouri. Cookie is Kate's dog, four-legged assistant, chief crumb catcher, loyal companion and namesake of Kate's blog. Cookie and Kate features vegetarian recipes and is all about celebrating good food—real, sustainable food that delights the senses and nourishes the body. Kate loves cooking and photography, and hopes her photos will inspire readers to step into the kitchen to cook a delicious, healthy meal.
Cookie and Kate