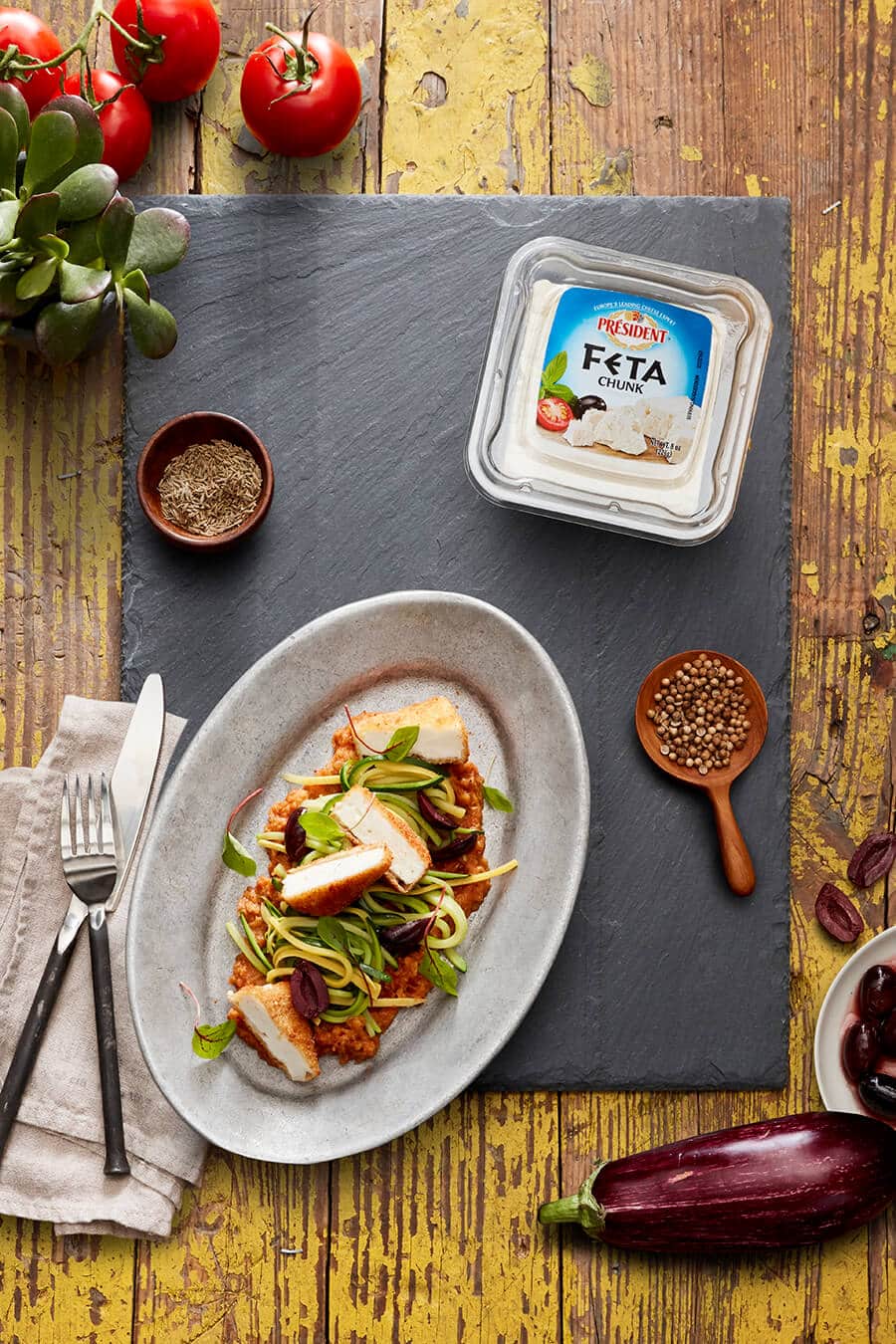 Fried Président Feta Chunk & Zucchini Pasta
A light, summer entrée that features tangy fried Président Feta Chunk atop a bed of fresh, thinly sliced zucchini pasta.
Prep Time
20 min
Cook Time
25 min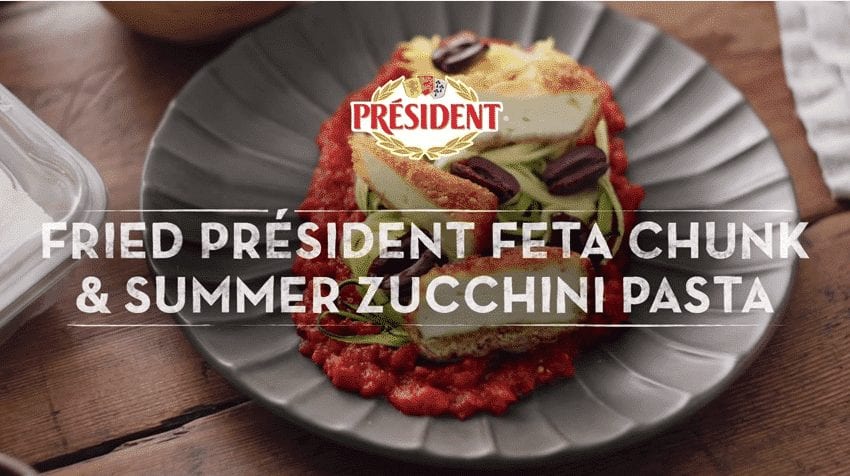 Watch the Video
Tomato Paste
10 whole tomatoes
5 whole Chinese eggplant
s
2 tbsp olive oil, divided
1 tbsp cumin, toasted & ground
1 tbsp coriander, toasted & ground
1 tbsp Salt and pepper, to season
Tomato Paste
Halve tomatoes and toss with 1 tbsp. olive oil and salt.
Line cookie sheet with parchment paper and place tomato halves skin side up.
Roast until skins are blistered and charred — about 20 minutes.
Peel and slice Chinese eggplants into 3-inch strips.
Heat 1 tbsp. olive oil in 4-quart sauce pan, add eggplant.
Roast until charred on all sides.
Stir eggplant over medium heat until half cooked — about 30 minutes.
Add tomatoes, cumin and coriander.
Cook until compote has become dry and eggplant has broken down.
Season with salt and pepper.
Zucchini Pasta
8 oz Président Feta Chunk
2 whole yellow zucchini

2 whole green zucchini

5 whole Kalamata olives
3 whole egg whites

1 cup flour

1 cup bread crumbs
Zucchini Pasta Directions
Slice zucchini on a mandoline, using a round-hole blade to mimic spaghetti. Be sure to use mandoline safety guard.
Quickly blanch zucchini pasta in salted water, then cool and set aside.
Slice Président Feta Chunk into 3" x 1" sticks.
Coat feta strips using traditional breading method, dipping in flour, egg whites and bread crumbs.
Fry feta strips in deep-fry pan at 350°F for 2 minutes, until golden brown.
Slice fried feta strips in half, at a slight angle.
Cut olives in half
.
Place zucchini pasta and fried feta on tomato purée and top with olives.
Expert Tip

Use a mandaline to slice the zucchini into pasta like strips.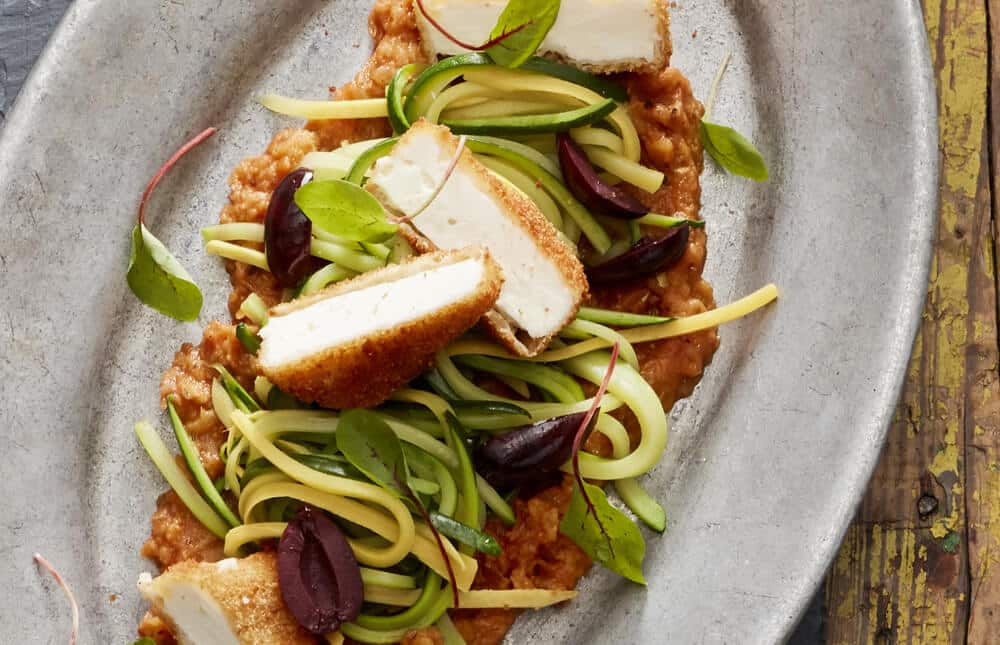 Summer Zucchini
Zucchini pasta is a light, low-carb alternative to traditional noodles. While the zucchini itself doesn't pack a ton of flavor, it's the perfect bed for your favorite summer ingredients.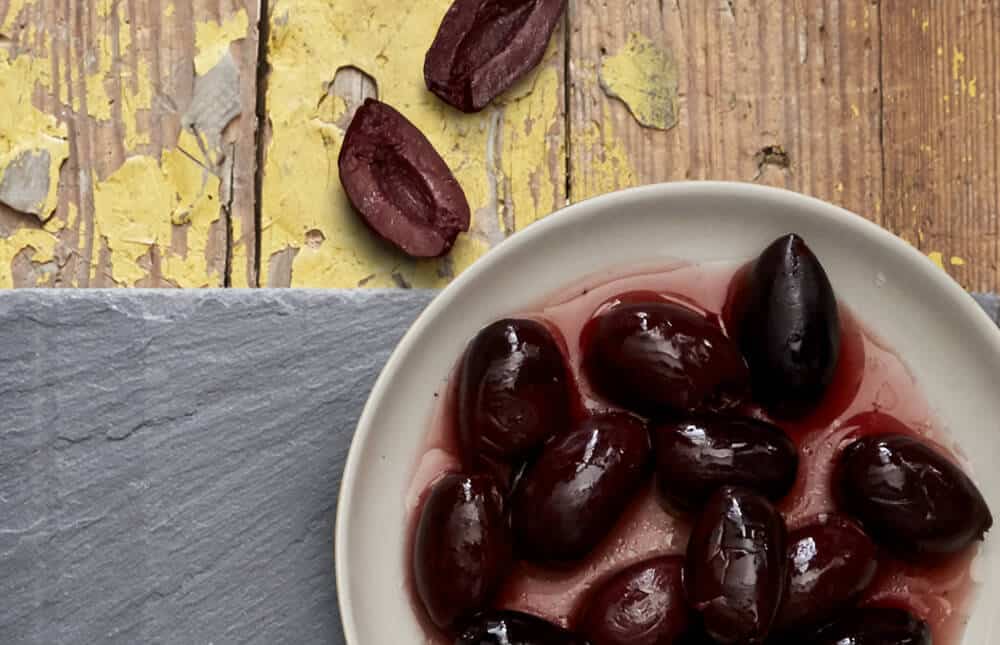 Kalamata Olives
Named after the southern Greek city of Kalamata, Kalamata olives are large purple olives with a smooth, meaty texture. Kalamata olives are typically preserved in wine vinegar or olive oil, and must be hand-picked in order to avoid bruising.
Tip

In a pinch? Substitute French black olives in place of the Kalamata olives.