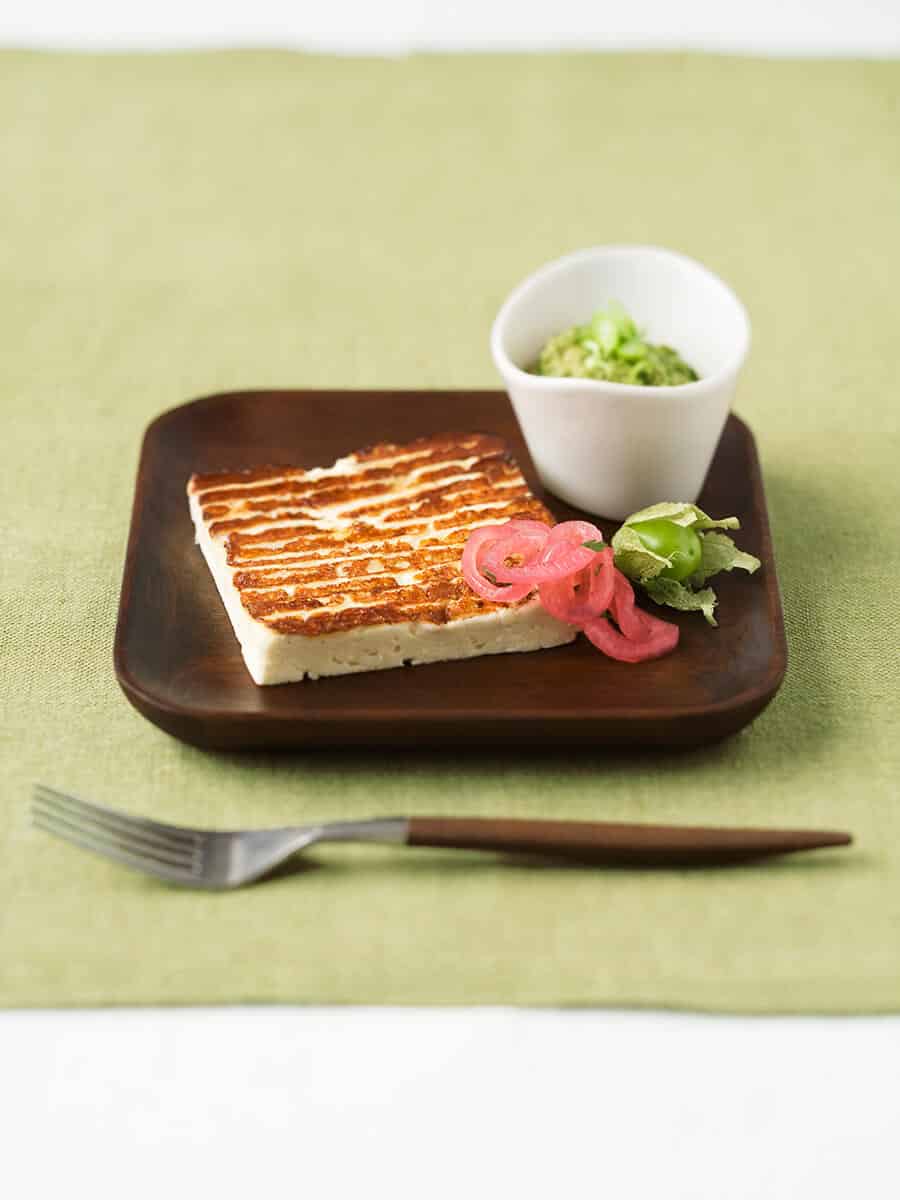 Grilled Feta with Warm Pepita Salsa
A unique blend of flavors are packed into this simple dish. The toasty pepitas are balanced with a hint of spice and garlic, creating a warm, Spanish-inspired salsa. Rich, creamy Président Feta Chunk provides more depth and it's all rounded out with the crunch of tortilla chips. Invite your friends over for a fiesta this weekend!
Prep Time
30 min
Cook Time
30 min
Ingredients
16 oz Président® Feta Chunk
Olive Oil Spray
3/4 cup Pepitas
1 cup Tomatillos peeled
1/2 cup Cilantro Leaves
3 Garlic Cloves peeled
1 Jalapeño Chili
2 tsp Kosher Salt
1 cup Vegetable Broth
3 tbsp Vegetable Oil
Tortilla Chips
Directions
Preheat oven to 350° F.
Spread pepitas out on a sheet pan and bake, stirring occasionally for about 10 minutes or until toasted and beginning to brown. Remove from oven and let cool.
Place pepitas, tomatillos, garlic, cilantro, chili and half of broth in food processor. Process until it is a slightly chunky puree, adding more broth if necessary.
Heat a deep-sided sauce pan over high heat and add the oil.
Carefully pour salsa mixture into hot pan, stirring to prevent spattering.
Turn heat to medium and add remaining broth and salt.
Cook, stirring for about 15-20 minutes until thick and fragrant.
Use immediately or cool and store refrigerated for 3 to 4 days.
Slice feta into thick slices. Heat grill pan, or grill.
Spray both sides of cheese slices with spray and quickly sear the cheese on both sides.
Serve immediately with the warm salsa and tortilla chips.