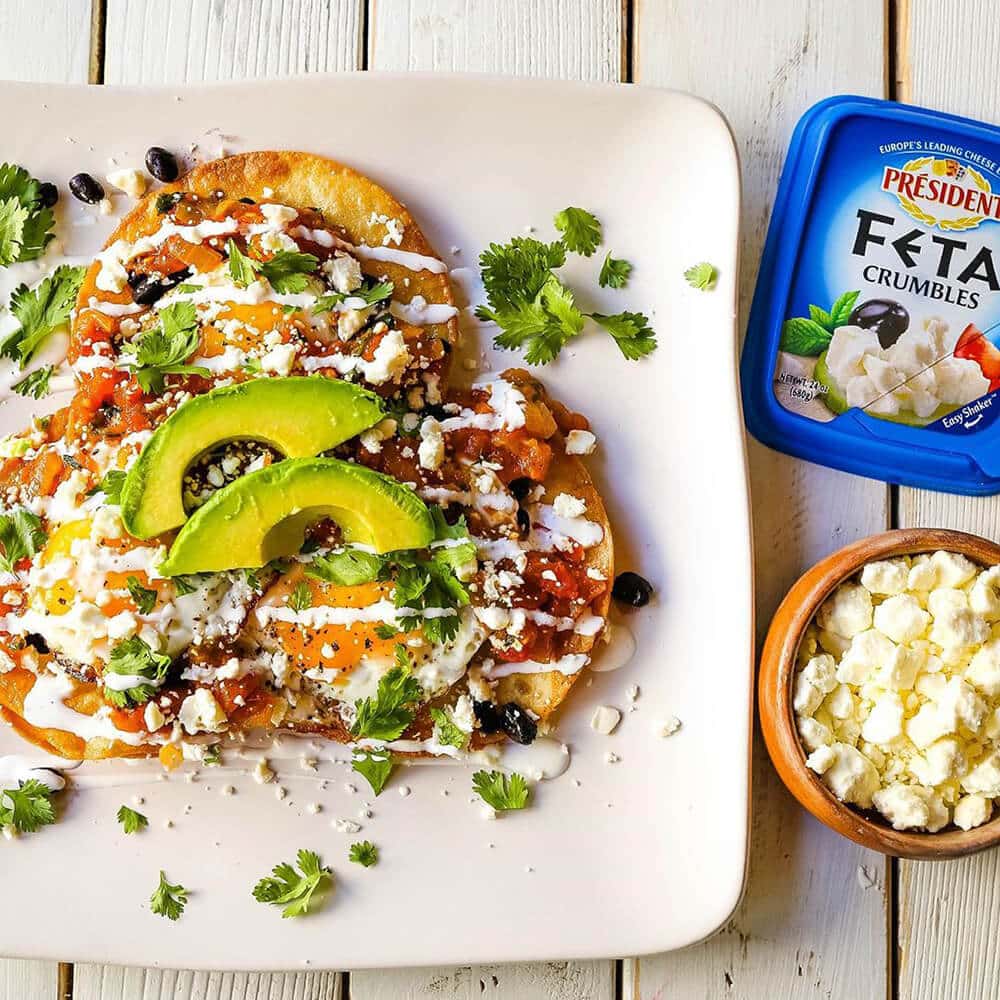 Huevos Rancheros
A traditional Mexican breakfast dish made with fried corn tortillas, fried egg, ranchera salsa, beans, avocado, Président® Feta cheese and salsa.
Prep Time
5 min
Cook Time
10 min
Ingredients
1/2 cup Président Feta Crumbles Plain
Canola Oil
4 Corn Tortillas
Salt and Pepper
3/4 cup Black Beans, Pinto Beans, or Refried Beans
1 cup Ranchera Salsa (or favorite medium salsa or hot sauce)
1 large Avocado
Cilantro (chopped)
Mexican Crema
Instructions
Start by heating a skillet over medium-high heat. Add oil and allow the oil to heat up. Using tongs, carefully add each corn tortilla to the oil and fry for 2-3 minutes per side. This will depend on how hot the oil is so watch carefully. Have a paper-towel-lined plate ready to go to soak up any excess grease.
After the tortillas have all been crisped, you can use the remaining oil in the pan to cook the eggs in. If there is a lot of oil, I suggest draining most of it and just leaving a thin amount to cook the eggs. Crack the eggs into the oil and allow to cook until the egg whites are completely cooked through and the yolk is still runny. Sprinkle salt and pepper all over the eggs.
Sprinkle or spread your favorite beans all over the tortilla. You can use black beans, pinto beans, or refried beans. I like to warm my beans ahead of time. You can also add some green chilies or canned chipotle chilies to the beans to add some flavor and spice.
Top with a fried egg and then place dollops of ranchera salsa all over the eggs. Sprinkle with Président Feta Crumbles, fresh avocado slices and cilantro. You can even drizzle on some Mexican crema for some extra creaminess. Serve immediately.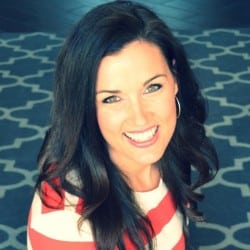 Recipe by
Melissa Stadler
Melissa was born to cook. As a toddler, she was on the tallest step stool, begging her mom to let her help in the kitchen. She watched her mom and grandma spend their days baking for their families and it was then she discovered that making food is a wholehearted expression of love.
Modern Honey