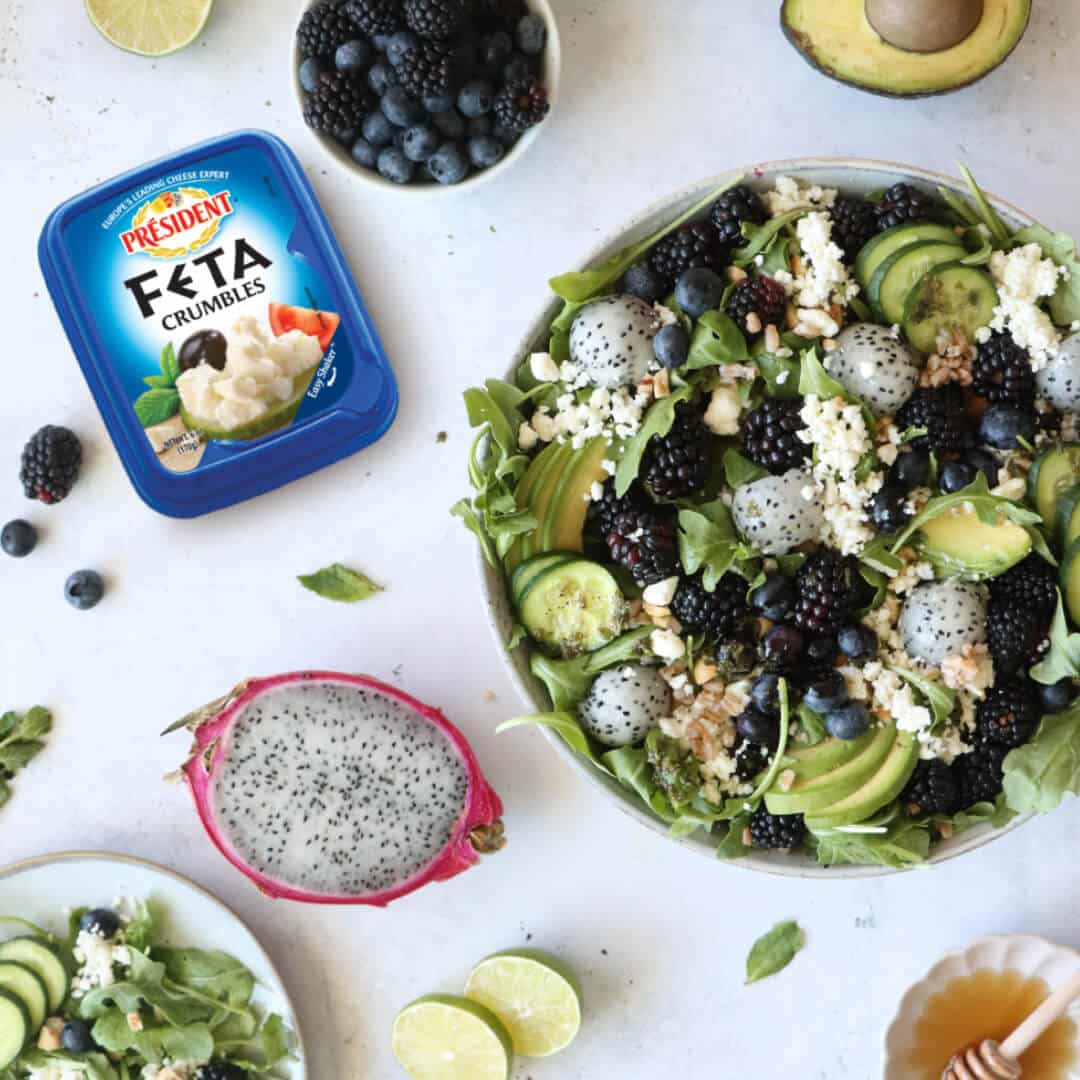 Président® Feta Blackberry Arugula Salad
A hearty and satisfying salad that includes one of the most nutritious ancient grains, called farro, healthy fats like hazelnuts and avocado, along with juicy berries, dragon fruit, leafy greens and cucumbers. Sprinkled with Président feta and drizzled with super fresh and flavorful mint & lime vinaigrette.
Prep Time
15 min
Cook Time
28 min
For the Salad
1/3 cup Président Feta Crumbles
5 cup Arugula
1/2 cup Cooked Farro
1 cup Blackberries
3/4 cup Blueberries
1/2 cup Dragon fruit, scooped
1 whole Avocado, diced
1 1/2 cup Cucumber, sliced thinly
1/3 cup Toasted Hazelnuts
Instructions
Cook farro according to package instructions (cooks in about 30 minutes)
Combine arugula, cooked farro, berries, dragonfruit, sliced avocado and cucumber into a salad bowl. Sprinkle finely chopped toasted hazelnuts and Président Feta cheese.
When you are ready to serve, mix the vinaigrette ingredients in a small jar, shake it, and pour over salad.
For the Mint & Lime Vinaigrette
1/3 cup Olive Oil
2 tbsp Freshly Squeezed Lime Juice
1 tbsp Honey
2 tbsp Fresh Mint, finely chopped
3/4 tsp Salt
1/8 tsp Black Pepper
Recipe by
Annie Siegfried
My name is Annie Siegfried. I'm a dietitian, food writer and photographer. The recipes I make are inspired by the people I love most and places I visit. As a dietitian, I'm a big supporter of intuitive eating and am against restrictive diets. I love creating gourmet recipes that are nourishing for the body and the soul.