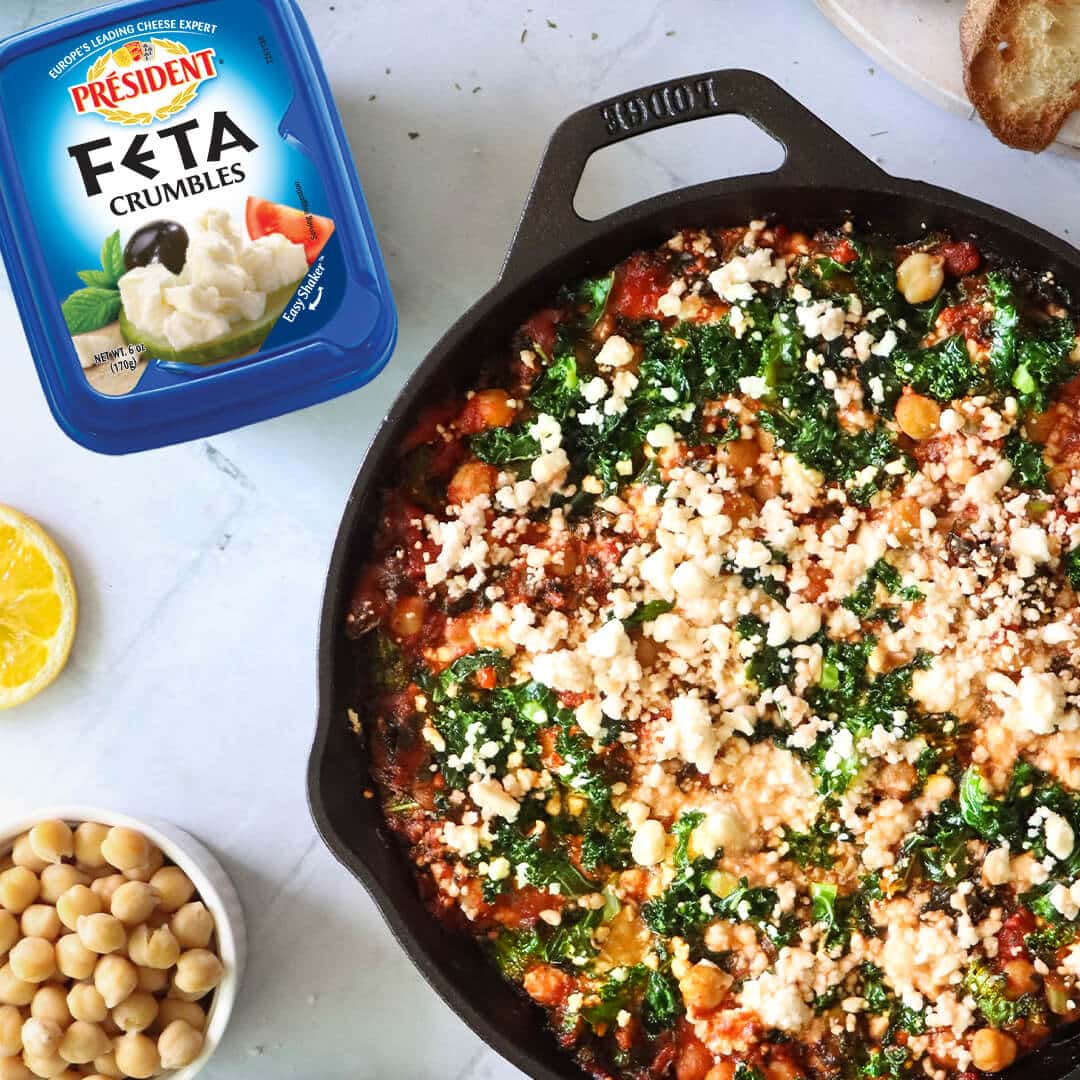 Président® Feta Chickpea & Kale Skillet
Make your get-togethers even warmer with our Président® Feta, Kale & Chickpea Skillet. A fresh, flavorful fare sure to entice your taste buds.
Prep Time
10 min
Cook Time
25 min
Ingredients
1 package Président® Feta Crumbles, or Président® Feta Chunk cut into 3 to 4 ½-inch planks
2 tbsp Extra Virgin Olive Oil, plus more for drizzling
1 tsp Cumin Seeds
5 cup Kale, stems removed and cut into bite-size pieces
2 cup Tomato Sauce, or Marinara Sauce
1 1/2 cup Canned Chickpeas, drained and rinsed (pan fry/roast for extra nuttiness flavor)
1 tbsp Fresh Lemon Juice, plus wedges for serving
2-3 tbsp Water (can omit)
pinch Red Pepper Flakes
pinch Fresh Ground Pepper, to taste
4-5 Pieces of Pita Bread, or Baguette (warmed)
Instructions
Preheat oven to 375 F. Heat a 10 to 12-inch oven-safe skillet over medium heat, and add oil. Add the cumin seeds, and sizzle gently for 1 to 2 minutes.
Add the kale in batches, letting each handful shrink and wilt before adding the next.
Add the tomato sauce, chickpeas, lemon juice, and water. Stir and bring to a simmer.
Nestle the Président® Feta Crumbles or Président® Feta Chunk slices into the sauce. Sprinkle with ground pepper.
Place skillet into the oven and bake until the feta has softened, about 15 minutes.
Drizzle with oil and red pepper flakes. Serve with warm pita bread or sliced baguette and lemon wedges.