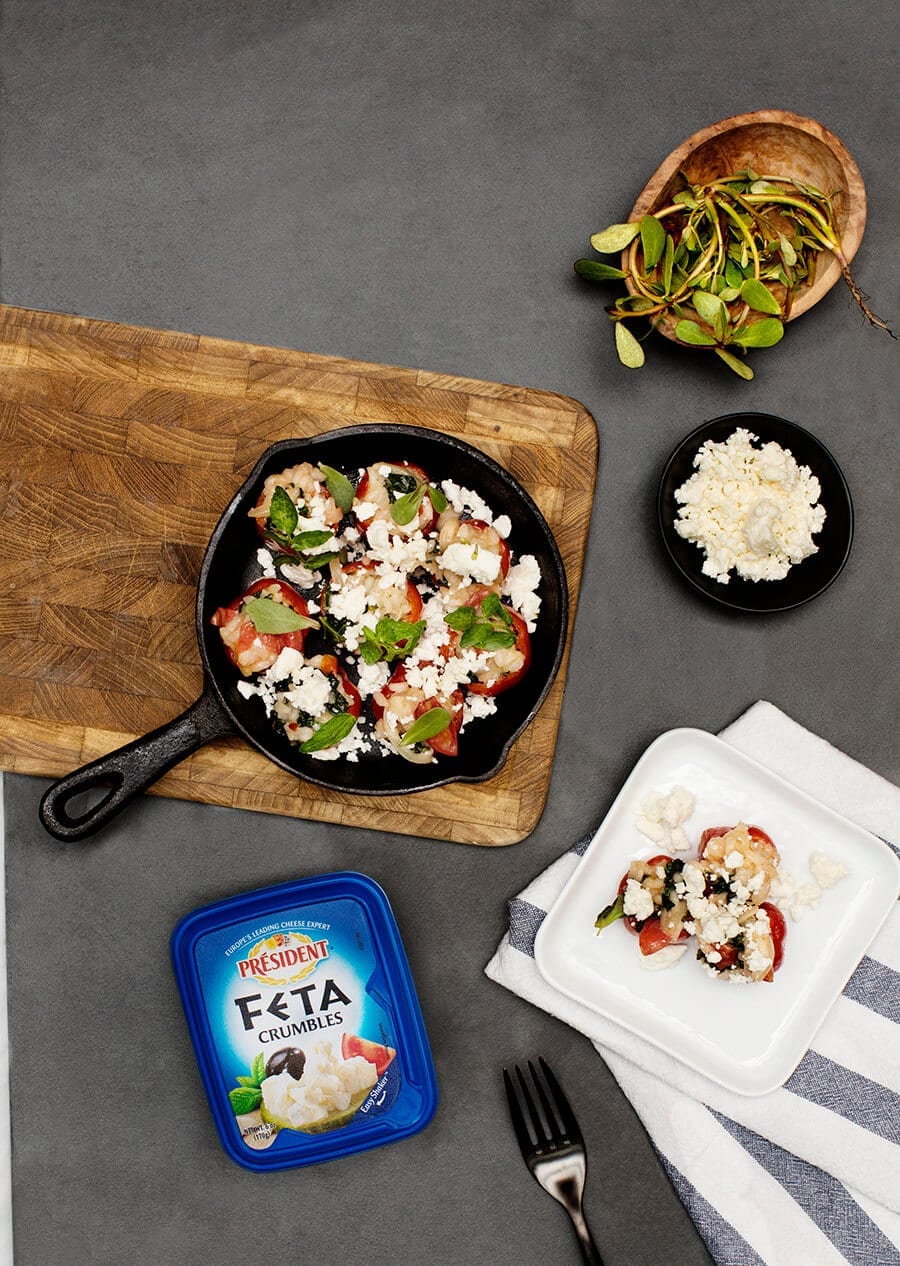 Président Feta Crumbles Stuffed Peppers with Rice, Orange & Oregano
Kick off your next gathering with these risotto-stuffed peppers that highlight the fresh taste of Président Feta.
Prep Time
30 min
Cook Time
10 min
Saffron Risotto Ingredients
2 cup Arborio or carnaroli rice
1 tbsp olive oil
12 piquillo peppers
1/2 onion finely diced
1 cup white wine
6 cup vegetable stock
2 tbsp butter
1/2 cup grated parmesan cheese
1 pinch saffron
Saffron Risotto Directions
Simmer the vegetable stock with saffron.
On medium heat, sweat the onion with no color for 3 minutes.
Add the rice, and toast for 1 minute. Then add the white wine.
Slowly add stock to the rice, ladle by ladle, stirring continuously.
After 10-12 minutes, the rice should be al dente but not mushy.
Mount with the butter and cheese, and check for seasoning.
Chill the risotto in the refrigerator.
Stuffed Pepper Ingredients
6 oz package Président Feta Crumbles or Président Fresh Goat Cheese
1/4 cup extra-virgin olive oil
6 garlic cloves freshly shaved
1 onion julienned
15 heirloom or cherry tomatoes
1 cup white wine
2 bunches kale
Oregano
Chili flakes
Stuffed Pepper Directions
Preheat the oven to 400°F.
Drain and remove the seeds from the piquillos, then spoon in about 1 tablespoon saffron risotto into each pepper.
In a cast-iron skillet, warm the onion, garlic and chili in the olive oil on medium for 2-3 minutes, until toasted.
Add the tomatoes, kale and stuffed piquillo peppers. Cook on the stovetop for about 7 minutes.
Add the white wine to deglaze and cook until dry.
Place the mixture in the 400°F oven for 8-10 minutes, until the vegetables have softened and the rice is warm.
Expert Tip

If you can't find Arborio or carnaroli rice, jasmine rice can work as a substitute.