President Cheese
Président® Feta Chunk
A perfect balance of creaminess and saltiness in this full-flavored cheese. Slice it for a party platter, grill it with vegetables, fry it to lay across a salad – the culinary possibilities for Président® Feta Chunk are endless.
MADE IN THE USA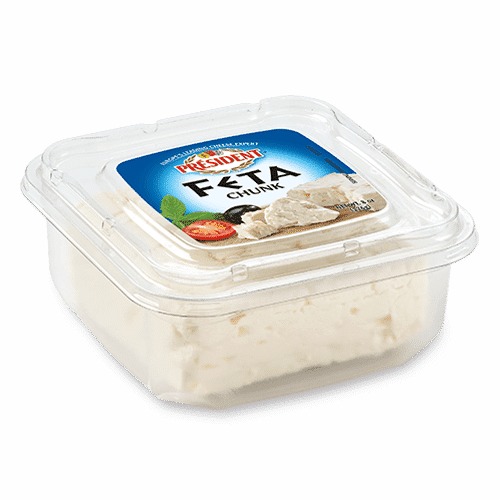 Available Sizes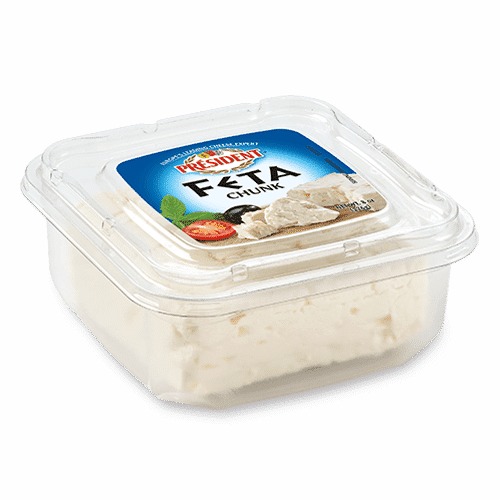 8 oz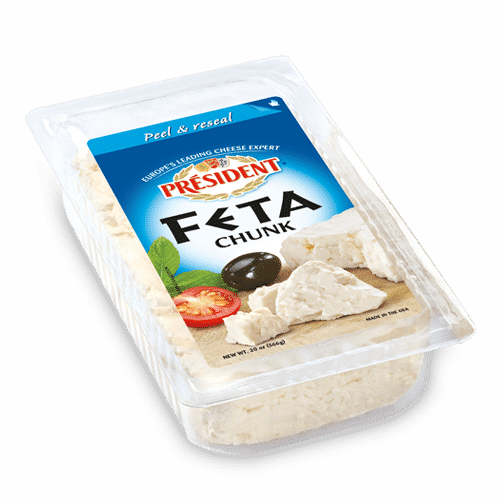 20 oz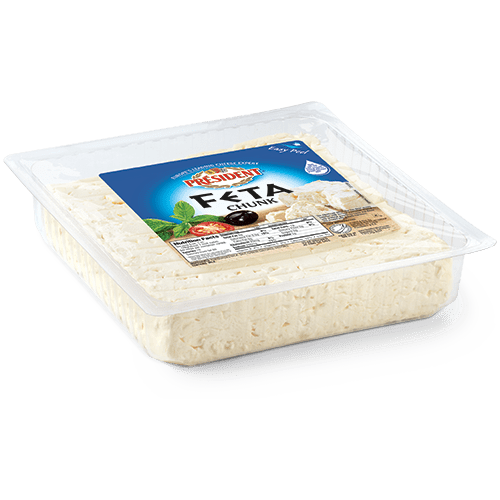 2.5 lbs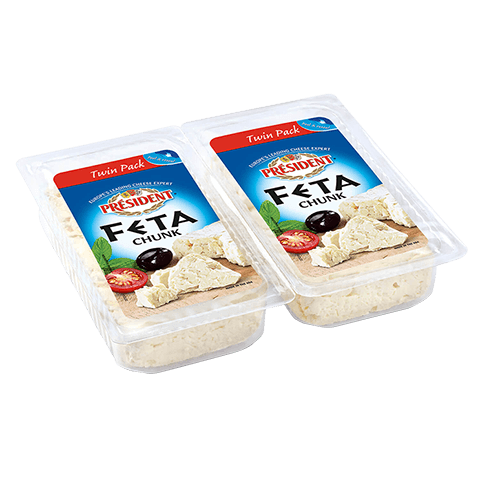 2 x 1.25lbs
Wine Pairing
Metaxa, Ouzo, Sauvignon Blanc, Dry Greek wines, Retsina, pinot noir, light reds, Beaujolais, and Gewurztraminer
Food Pairing
Olives, cucumbers, herbes de Provence, tomatoes, beets, endive, dill, and mint.
Beer Pairing
American Pale Ale (APA), Belgian IPA, Belgian Pale Ale, English Bitter, English Strong Ale, Hefeweizen
2022
World Dairy Expo Contest
Président® Feta Chunk
8 oz
2022
World Dairy Expo Contest
Président® Feta Chunk
8 oz
2019
World Dairy Expo Contest
Président® Feta Chunk
8 oz
2015
American Cheese Society
Président® Feta Chunk
Feta
2010
American Cheese Society
Président® Feta Chunk
2 lb Feta Category
2016
World Dairy Expo Contest
Président® Feta Chunk
8 oz Open Class Soft Cheese
| | | |
| --- | --- | --- |
| Per 1oz (28g) serving | | % Daily Value |
| Calories | 70 | - |
| Total Fat | 5 g | 7 |
| Saturated Fat | 3.5 g | 17 |
| Trans Fat | 0 g | - |
| Cholesterol | 20 mg | 7 |
| Sodium | 310 mg | 14 |
| Total Carbohydrate | 0 g | 0 |
| Dietary Fiber | 0 g | 0 |
| Sugars | 0 g | - |
| Protein | 5 g | - |
| Vitamin D | 0 mg | 0 |
| Calcium | 85 mg | 6 |
| Iron | 0 mg | 0 |
| Potassium | 30 mg | 0 |