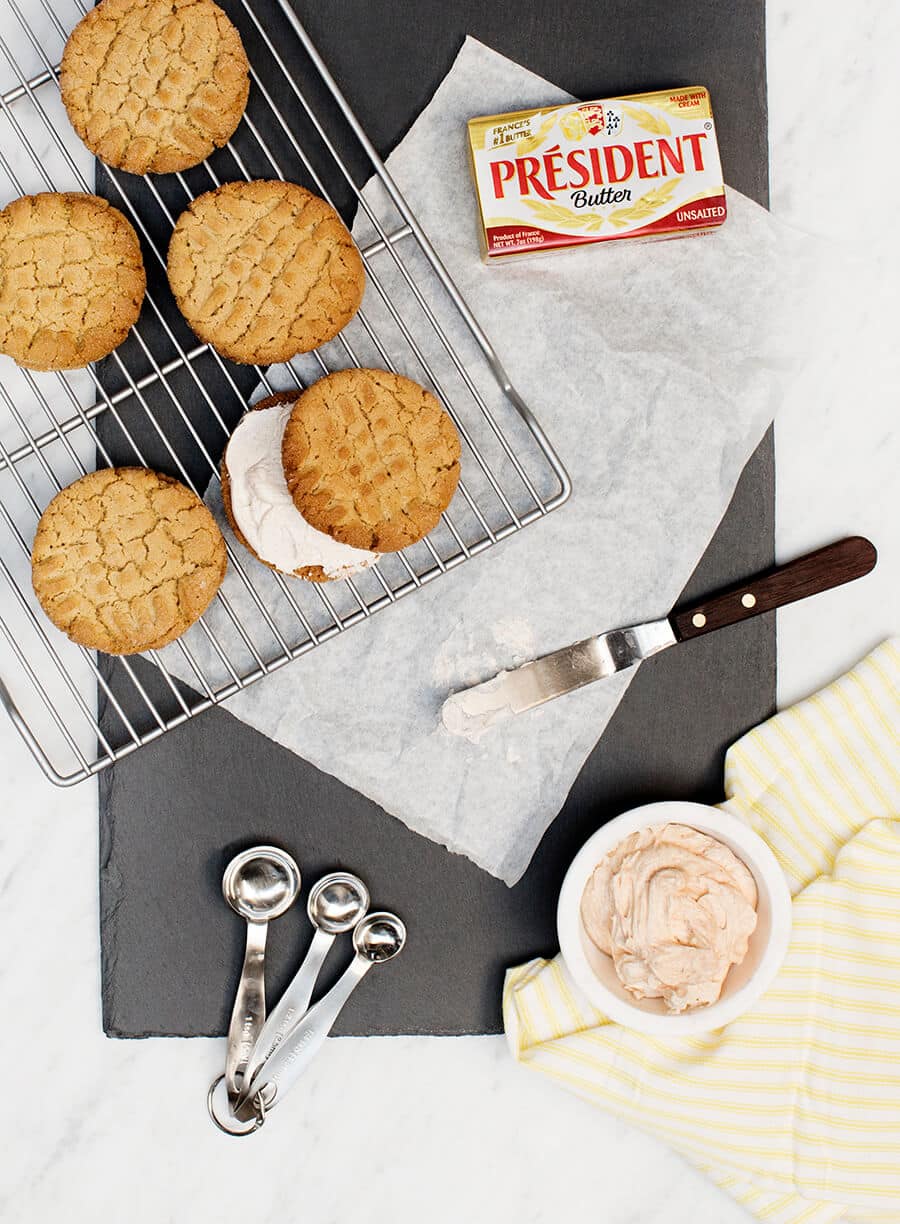 Président Peanut Butter Cookies Stuffed with Honey Buttercream
Take your dessert tray to another level with these indulgent peanut butter cookies stuffed with honey buttercream, showcasing the rich decadence of France's favorite butter.
Prep Time
75 min
Cook Time
10 min
Watch the Video
Honey Buttercream Ingredients
12 oz Président Unsalted Butter room temperature
11/2 tsp ground cinnamon
3/4 tsp kosher salt
2 1/2 cup powdered sugar
1/4 cup honey
Honey Buttercream Method
Beat the Président butter for a few minutes on high until fluffy, scraping down the bowl as needed.
Beat in the salt until the mixture if smooth.
Add the powdered sugar a little at a time, stopping to scrape down the bowl as needed.
Stream in the honey, scraping down the bowl as needed.
Once all the ingredients are incorporated, beat the mixture on high speed for 1-2 minutes until it is fluffy.
Cookie Ingredients
1 cup Président Unsalted Butter softened
1 cup peanut butter
1 cup white sugar
1 cup packed brown sugar
2 eggs
2 1/2 cup all-purpose flour
1 tsp baking powder
1/2 tsp salt
1 1/2 tsp baking soda
Cookie Method
Cream the Président butter, peanut butter and sugars together with an electric mixer in a bowl; then beat in the eggs.
In a separate bowl, sift the flour, baking powder, baking soda and salt; stir into butter mixture. Put the dough in the refrigerator for 1 hour.
Roll the dough into 1-inch balls and place on baking sheets. Flatten each ball with a fork.
Bake at 350°F for 8-10 minutes.