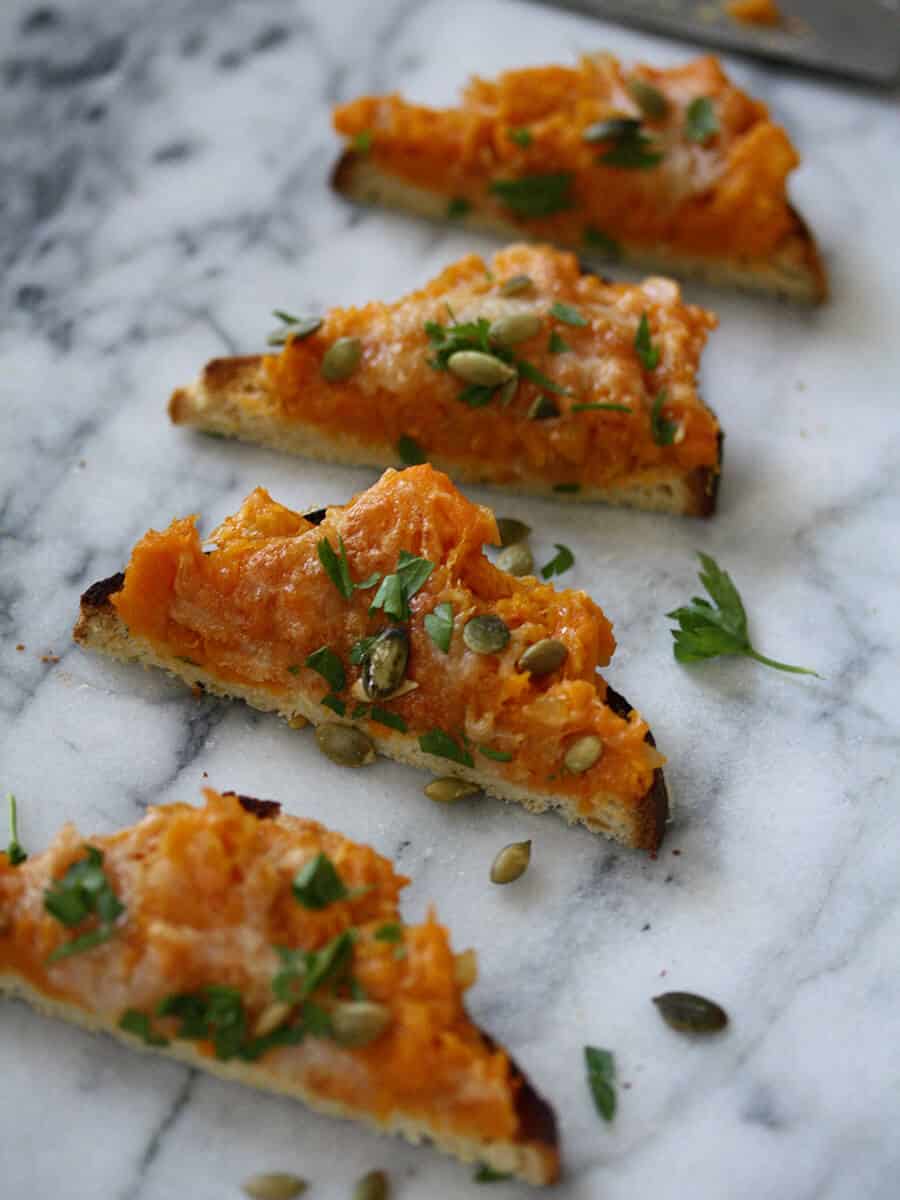 Smoky Squash Manchego Toast
Perfect for those cooler autumn months and celebrations, this finger-food is full of unique, warm flavors. Squash, mashed with paprika, cayenne and onions, is layered on toasted bread. Garnish with gooey Président Manchego and pumpkin seeds.
Prep Time
10 min
Cook Time
50 min
Ingredients
2 lb butternut squash peeled and cut into a 1" dice
2 tbsp olive oil
1/2 tsp sea salt
1 tbsp Président unsalted butter
1 small yellow onion diced
1/2 tsp smoked paprika
Dash of cayenne pepper
6 slices country white bread
1 1/2 cup grated Manchego cheese
1/4 cup pepitas for garnish (optional)
1 tbsp finely chopped parsley for garnish (optional)
Directions
Preheat the oven to 400 degrees F.
On a parchment-lined baking sheet, toss the squash with the oil and salt. Arrange in an even layer and roast in the oven until tender and beginning to brown, about 45 minutes.
Heat butter in a medium non-stick skillet. Sauté the onion over medium heat until soft and slightly caramelized (15 minutes). Stir in the paprika, and cayenne. Set aside.
In a medium mixing bowl, combine squash and the onion mixture. Mash with a fork until the squash is semi-smooth. Taste for seasoning and add more salt as necessary.
Preheat the broiler.
Arrange the bread on a baking sheet. Toast under the broiler until lightly browned on both sides, 2 minutes per side. Slather each piece with squash and top with the cheese.
Return to the broiler until the cheese has begun to brown (2 minutes).
Garnish with pepitas and parsley, if using, and serve immediately.