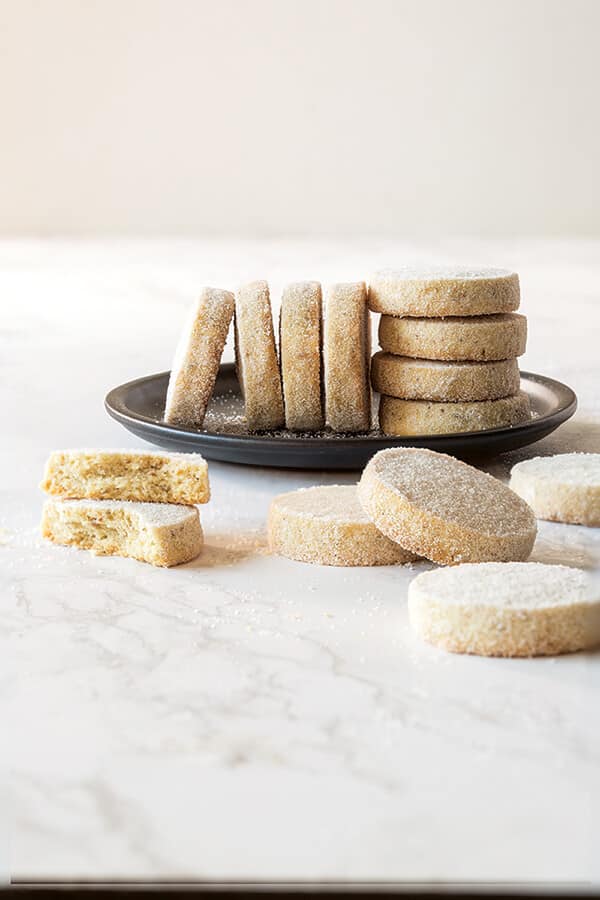 Toasted Almond Sablé Cookies
Président® butter makes these sparkling sablés the ultimate buttery, melt-in-your-mouth cookies. Here, it imparts a creaminess that complements the flavor of toasted almonds exquisitely. Président is France's number one butter and our go-to for all crumbly French cookies.
Prep Time
30 min
Cook Time
26 min
Cookies
⅓ cup Almonds, Sliced
2 cup All-purpose flour
1 package Président unsalted butter, Softened
⅓ cup Confectioners' sugar
1¼ cup Granulated sugar, Divided
1 tsp Kosher salt
1 whole Vanilla bean, Split lengthwise, seeds scraped and reserved
1 whole Large egg yolk
Cookies
Preheat oven to 325°F (170°C). On a rimmed baking sheet, spread almonds in an even layer. Bake until fragrant and toasted, about 10 minutes. Let cool completely.
In the work bowl of a food processor, process toasted almonds until finely ground. (Be sure not to overprocess the almonds, or you'll end up with almond butter.) Transfer to a medium bowl; add flour, whisking to combine.
In the bowl of a stand mixer fitted with the paddle attachment, beat butter at medium-low speed until smooth, about 1 minute.
Add confectioners' sugar, ¼ cup (50 grams) granulated sugar, and salt, and beat until smooth, about 1 minute.
Add vanilla bean seeds and egg yolk, and beat until combined, about 1 minute.
Add flour mixture to butter mixture in two additions, beating just until combined.
Turn out dough onto a work surface, and gently knead 3 to 4 times.
Place dough between 2 large sheets of parchment paper, and roll to ½-inch thickness. Transfer dough between parchment to refrigerator. Refrigerate until set, at least 2 hours.
Preheat oven to 325°F (170°C). Line 2 baking sheets with parchment paper.
Using a 2-inch round cutter dipped in flour, cut dough, and place at least 1 inch apart on prepared pans. Reroll scraps between parchment, if necessary. Freeze until set before cutting dough, about 5 minutes.
Bake, in batches, until bottom edges of cookies turn golden, 15 to 16 minutes. Let cool on pans for 1 minute.
Place remaining 1 cup (200 grams) granulated sugar on a plate. Using a spatula, place cookies, a few at a time, in sugar. Cover tops and sides with sugar. Using the spatula, lift cookies, and place on wire racks to let cool completely.