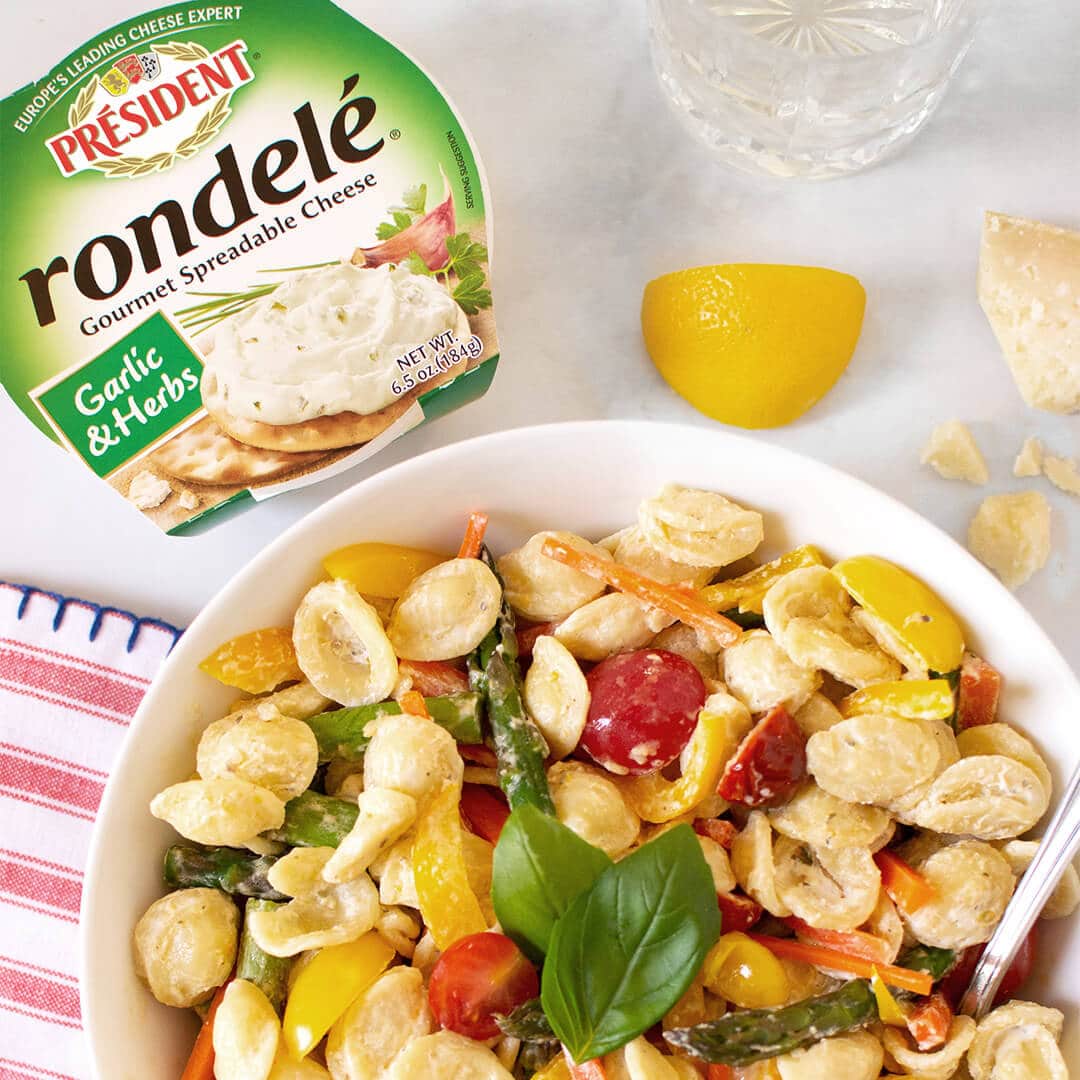 Creamy rondelé® Pasta Primavera
This simple pasta primavera is the perfect spring or summer dish! Loaded with fresh veggies, tossed in creamy rondelé cheese, then topped with lemon and parmesan – it's both easy and full of flavor.
Prep Time
15 min
Cook Time
15 min
Ingredients
1 lb Orecchiette Pasta (or your favorite pasta shape!)
2 (6) oz containers rondelé by Président® Garlic and Herb
4 cloves garlic, minced
1 pint cherry tomatoes, halved
12 oz (about 2 cups) asparagus, chopped into 1 inch pieces
1 yellow pepper, chopped into 1 inch pieces
2 carrots, peeled and chopped into 1 inch pieces
1/2 cup reserved pasta cooking water
2 tbsp olive oil
Freshly squeezed lemon juice (1-2 lemons)
Parmesan cheese, for serving
Instructions
Boil pasta according to package instructions.
While pasta is cooking, heat skillet to medium-high heat. Add 2 tablespoons of olive oil.
To the skillet, add carrots. Stir fry for one minute, then add asparagus, yellow pepper, cherry tomatoes and garlic. Season with salt and pepper and cook about one minute more until veggies are crisp-tender, then set aside.
Right before the pasta is done cooking, reserve about ½ cup to 1 cup of the cooking water. Then, drain pasta and return immediately to hot pot.
On VERY low heat, add rondelé and about ¼ cup of the pasta water. Stir, stir, stir until cheese melts into the pasta--keep adding a little pasta water until you get to desired creaminess (usually about ½ cup).
Stir in veggie mixture. Give everything a big toss and serve immediately with a big squeeze of lemon juice and lots of Parmesan cheese!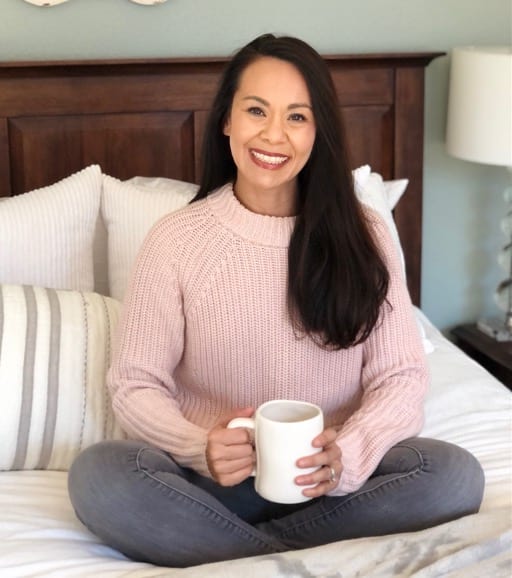 Recipe by
Casey
Casey is a mom of three, teacher, wife and blogger at Get On My Plate. She has a passion for cooking and loves teaching other busy moms how to uncomplicate cooking at home. On her blog, she provides quick and simple, yet flavorful meals the whole family can enjoy. When she's not in the kitchen or photographing food, Casey enjoys spending time with her family, camping, traveling and red wine.
Get On My Plate