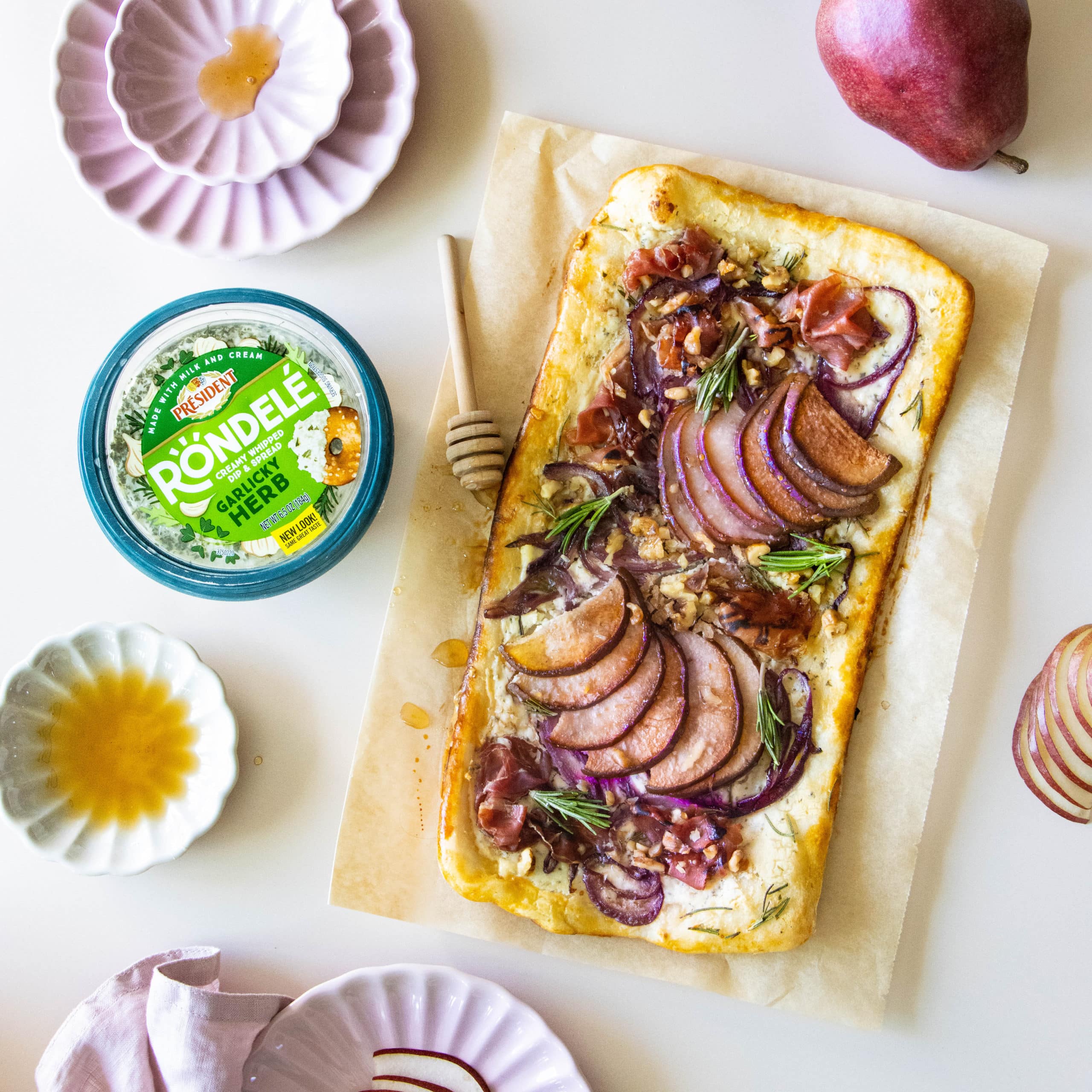 Rondelé® Flatbread With Pear & Prosciutto
A quick and satisfying recipe with hints of sweet and savory. Rondelé ® is spread on the flatbread dough, topped with caramelized onions, chopped rosemary, fresh pear slices, walnuts, prosciutto and olive oil. It's then baked, sprinkled with fresh rosemary and served hot.
Prep Time
5 min
Cook Time
15 min
Rondelé® Flatbread With Pear & Prosciutto
1 whole Large store-bought flatbread (about 14x5 inches, or 2 smaller ones)
1 package Rondelé® Garlic & Herbs
2 whole Red pears sliced
5-6 Slices of prosciutto
1/2 Onion thinly sliced
1 cup Walnuts finely chopped
2 tbsp Honey
2 tbsp Olive oil
2 tsp Fresh rosemary
Freshly ground pepper
Rondelé® Flatbread With Pear & Prosciutto
Preheat the oven to 400°F. Place flatbread onto a parchment-lined baking sheet.
Brush the top with a thin coating of olive oil. Bake for 5 minutes to crisp the crust.
Remove flatbread from the oven and maintain oven temperature. Dollop the Rondelé around on the flatbread and spread as evenly as you can. It doesn't have to be perfect.
Spread the caramelized onions over the Rondelé. Sprinkle with chopped rosemary.
Arrange pear slices as desired. Top with prosciutto and chopped walnuts. Season with freshly ground pepper, to taste.
Bake flatbreads for 10-12 minutes until the pears soften, the crust edges are golden brown. Let cool slightly.
Garnish with fresh rosemary sprigs and additional honey, as desired. Serve immediately.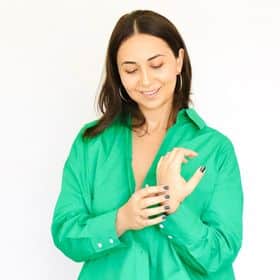 Recipe by
Annie Siegfried
My name is Annie Siegfried. I'm a dietitian, food writer and photographer. The recipes I make are inspired by the people I love most and places I visit. As a dietitian, I'm a big supporter of intuitive eating and am against restrictive diets. I love creating gourmet recipes that are nourishing for the body and the soul.