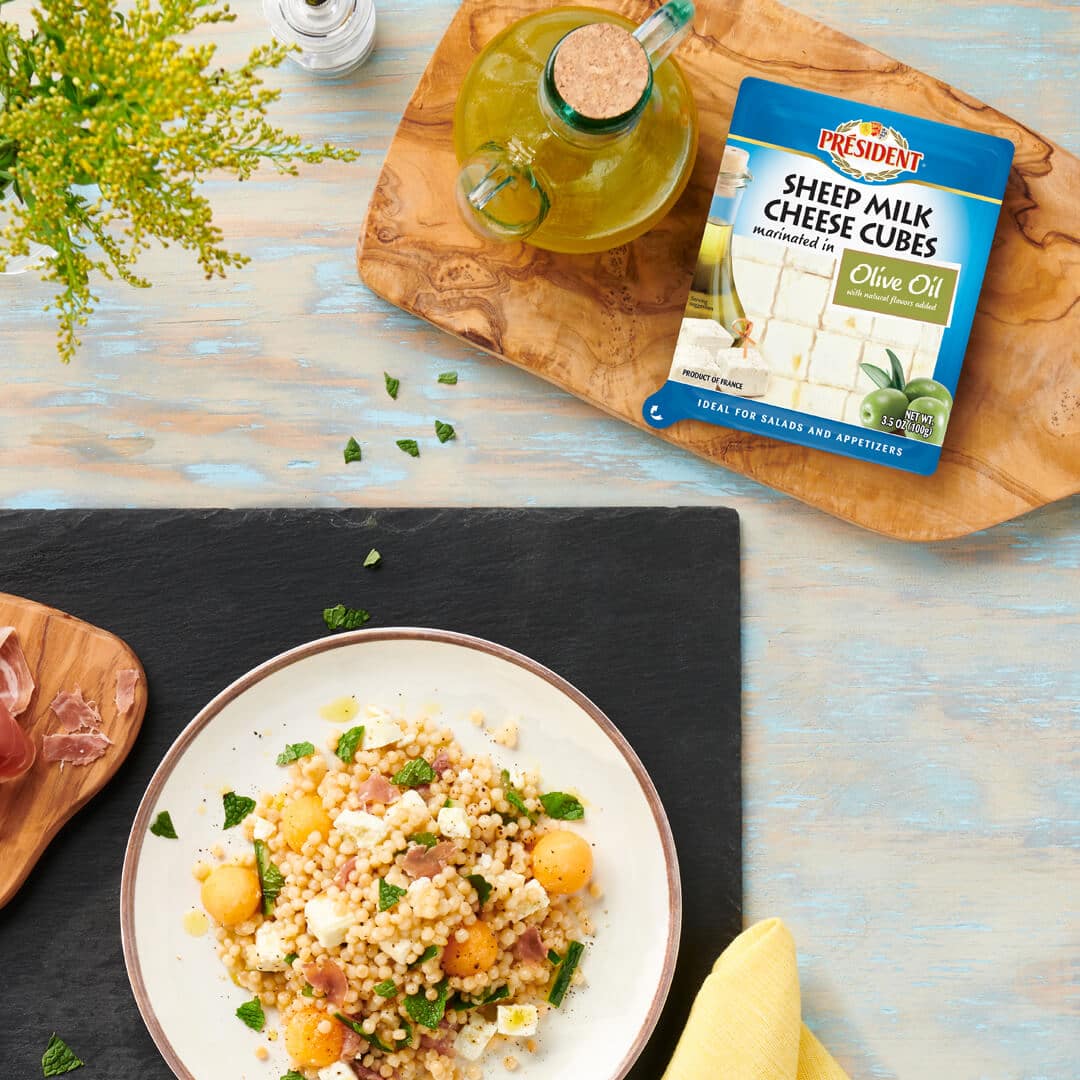 Summery Pearl Couscous Salad with Président® Sheep Milk Cheese Cubes
Prep Time
20 min
Cook Time
15 min
Salad Ingredients
1 package Président Sheep Milk Cheese Cubes Best Flavor Match: Olive Oil with natural flavor added
1 cup Uncooked Pearl Couscous
1/2 tsp Kosher Salt Divided
1 cup Cantaloupe Balls Shape Created With A Melon Baller
1/4 cup Packed Mint Leaves Coarsely Chopped
3/4 cup Matchstick Cucumber Pieces
1/4 tsp Black Pepper
4 oz Prosciutto Coarsely Chopped
Salad Instructions
Cook couscous according to package directions, with 1/4 teaspoon salt added to boiling water.
Drain and rinse couscous with cold water when done cooking and set aside.
In a large bowl, combine cantaloupe, mint leaves, and cucumber.
Add couscous, remaining 1/4 teaspoon salt, and black pepper. Stir to combine.
Add prosciutto and Président Sheep Milk Cheese Cubes, stir gently to combine.
Vinaigrette Ingredients
1 tbsp Shallot Minced
2 tbsp White Wine Vinegar
1 tbsp Honey
1/4 tsp Kosher Salt
1/8 tsp Black Pepper
1/3 cup High Quality Extra-Virgin Olive Oil
Vinaigrette Instructions
To make vinaigrette, add shallots, vinegar, honey, salt, and black pepper to a blender.
Blend on medium, adding olive oil slowly, until pureed and smooth.
Taste and add a pinch more salt if needed.
Pour dressing over salad and gently fold to combine.
Refrigerate for 30 minutes and serve any time after. Can be served immediately, but best if flavors are left to marinate.