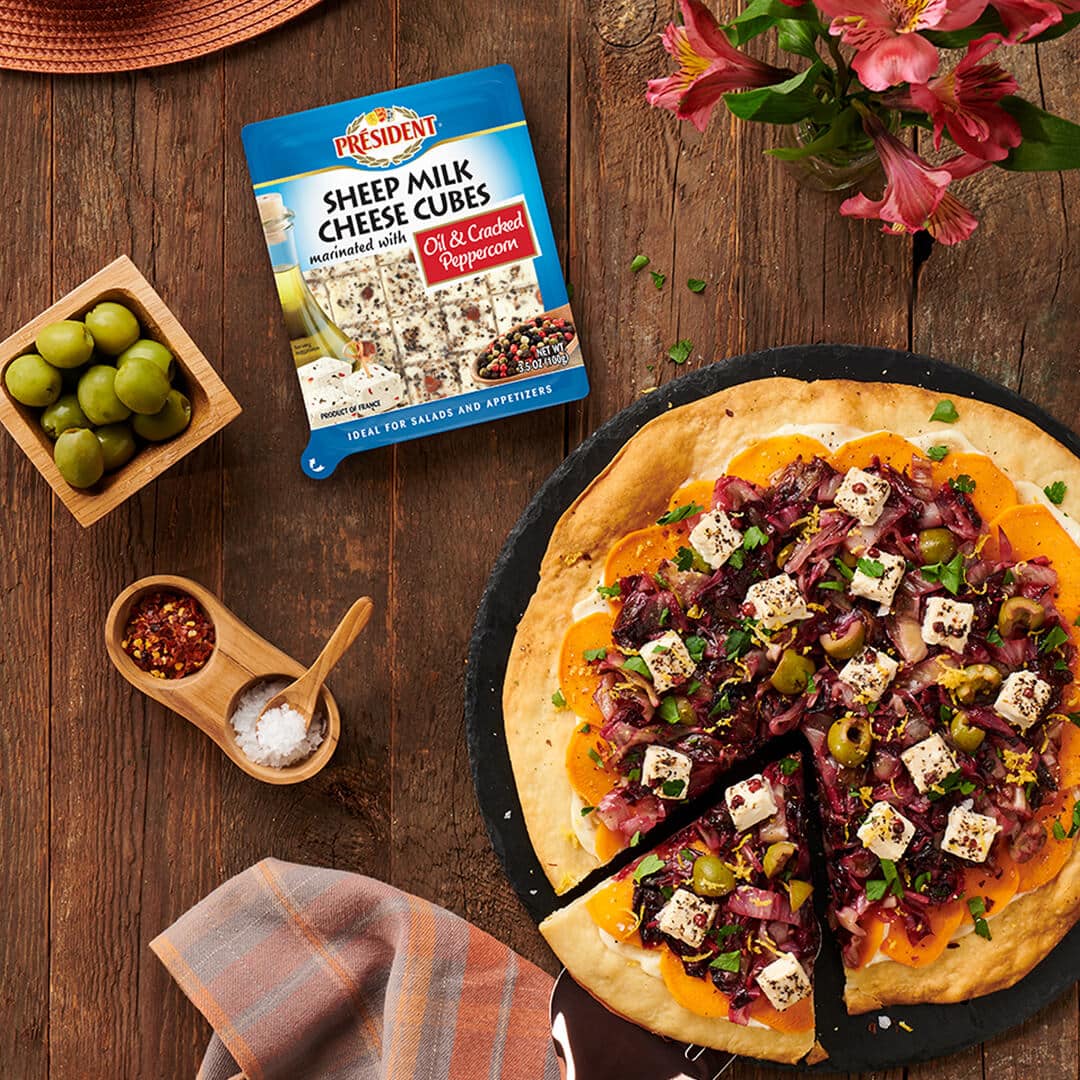 Sunset Pizza with Président® Sheep Milk Cheese Cubes
Enjoy pizza made with Président Sheep Milk Cheese Cubes.
Prep Time
10 min
Cook Time
30 min
Ingredients
1 package President Sheep Milk Cheese Cubes Best Flavor Match: Oil & Cracked Peppercorn
1 whole Sweet Potato Peeled and Thinly Sliced (about 1/8 inch thick)
1/2 tsp Sea Salt Divided
3 tbsp Olive Oil Divided
1 whole Shallot Thinly Sliced
1 whole Clove Garlic Minced
2 whole Radicchio Leaves Thinly Sliced
10 whole Castelvetrano Olives Coarsely Chopped
1/2 tsp Red Pepper Flakes
1/2 cup Lemon Juice
1 cup Pre-Baked Thin Pizza Crust preferably 12 Inches
3 cup Crème Fraiche
1 1/2 cup Parsley Coarsely Chopped
1/2 cup Lemon Zest
Instructions
Preheat oven to 375 degrees F.
Heat a skillet over medium-high heat. Place sweet potato slices into pan, not overlapping. Once hot, add 2 tablespoons water and cover pan, to steam the sweet potatoes. Let cook for 3 minutes, then flip and repeat. Potatoes should be tender but not falling apart. Remove sweet potato slices and put in a bowl. Repeat process with remaining sweet potato slices and add to bowl. Sprinkle slices with 1/4 teaspoon salt and toss.
Add 1 tablespoon olive oil to skillet and heat to medium-high again. Add shallots and cook for 4-5 minutes, until soft. Then add garlic and cook for another minute, until fragrant. Remove from heat. Add shallots and garlic to a separate bowl, then and radicchio, olives, red pepper flakes, lemon juice, remaining 1/4 teaspoon salt, and 1 tablespoon olive oil. Toss and set aside.
Spread crème fraiche on top of pizza crust, then distribute sweet potato slices around entire pizza. Distribute radicchio mixture on top of sweet potato slices. Then top with Président Sheep Milk Cheese Cubes. Bake for 5 minutes, until crust is golden brown, and Sheep Milk Cheese Cubes are lightly melted.
Sprinkle pizza with parsley, lemon zest and drizzle with remaining 1 tablespoon olive oil. Serve.