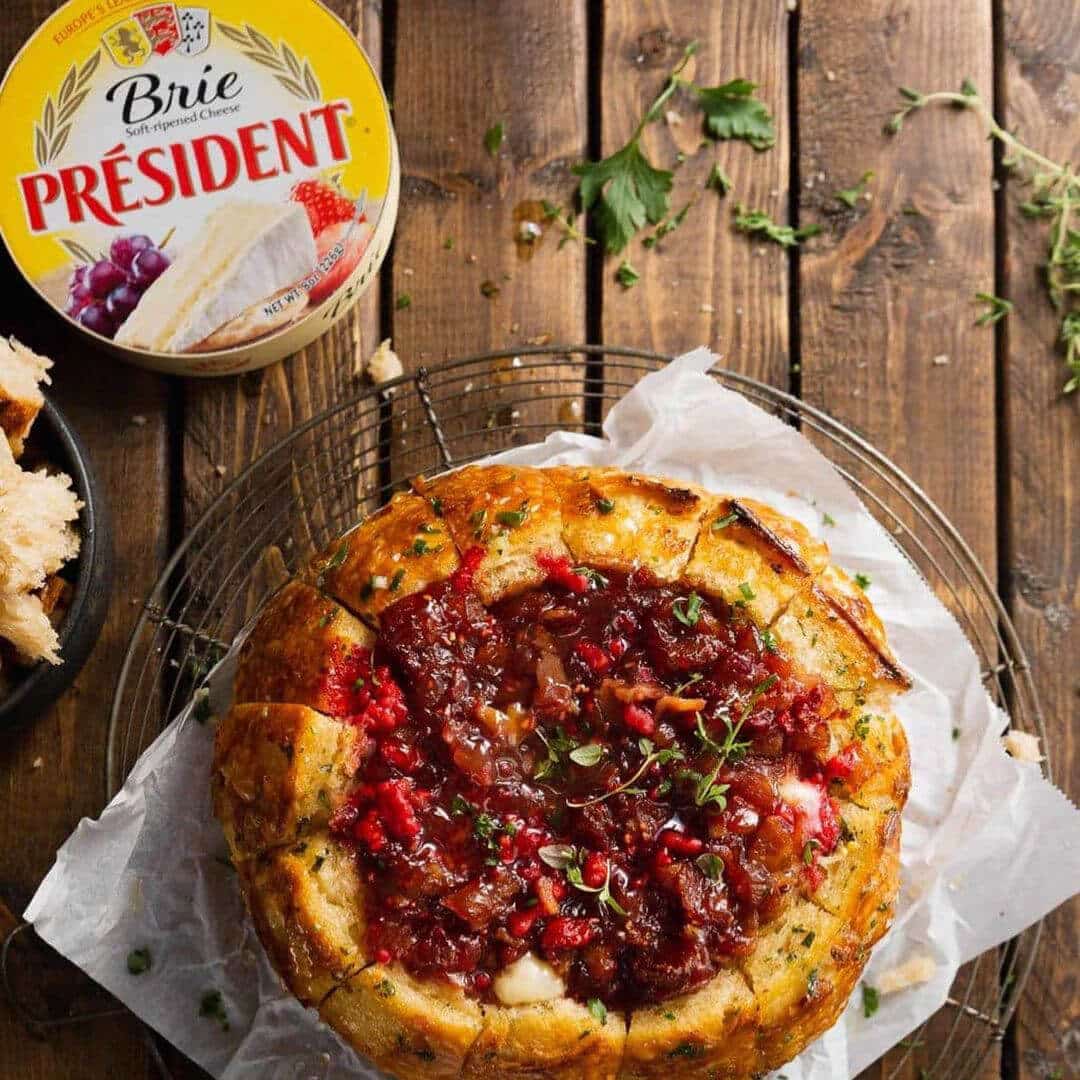 Bacon Jam Baked Président® Brie
Indulge in this elegant baked brie topped with a bold raspberry bacon onion jam this holiday season.
Prep Time
10 min
Cook Time
20 min
Ingredients
6 Slices Bacon cooked and chopped into 1/2" pieces
7 oz Caramelized onion jam
1/2 cup Raspberries fresh or frozen
1 tbsp Maple Syrup
1 tsp Balsamic Vinegar
3 tbsp Butter
1 Bread Bowl
1 tbsp Olive oil
1 Clove Garlic
1/2 tsp Parsley fresh chopped
1/2 tsp Rosemary fresh chopped
1/2 tsp Thyme fresh
8 oz Président Brie wheel unwrapped and the top sliced off.
1 tsp Honey
Instructions
Heat the oven to 375 degrees.
In a skillet over medium heat, add the onion jam, bacon, raspberries, maple syrup and balsamic vinegar. Cook, stirring occasionally until most of the liquid has evaporated, about 3-5 minutes. Set aside.
Heat a small saucepan over medium heat and add the butter, oil, and garlic. Heat, stirring occasionally until the garlic is fragrant, about 1 minute. Add the herbs and set aside.
Slice the top off of the bread and place the brie on top of the bread bowl. Using a knife, follow the size of the brie to cut out a circle. Remove the bread from the bowl.
Cut wedges all along the bread bowl edges but do not cut through the bottom.
Tear all remaining bread pieces and drizzle with a little oil and salt, toss to coat and set aside.
Using a pastry brush, spread the herb butter all over the inside of the bread bowl, reserve remaining for the end.
Put the cheese into the bread hole, use a sharp knife to remove the rind from the top of the brie and then cover with the bacon jam. Set on a cookie sheet.
Bake at 375 for 10 minutes. Throw the bread hunks on the cookie sheet and bake another 10 minutes or until the cheese is melty.
Remove from the oven and brush the sides of the bread with remaining butter mixture.
Drizzle with honey and any herbs as garnish if desired. Serve and instruct guests to pull apart to eat!
Recipe by
Cade & Carrian Cheney
Cade and Carrian are the husband-and-wife team behind Oh, Sweet Basil. Their mission is to connect with people just like you through sharing stories and good fresh food.
Oh, Sweet Basil