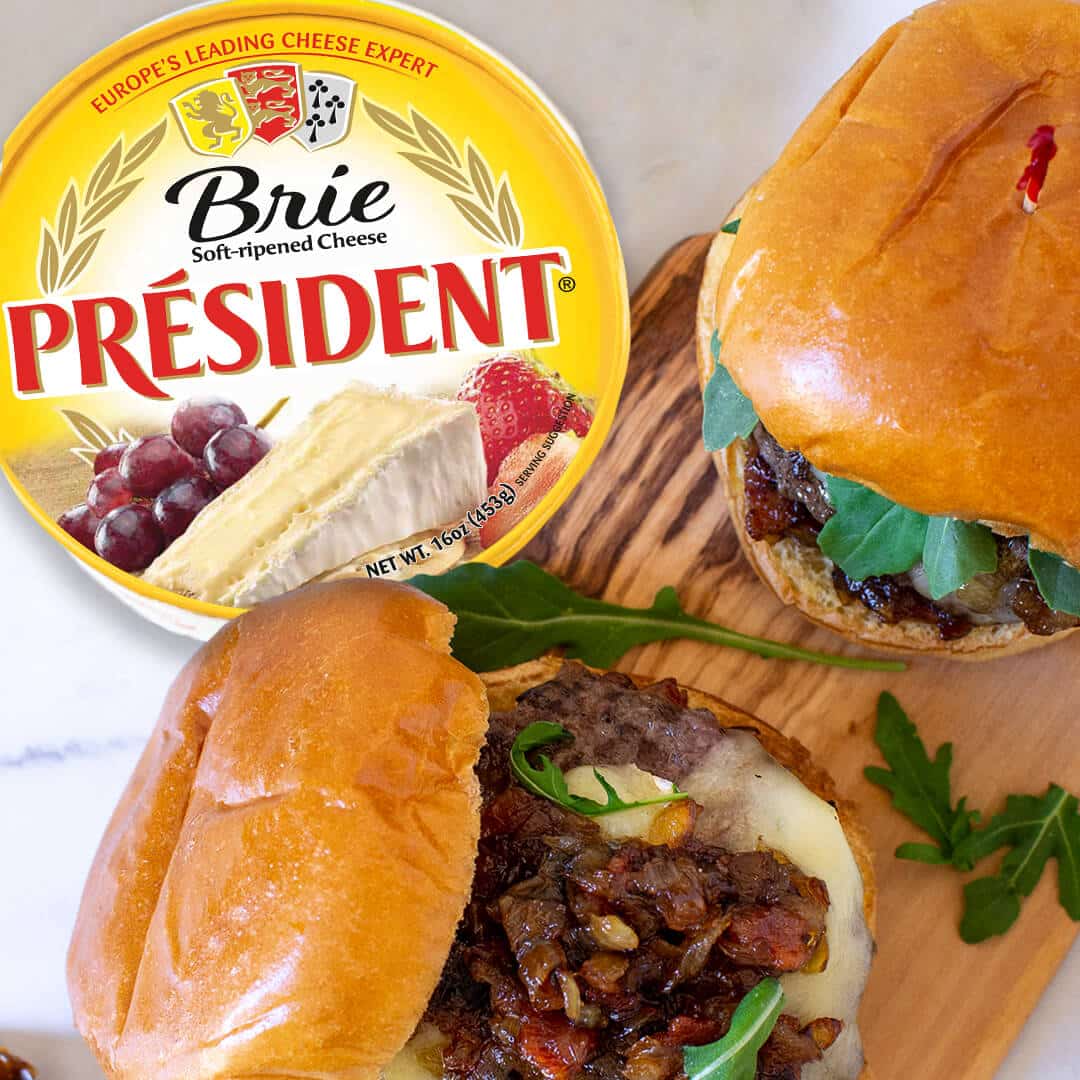 Président® Brie Burger with Bacon and Caramelized Onion Jam
Elevate your burger with this Président Brie Burger. Creamy brie that's melted on a juicy burger, then topped with an addicting bacon/onion jam and peppery arugula.
Prep Time
30 min
Cook Time
10 min
Ingredients
1.5 lb ground beef (80% lean)
8 oz Président Brie cut into ¼ inch slices; rind removed (about 16 slices total)
4 brioche burger buns
Arugula for topping
Salt and pepper
6 oz bacon (about 4-6 thick slices) chopped into small, ¼ inch pieces
4 cup sweet onions, diced (about 4 small onions)
1 tbsp brown sugar
1 tsp balsamic vinegar
1 tsp salt
Instructions
In a large non-stick or cast-iron skillet over medium heat, add chopped bacon. Cook for 5-6 minutes until bacon is crisp. Remove bacon from skillet and drain on paper towels (reserve for later). Drain some of the bacon grease but leave at least 2 tablespoons in the skillet.
Next, add onions to the bacon grease. Cook over medium heat until onions are softened (about 5 minutes). Then, reduce heat to LOW and cook onions for another 35-40 minutes until onions are soft and caramelized. They should be a rich brown color.
Stir in brown sugar, reserved bacon, balsamic vinegar, and salt. Cook 2-3 minutes more until all flavors are incorporated.
Transfer jam to a bowl. Serve with burgers at room temperature. If you want to make it ahead, jam will keep in an airtight container for 4-5 days in the fridge.
Form meat into (4) 4-inch patties (about ½ inch thick). Season both sides with sea salt and pepper.
Cook burgers in either a skillet or on the grill until internal temperature reaches 155-160 degrees, flipping one time (about 2-3 minutes on each side).
After flipping the burger, add 4 slices of brie to each burger and cover to ensure the cheese melts completely. Let burgers rest, covered for a few minutes--this will allow the juice to redistribute and the cheese to get extra melty!
To assemble burgers, spread the bacon onion jam on the bottom of the bun. Top with burger, more jam and arugula. Serve immediately.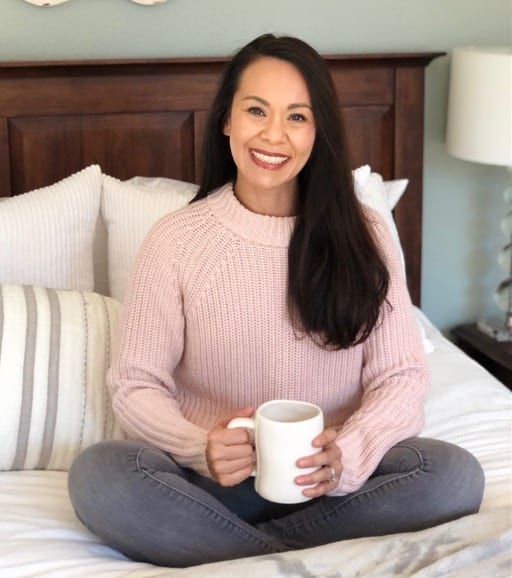 Recipe by
Casey
Casey is a mom of three, teacher, wife and blogger at Get On My Plate. She has a passion for cooking and loves teaching other busy moms how to uncomplicate cooking at home. On her blog, she provides quick and simple, yet flavorful meals the whole family can enjoy. When she's not in the kitchen or photographing food, Casey enjoys spending time with her family, camping, traveling and red wine.
Get On My Plate