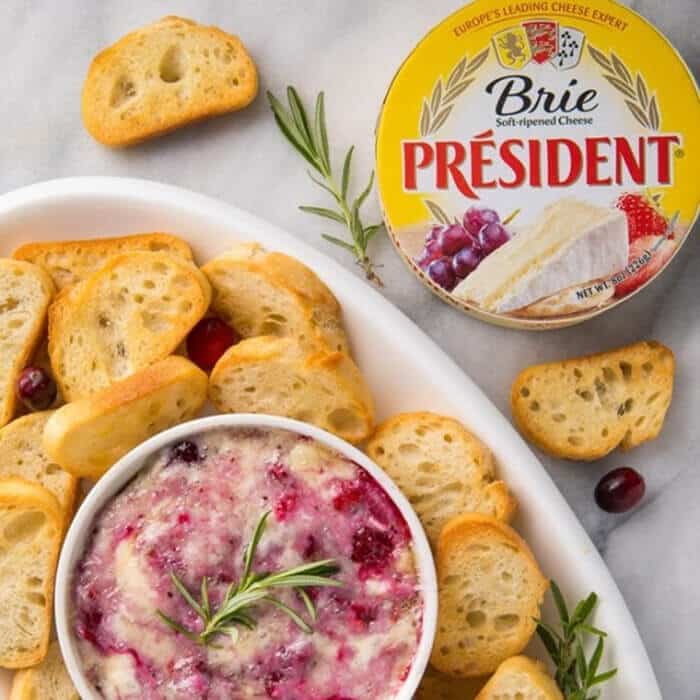 Cranberry Président® Brie Dip
This rich, sweet, and cheesy dip is the ultimate appetizer. Made with soft, buttery Président Brie and sweet, tart cranberry sauce, it's absolutely delicious for brunch or holidays.
Prep Time
5 min
Cook Time
20 min
Ingredients
1/3 cup cranberry sauce
1 sprig rosemary
8 oz Président Brie wheel
1 tsp honey if desired
Crusty bread or crackers for serving
Instructions
Preheat oven to 375º F.
Slice off the top of the brie and place cheese in a small baking dish, such as a pie or gratin dish.
Place dish in oven and bake until melty, about 7 minutes.
Remove dish and top brie generously with cranberry sauce and honey (if desired). Stir to combine.
Place rosemary sprig on top and bake another 10-15 minutes until melted and bubbly.
Serve warm with crusty bread or crackers for dipping.
Recipe by
Cheryl Malik
Cheryl Malik is the recipe developer, writer, and photographer behind the healthy, flavorful, family friendly recipes at 40 Aprons. She's been a blogger for 10 years and is known for her delicious recipes and detailed recipe instructions. Cheryl is a mom of two who lives in Memphis, TN.
40 Aprons