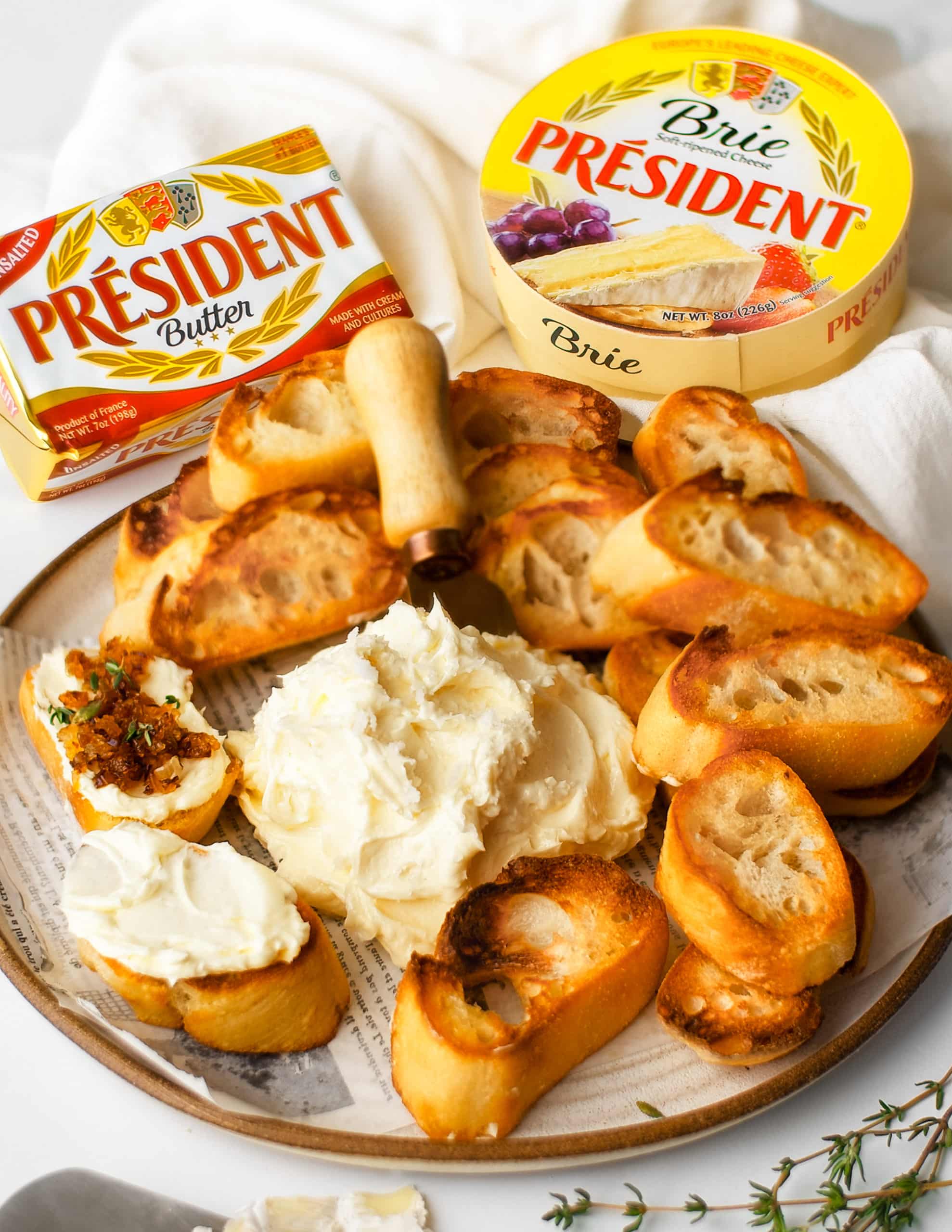 Président® Brie Butter
This Brie Butter recipe is going to be your newest obsession and a perfect appetizer for the holiday season. All you have to do is whip together Président® Brie and Président® Unsalted Butter until smooth and creamy. Top with caramelized onions and shallots or a drizzle of honey and sea salt for extra flavor. Enjoy! 
Prep Time
25 min
Cook Time
20 min
Président® Ingredients
8 oz Président® Brie softened
8 tbsp Président® Unsalted Butter softened
Président® Ingredients
Use a peeler or cheese slicer to remove the outer rind off the entire wheel of Brie while the Brie is still set and chilled. Cut into bite size squares. Then, cut butter into equal pieces. Pro tip: softened butter and Brie blend better together, giving a smoother and creamier texture when whipped. The softer, the better. Leave out at room temperature for at least 30-60 minutes before using.
Add Brie and Butter to food processor and blend for a few minutes until smooth and creamy.
For the crostini
Cut baguette into equal slices.
Place on a baking tray lined with parchment paper and drizzle with olive oil on both sides.
Broil on high for about 2 minutes, then flip and repeat until crispy and golden.
Toppings
1 whole Medium yellow onion diced
2 whole Shallot diced
2 tbsp Président® Unsalted Butter
2 tbsp Olive oil
2 whole Sprigs of thyme for garnish
For the topping
Add diced onions, shallots, Président Unsalted Butter, and olive oil to a skillet.
Caramelize together over medium heat for 20-25 minutes until deeply golden in color. Stir frequently to avoid burning. Add fresh thyme in the last 5 minutes and cook until fragrant.