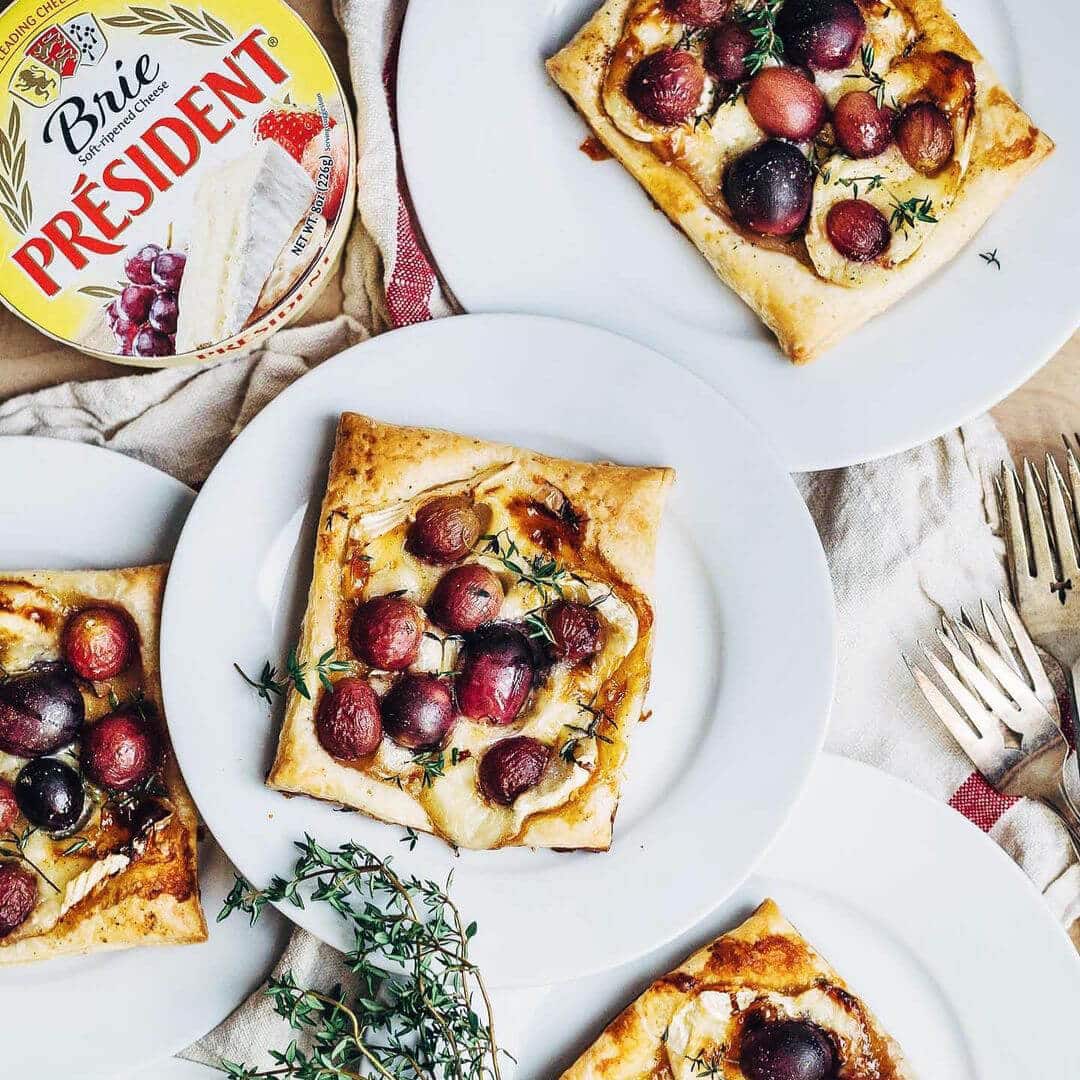 Président® Brie & Roasted Grape Tarts
Sweet and savory brie and roasted grape tarts with a drizzle of honey, fresh thyme and black pepper are the perfect simple-yet-decadent holiday appetizer. The tarts are made with store-bought puff pastry, so they come together in a snap and bake up in just 20 minutes!
Ingredients
2 sheets store-bought puff pastry, thawed
8 oz wheel Président Brie, sliced
2 cup seedless red and/or black grapes, rinsed and dried
1/4 cup honey
1/2 tsp black pepper
1/4 tsp sea salt
6 sprigs fresh thyme, plus more for garnish
Instructions
Preheat oven to 400 degrees F. Line 2 large rimmed baking sheets with parchment.
Cut the puff pastry into 12 (4-inch) squares and arrange on baking sheets.
Arrange slices of brie evenly on the pastry squares, leaving a ½-inch border. Tuck the grapes (about 6 - 8 per tart) into and around the cheese. Drizzle tarts all over with honey. Sprinkle thyme, black pepper, and sea salt.
Bake tarts 15 - 20 minutes, or until cheese is bubbling and the pastry is golden and puffed.
Cool 10 minutes, garnish with fresh thyme and a few twists of black pepper and serve. Tarts are best right out of the oven.
Recipe by
Elizabeth Stark
Brooklyn Supper was started by married couple Elizabeth Stark and Brian Campbell in 2008. These days, Elizabeth is the voice behind Brooklyn Supper and writes, photographs, and develops the recipes. Brian edits the site while also providing crucial backup on grilling and poultry recipes.
Brooklyn Supper