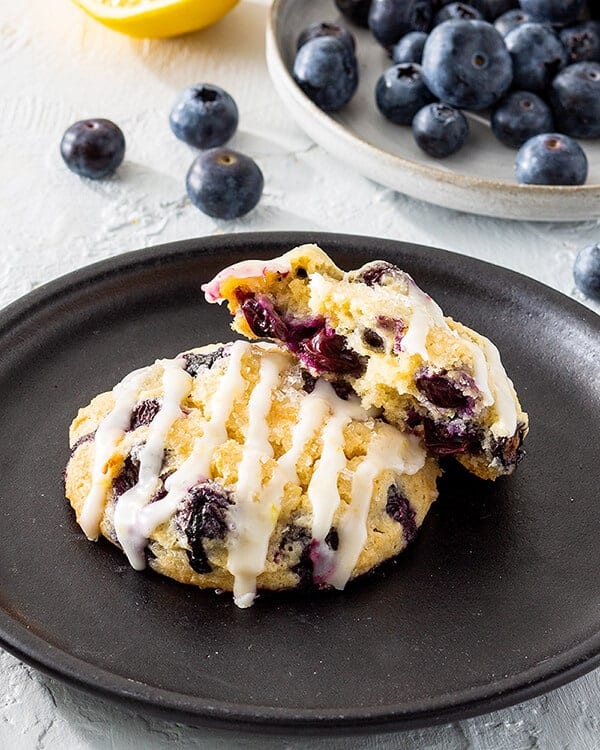 Blueberry Muffin Cookies
With a crunchy sugar-crusted surface and a cakey interior, this treat offers the best part of the muffin in cookie form. Président® butter gives the breakfast-ready cookies an irresistibly tender, pillowy crumb, just like the top of a muffin. Brimming with fresh blueberries and drizzled with a tart lemon glaze, it's summertime perfection.
Prep Time
10 min
Cook Time
16 min
Cookies
½ cup Président Unsalted Butter, Softened
¾ cup Granulated sugar
½ cup Light brown sugar , Firmly Packed
1 whole Large egg
1 tbsp Lemon zest
1 tsp Vanilla extract
2 cup All-purpose flour
2 tsp Baking powder
½ tsp Kosher salt
½ cup Sour cream
2 cup Fresh blueberries
2 tbsp Sparkling sugar
Cookies
Preheat oven to 375°F (190°C). Line 3 baking sheets with parchment paper.
In the bowl of a stand mixer fitted with the paddle attachment, beat butter, granulated sugar, and brown sugar at medium speed until fluffy, 3 to 4 minutes, stopping to scrape sides of bowl. Add eggs, beating well. Beat in zest and vanilla.
In a medium bowl, whisk together flour, baking powder, and salt. With mixer on low speed, add flour mixture to butter mixture in two additions alternately with all of sour cream, beginning and ending with flour mixture, beating just until combined after each addition. Gently fold in blueberries. Using a 1/4-cup spring loaded scoop, scoop batter and drop 2 1/2 to 3 inches apart onto prepared pans. (Cookies will speed during baking.) Sprinkle with sparkling sugar.
Bake until a wooden toothpick inserted in center comes out clean, about 16 minutes. Let cool on pans for 5 minutes. Remove from pans, and place on a wire rack. Drizzle with Lemon Glaze. Serve warm.
Lemon Glaze
1 ½ cup Confectioners' sugar, Divided
1 tsp Lemon zest
2 tbsp Fresh lemon juice
Lemon Glaze
In a small bowl, whisk together 1 cup (120 grams) confectioners' sugar and lemon zest and juice until smooth. Add remaining 1/2 cup (40 grams) confectioners' sugar, and whisk until thick and smooth. Use immediately.