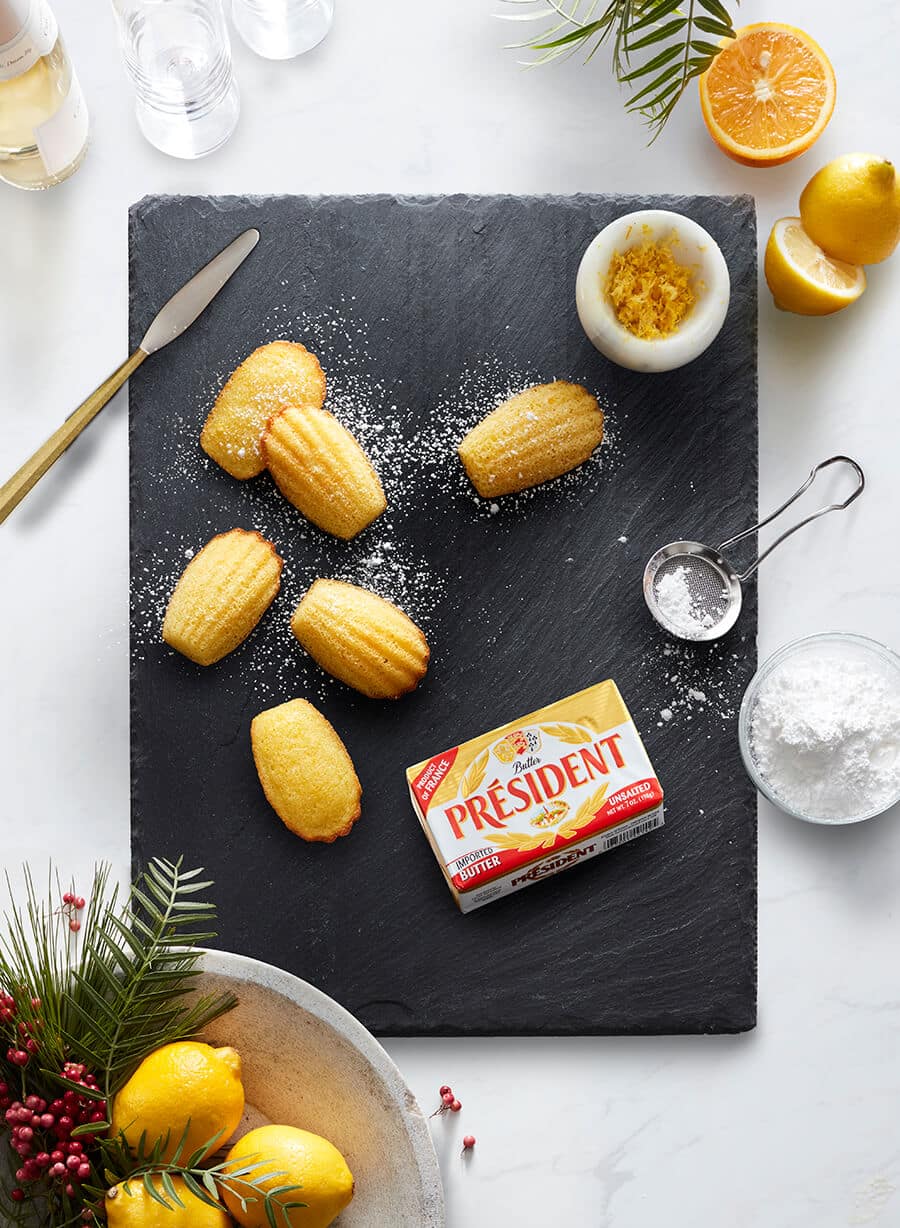 Président Butter & Warm Madeleines
Use France's favorite butter to add an authentic European taste to your next batch of Madeleines.
Prep Time
15 min
Cook Time
25 min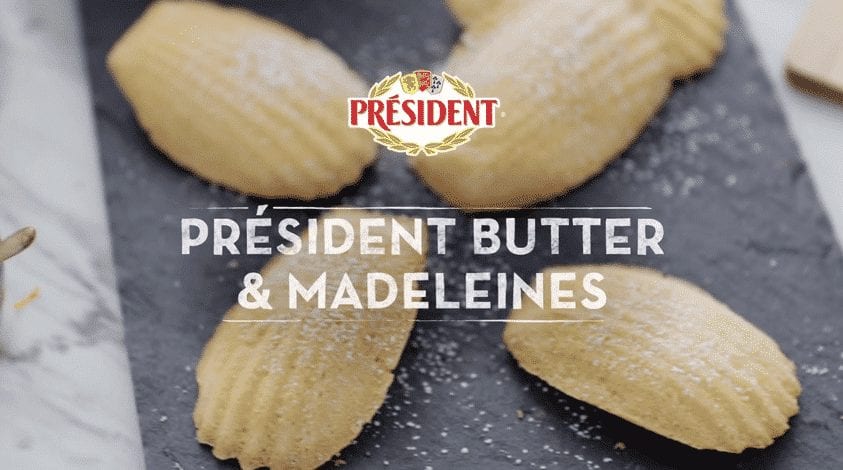 Watch the Video
Ingredients
1/2 cup Président Unsalted Butter, melted and warm
2/3 cup all-purpose flour

1 tsp baking powder

1/4 tsp fleur de sel or pinch of fine sea salt
1/3 cup sugar
1 whole lemon Finely grated zest
1 whole orange Finely grated zest
2 whole eggs, room temperature
2 tbsp whole milk
1/4 cup Powdered sugar to dust
Directions
Place baking sheet in oven and preheat to 400°F.
In a medium bowl, whisk together flour, baking powder and salt. Set aside.
Using your fingertips, rub together sugar, orange zest and lemon zest in a bowl until sugar is moist and fragrant.
Add eggs to sugar mixture and whisk until pale and slightly thickened, 
about 2 minutes.
Gently fold into flour mixture in three additions.
Fold in melted butter until fully incorporated.
Stir in milk. Batter should be smooth and shiny.
Spoon batter into madeleine pan. Fill each cup evenly.
Place madeleine pan on preheated baking sheet.
Bake at 400°F until golden — about 11-13 minutes.
Remove pan from oven, immediately release madeleines and dust with powdered sugar.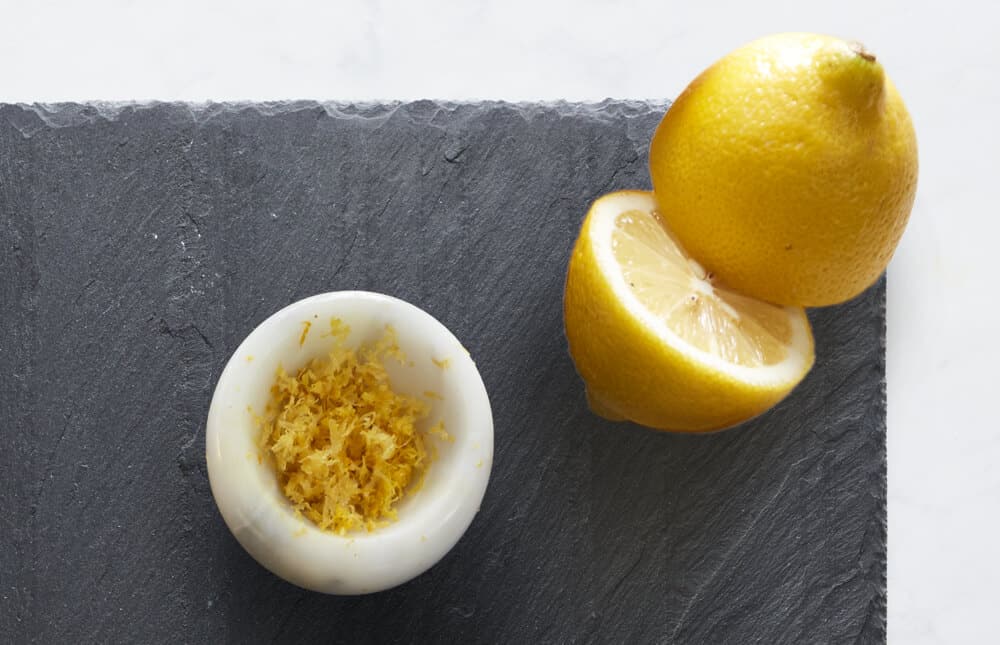 Lemon Zest
Citrus rinds are packed with strong, aromatic oils and add a strong punch of citrus flavor to any dish. Lemon zests are often used to add a kick to pastries, sauces, salads and sweets.
Tip

Don't have a zester? Use a grater, vegetable peeler or paring knife to cut the zest from the fruit rind.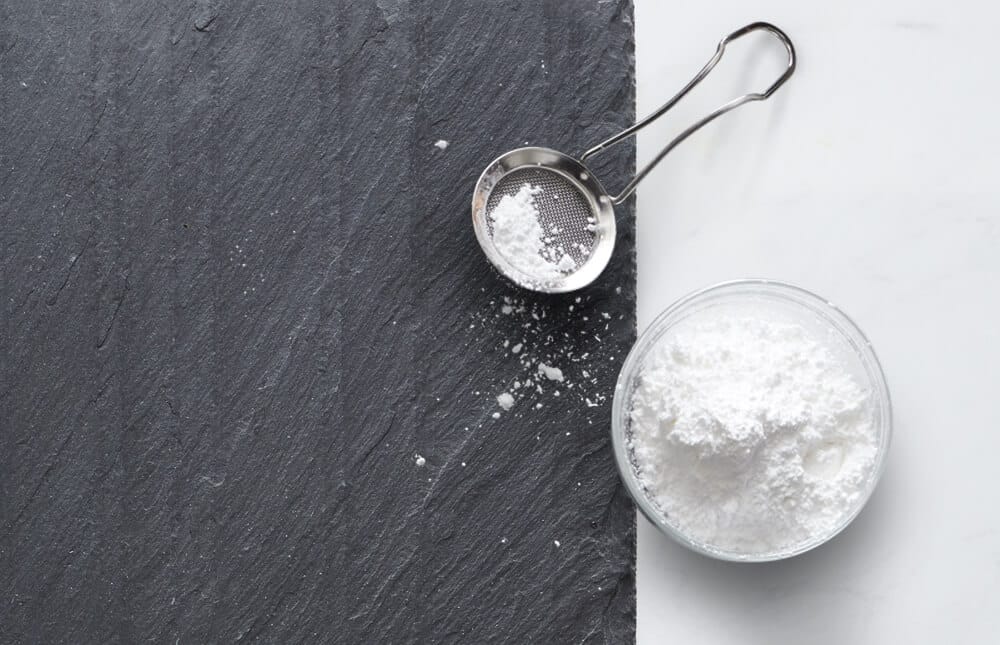 Powdered Sugar
Also known as icing sugar or confectioner's sugar, powdered sugar is made by milling granulated sugar into a powder. You can actually make it at home by tossing regular sugar in a coffee grinder, or using a mortar and pestle.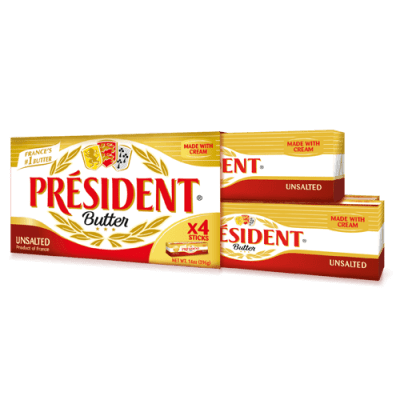 Président® Unsalted Butter Quarters
Cook more deliciously by starting with a rich butter base.
Learn More