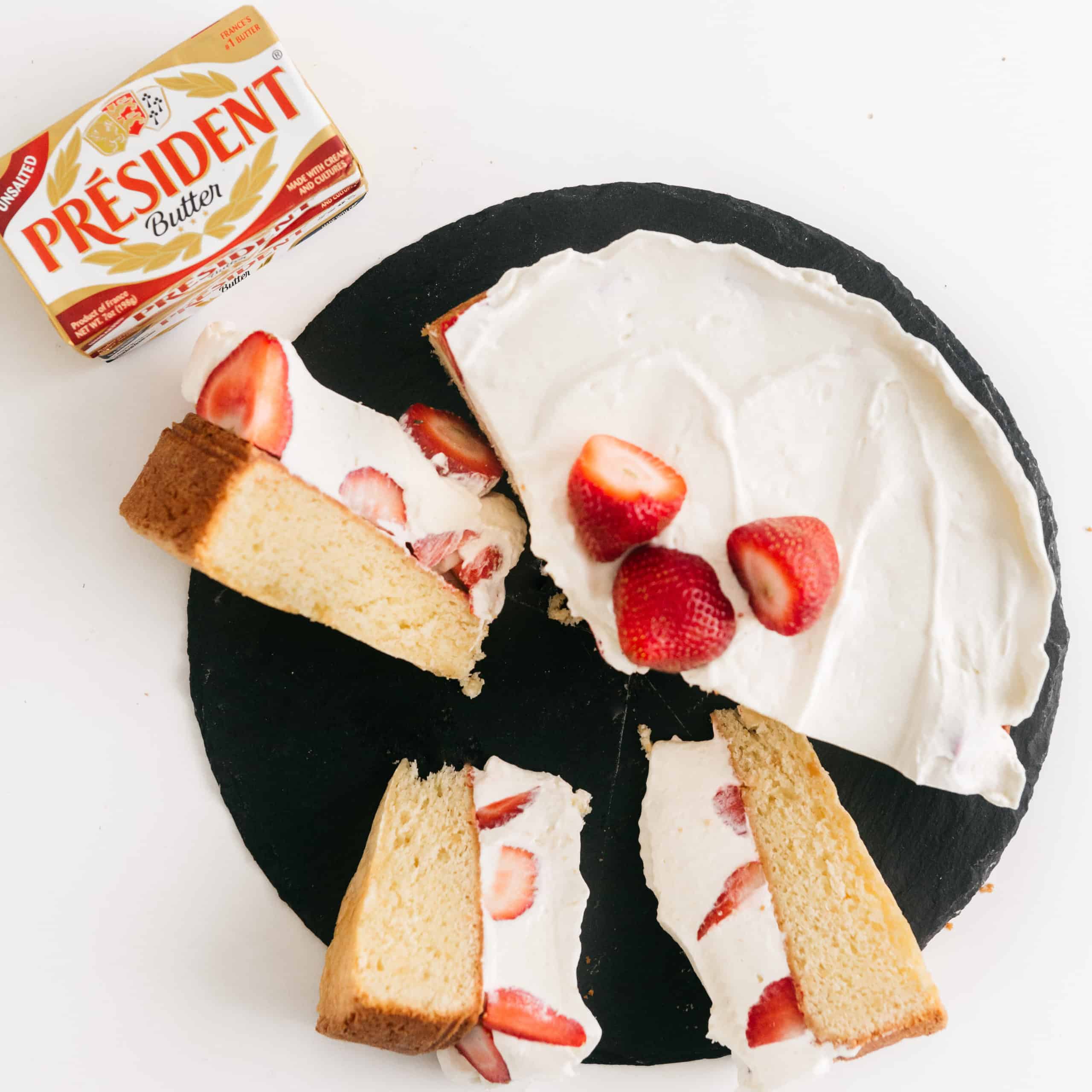 Strawberries and Cream Cake
Président® butter lends a rich, tender crumb to this elegant almond pound cake. The epitome of French elegance and simplicity, this buttery cake is topped with fresh strawberries and a generous layer of Whipped Cream Filling.
Prep Time
60 min
Cook Time
45 min
Cake
¾ cup Président® unsalted butter, Softened
1½ cup Granulated sugar
3 whole Large eggs, Room temperature
¼ tsp Almond extract
1½ cup Cake flour
½ cup Almonds, Coarsely ground blanched
2 tsp Baking powder
½ tsp Kosher salt
½ cup Whole milk
1 lb Large fresh strawberries, Hulled
Cake
Preheat oven to 325°F (170°C). Spray a 9-inch springform pan with baking spray with flour.
In the bowl of a stand mixer fitted with the paddle attachment, beat butter and sugar at medium speed until fluffy, 3 to 4 minutes, stopping to scrape sides of bowl. Add eggs, one at a time, beating well after each addition. Beat in almond extract.
In a medium bowl, whisk together flour, ground almonds, baking powder, and salt. With mixer on low speed, gradually add flour mixture to butter mixture alternately with milk, beginning and ending with flour mixture, beating just until combined after each addition. Spoon batter into prepared pan, smoothing top with an offset spatula.
Bake for 30 minutes. Cover with foil, and bake until a wooden pick inserted in center comes out clean, about 15 minutes more. Let cool completely in pan, about 1½ hours.
Loosen edges of cake with a thin knife. Carefully remove sides of pan. Wrap a 4-inch- wide strip of parchment paper around cake to form a collar. (You can use more than one strip of parchment, if necessary.) Replace sides of pan.
Cut about half of strawberries in half lengthwise. Place strawberries, cut side down, on paper towels to dry completely. Pat remaining strawberries dry with paper towels. Arrange halved strawberries, cut side out, around sides of pan. Stand remaining strawberries about 1 inch apart in center of cake, trimming bottoms as necessary to level. Spread Whipped Cream Filling over strawberries to cover completely, smoothing top with a small offset spatula. Refrigerate overnight.
Carefully remove sides of pan and parchment. Replace any loose strawberries, and patch any holes in Whipped Cream Filling. Garnish with quartered strawberries, if desired. Serve immediately.
Whipped Cream Filling
8 oz Cream cheese, Softened
½ cup Granulated sugar
2 cup Heavy whipping cream
Whipped Cream Filling
In the bowl of a stand mixer fitted with the whisk attachment, beat cream cheese and sugar at medium speed until softened and well combined. With mixer on medium-low speed, gradually add one-third of cream, stopping to scrape sides of bowl. With the mixer on medium speed, gradually add remaining cream, beating until stiff peaks form. (Do not overbeat.) Use immediately.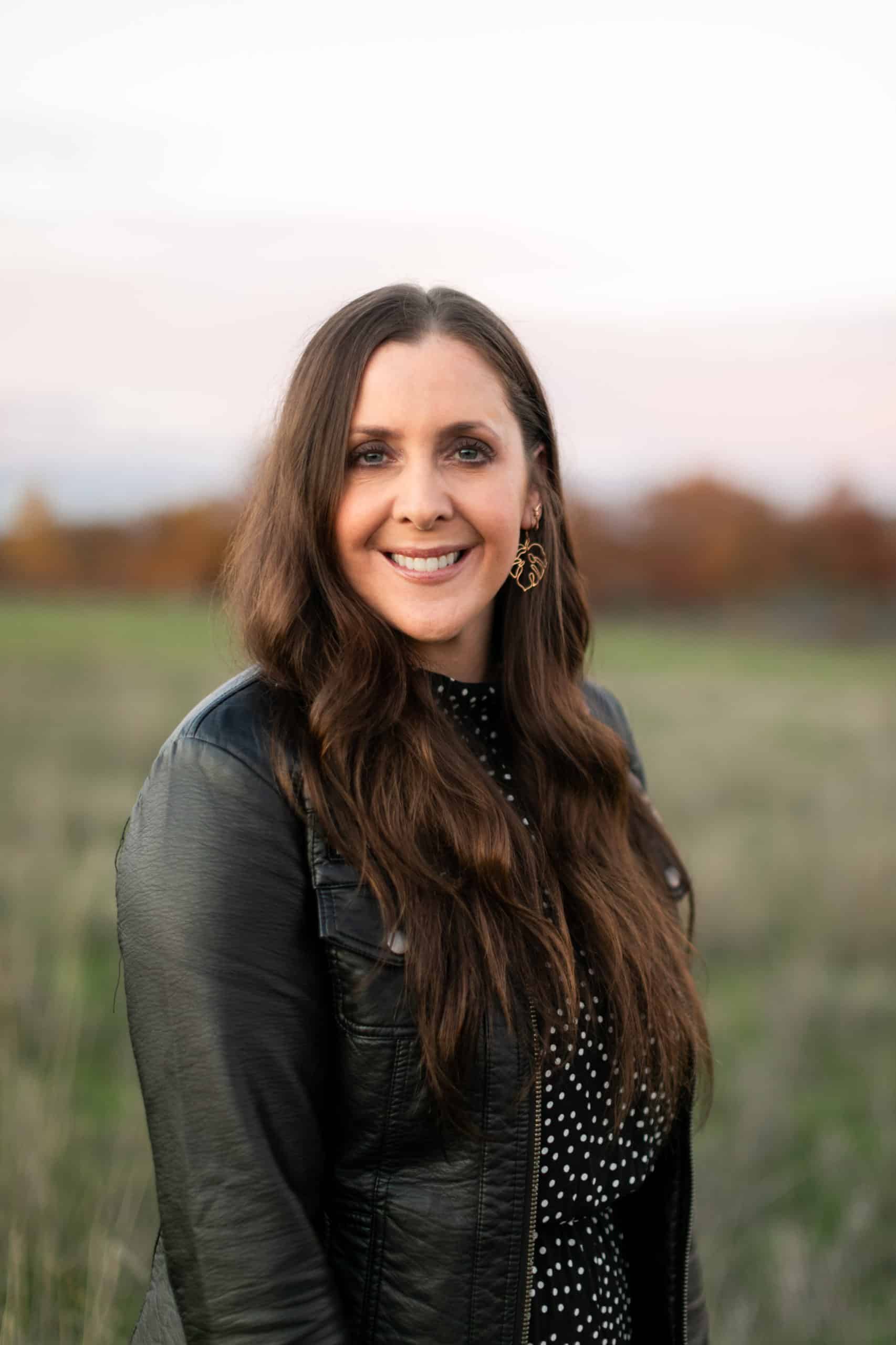 Recipe by
Heather Templeton
Heather Templeton is a professional recipe developer and food photographer and founder of the food blog, Heather's Home Bakery. She loves baking, which is why you will find a wide variety of goodies on her site.  
Heather's Home Bakery