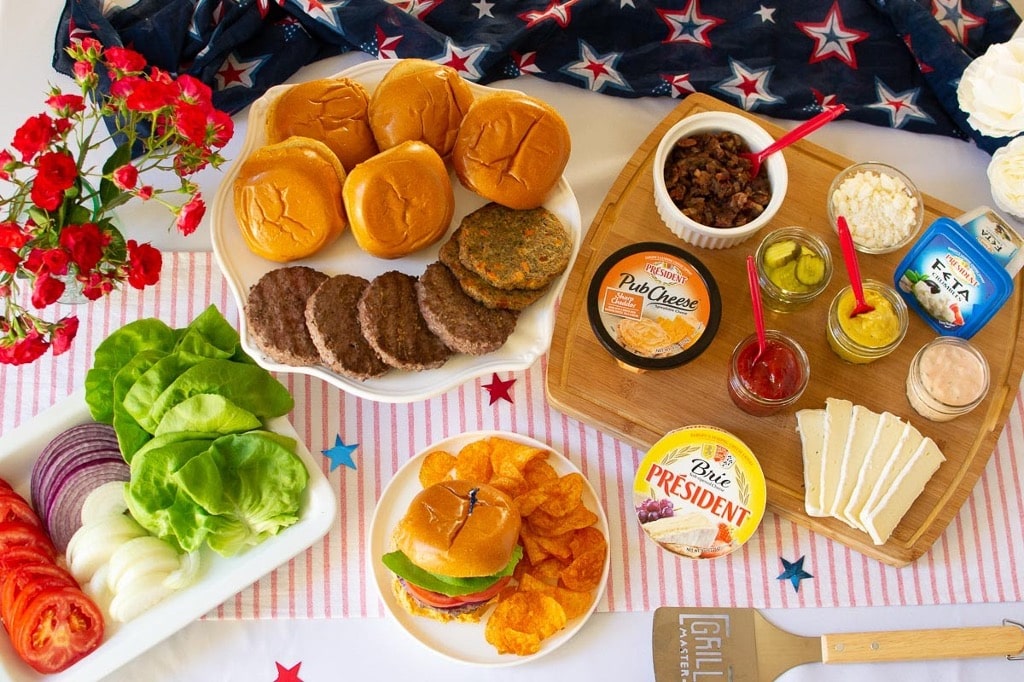 Your Guide to Building an Epic 4th of July Burger Bar
There is no other holiday that calls for an amazing do-it-yourself burger bar quite like the 4th of July. Fun, festive and sophisticated, this burger bar will impress your guests and be flexible enough to accommodate everyone's preferences.
Summer months bring ample opportunity to spend time with family and friends, often enjoying each other's company in the great outdoors. What better way to celebrate the 4th of July than over a festive arrangement featuring the good ol' American burger?
With a burger bar, guests are able to choose from a wide range of burgers, cheeses and condiments to craft their ultimate, perfect burger. From classic to sophisticated to veggie, there's something for everyone to indulge in. Not to mention, your guests will have a blast building their burger and debating who did it best.
Why a burger bar is perfect for summer gatherings
It allows guests to customize their perfect burger.
It appeals to a wide range of different diets and flavor palettes.
It brings guests together around a burger-building table to chat and debate about who can make the best burger!
Most of the prep for the burger bar can be done ahead of time, making this a simple way to entertain.
It's a super impressive "centerpiece" for your 4th of July gathering!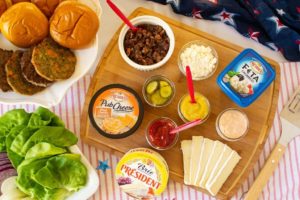 What To Include In Your Burger Bar
There are five main categories to think about when assembling your burger bar:
Burgers:
It's always smart to have burgers that appeal to different palettes and diet types. But keep it simple! One ground beef (80% lean) and one vegetarian/meat alternative option (veggie burger or Impossible burger) is all you need.
Cheeses:
It's all about the cheese. The Président® brand offers the widest variety of specialty cheeses in the U.S., making it quick and efficient for you (a one-aisle-stop when you're grabbing ingredients at the store) and an easy way for guests to perfectly pair their burger with the ideal cheese of their choice.
Not sure which Président cheeses to select? Here are some cheese pairing suggestions for specific burger types:
Pro Tip: It's best to melt the cheese right onto the burgers when cooking. However, you can include some extra cheese on the table as well.
Buns:
One bun-type is perfectly fine, but you can also mix it up for more variety. Here are some buns you could include:
Plain
Sesame Seed
Brioche
Sliders
Hawaiian Rolls
Large lettuce leaves for those gluten-free or who prefer a low-carb option
Toppings:
You can keep it simple here, too. About 3-5 toppings is perfect. Here are some classic options:
Lettuce/Arugula
Tomato
Pickles
Sliced onion
Extra cheese
Avocado
Bacon
Jalapeños
Condiments:
These are the "sauces" and toppings that are the finishing touch for the perfect burger.
Ketchup
Mustard
Mayo
"Special Sauce:" Equal parts mayo and ketchup and a little dill relish OR Thousand Island dressing
BBQ Sauce
Three Types Of Burgers To Include
With such a wide variety of quality Président cheeses, toppings and condiments, the possibilities are absolutely endless! Guests can assemble a variety of burgers depending on their taste and personality. Here are some examples:
The Classic Butter Burger:
This is a typical diner-style burger that will be a go-to for many of your guests…but with an elevated twist. This burger is cooked in butter, then topped with crisp lettuce, tomatoes and onions—all between a rich, brioche bun. Guests can put even more of an indulgent twist on this classic burger by slathering the bun with Pub Cheese for a delicious, creamy alternative to typical melted cheese slices. Get the recipe here.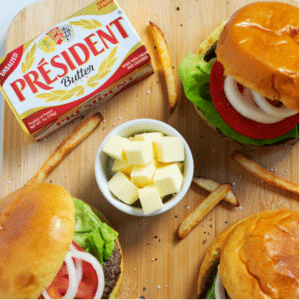 The Sophisticated Burger:
For your more discerning guests with a gourmet appetite, this burger is topped with melted Président Brie, then slathered with delicious bacon and caramelized onion jam and peppery arugula. Get the recipe here.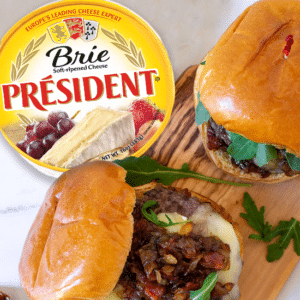 The Veggie Burger:
It's always a good idea to think of guests with different dietary needs. Veggie burgers or meat-alternative burgers are a great option for vegetarian guests! Pair veggie or meat alternative burgers with tangy Président Feta or melty, delicious Président Comté.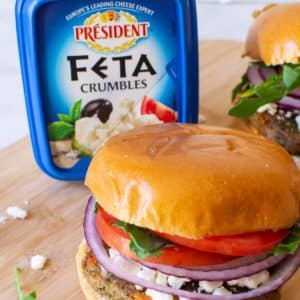 Assembling Your Burger Bar
A few easy steps to keep in mind as you're assembling you burger bar:
Step 1: Choose a medium sized table (not too big) so everything is easily within reach. Reserve the middle of the table for the burgers and buns. Guests can also "order" their burger/cheese selection straight from the grill master, however, chances are you'll need a place for some extra cooked burgers as well.
Step 2: Arrange larger toppings (lettuce, tomatoes, etc) around the burgers and buns.
Step 3: Group condiments/sauces in one place. Using small mason jars is a festive way to hold things like ketchup, mustard and other sauces.
Step 4: Add a few red/white/blue decorations or flowers for a final touch!
Tips For The Perfect Burger Bar
When deciding on how many burgers to buy, calculate 1.5 burgers per guest. This may sound a bit odd, but figure some guests will have one burger and some will have two (or more). By estimating 1.5 per guest, you'll have your bases covered.
For the ultimate burger, butter buns with Président Unsalted Butter and lightly toast them on the grill.
Be sure to include small serving utensils for each item on your burger bar.
Label any unfamiliar items such as burger types, specialty cheeses or special condiments to ensure guests know what they are enjoying.
Use your burger bar as a conversation starter! Chat about the wide range of quality cheeses, toppings and condiment options and encourage guests to get creative when building their burger! Feeling competitive? Offer a prize for the most creative burger!
Side Dishes To Serve
The burger bar is the centerpiece, so keep the sides simple. A few varieties of chips, and a salad or two (such as pasta salad, potato salad, fruit salad or this Président Feta Sweet Corn Salad is all you need.
The 4th of July is the ultimate holiday for bringing friends and family together for a festive celebration….and food is typically a talked-about-highlight. This epic burger bar will foster joy, conversation and a lot of messy hands to create a gathering to remember!
More Burger Inspiration
Curious which cheese reigns supreme? Check out this review for The Best Cheese for Cheesburgers. Looking for more drool-worthy dishes to try this summer? Here are some other burger recipes we love.