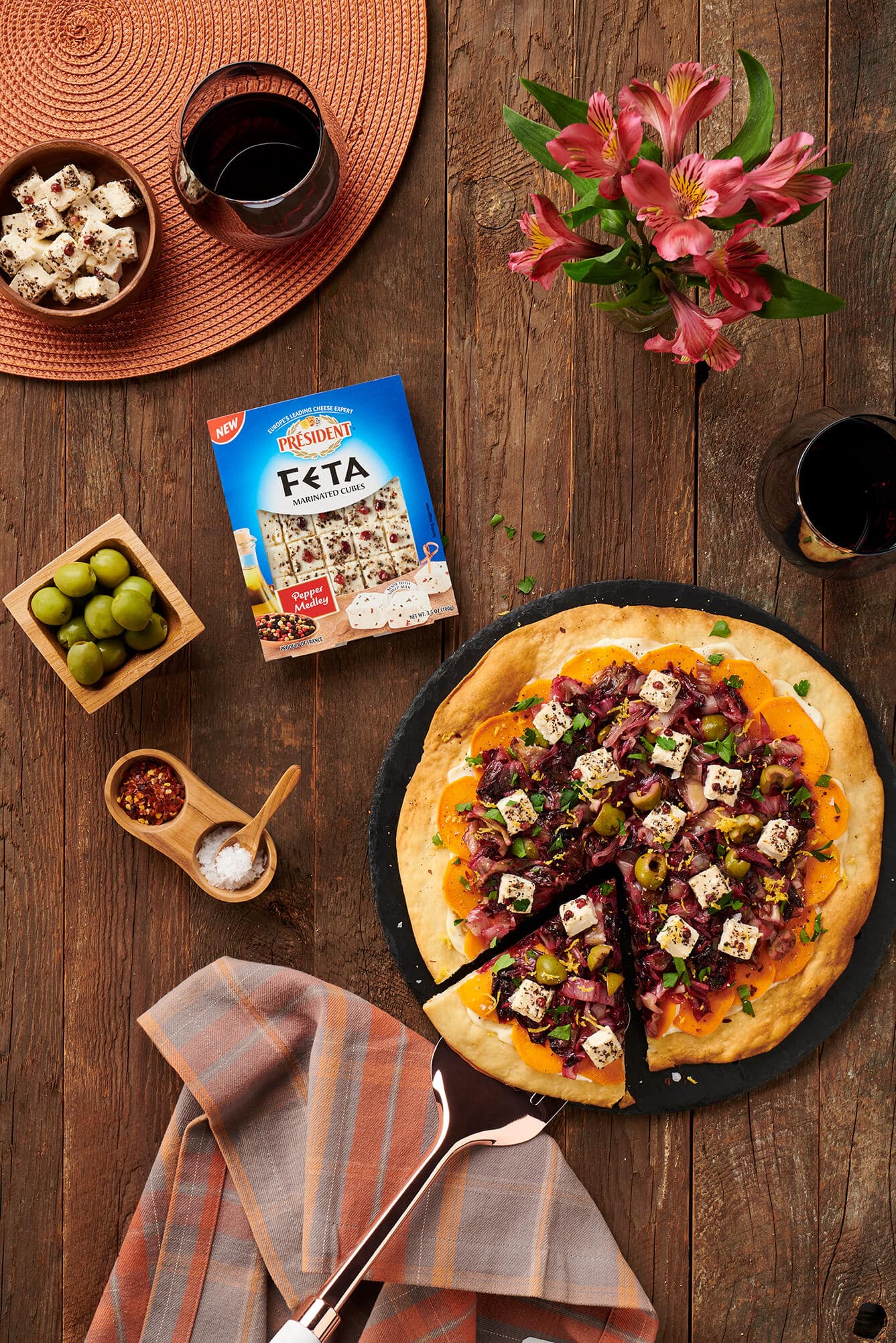 What is Feta Cheese?
Where Does Feta Come From?
Feta is one of the world's oldest cheeses for a reason. This soft and creamy fan favorite is traced back to 8th century Greece – the iconic cheese is even referenced in Homer's Odyssey! The salty and tangy flavor is what makes it so recognizable as a staple in Greek cuisine.
Characteristics of Feta
This cheese is popular for its flavor and the many ways it can be used. Président® Feta cheese comes in many forms including marinated cubes, goat cheese, crumbled or chunk. Traditionally, feta is made with sheep milk or a blend of sheep and goat milk.
Serving Feta
The versatility of this cheese makes it a go-to in the kitchen. When crumbled, it's a perfect last-minute garnish to elevate your salads, pizzas and flatbreads to the next level. Add a little lemon juice and oil and you can quickly blend it to create a refreshing summer dip! It can even stand on its own as an appetizer, just remember to wait until the cheese has reached room temperature before serving.
Did you know, feta melts quickly and easily – making it a perfect addition to your weeknight dinner routine.  Use it as a filling for stuffed peppers or savory pastries. You can also incorporate it into your brunch lineup by baking it into a tart or crumbling it on top of some bacon! Quick pro tip– you can even substitute feta in when a recipe asks for queso fresco, adding a Mediterranean flair to classic dishes.
Pairing with Wine and Cheese Boards
This cheese is salty and acidic, which means it needs a fresh wine that can match its acidity. A structured Sauvignon Blanc or dry Riesling pairs well with feta. A crisp white blend would also hold up against this cheese's zesty tanginess. If you're using it on your cheese board, its accompaniments should be just as briny– think cornichons, olives, or sundried tomatoes. On the other hand, you can complement the saltiness with something light and sweet, like peaches, red bell peppers and even watermelon!
Storing Feta
Once opened, crumbled feta typically lasts several days in the refrigerator. Although, it's always best to enjoy it fresh and follow the "best by" date on the packaging.