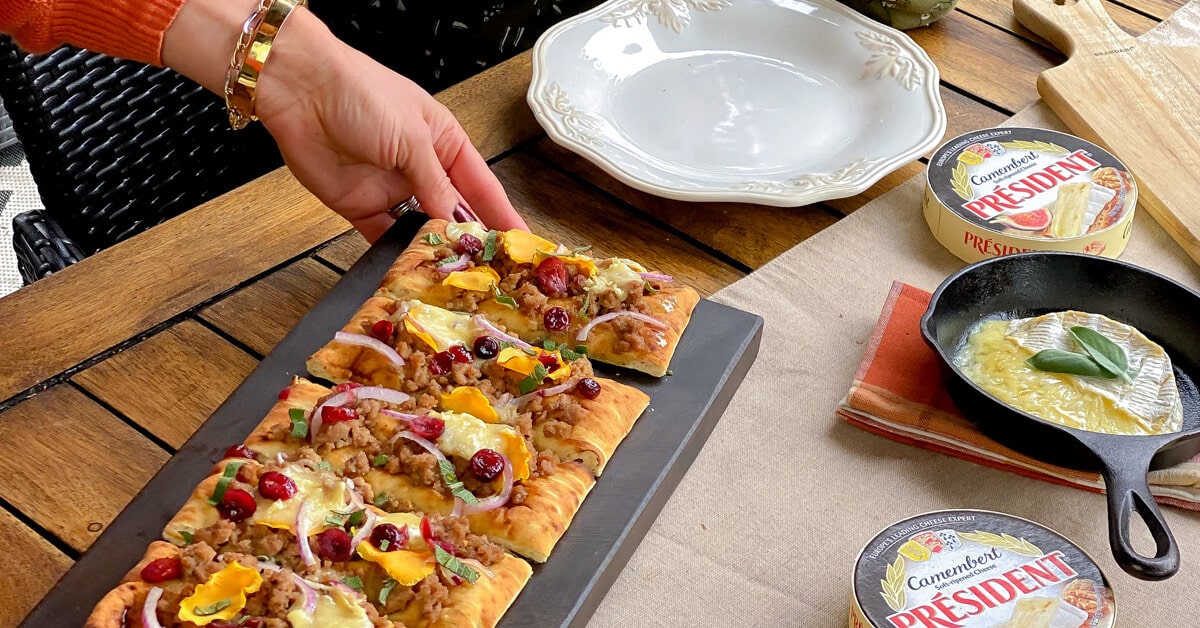 12 Bite-Sized Recipes to Enjoy This Thanksgiving
In a year filled with new routines, plans and traditions, Thanksgiving will look a little different. One thing that doesn't have to change is the savory seasonal flavors packed into a Thanksgiving meal. Instead of passing food around the table, we've gathered some of our favorite individually portioned recipes (for guests to serve themselves) and partnered with Aleka from Bite Sized Kitchen to bring a few classic dishes to life for safe enjoyment over the holidays.
Thanksgiving Appetizer Recipes
---
An important precursor to the main affair, these individually portioned appetizers will set the stage for the rest of your meal and are easy to share.
This Canapé cracker recipe with caramelized onions featuring rondelé by Président Garlic & Herbs is packed with umami flavor and finishes with a delightful crunch.
Recipe created by Aleka of Bite Sized Kitchen
With Looking for something more sweet and savory? Try our Président Brie with Truffles and Honey.
If a more filling option piques your interest, this Baked Camembert Bread Wreath is a guaranteed favorite (and a festive addition to your holiday spread).
If you're in need of something more flexible, this Ultimate Winter Cheese Plate will have something for everyone in the family to enjoy.
Thanksgiving Side Recipes
---
Since each individual serving is carefully curated to deliver the delicious flavors of an entire Thanksgiving dish, these sides will compliment holiday staples like turkey and ham while creating the taste of a home-cooked meal in every bite.
A seasonal twist on pizza made with shaved pumpkin, maple flavored sausage and creamy Camembert cheese.
Recipe created by Aleka of Bite Sized Kitchen
Serve these savory sweet potatoes alongside your turkey in place of that sweet potato casserole.
Recipe created by Aleka of Bite Sized Kitchen
A spectacular combination with a satisfying crunch, you won't be able to have just one of these melted Brie and brown sugar-glazed bacon bites.
Bring some heartiness to the table with these rich and creamy potatoes with chopped scallions.
Thanksgiving Dessert Recipes
---
A Thanksgiving feast isn't complete without a little something sweet. End your meal with these perfectly portioned desserts.
Everything you desire in a delightful finish, this buttery pastry is topped with goat cheese and combines sweet, tart and crunchy elements.
Recipe created by Aleka of Bite Sized Kitchen
Give your table a touch of elegance with this citrusy take on one of France's most iconic pastries.
This savory holiday treat is full of flavor and easy to prepare.
A delightful alternative to the traditional dessert, this rich and creamy cheese board is a long-time European favorite.
Whatever your holiday celebration looks like this season, try an á la carte menu that allows each guest to indulge in their holiday favorites safely without sacrificing any of the delicious classics.
Find Président® Products Near Me
---
About Bite Sized Kitchen:
Aleka is a mother of two boys, self-taught chef and entertainer at heart. When asked, "Why Bite Sized?" she simply responded, "because the best conversations revolve around food, why not have a spread out the entire party where guests can pick and nibble the entire time!?" Bite Sized Kitchen