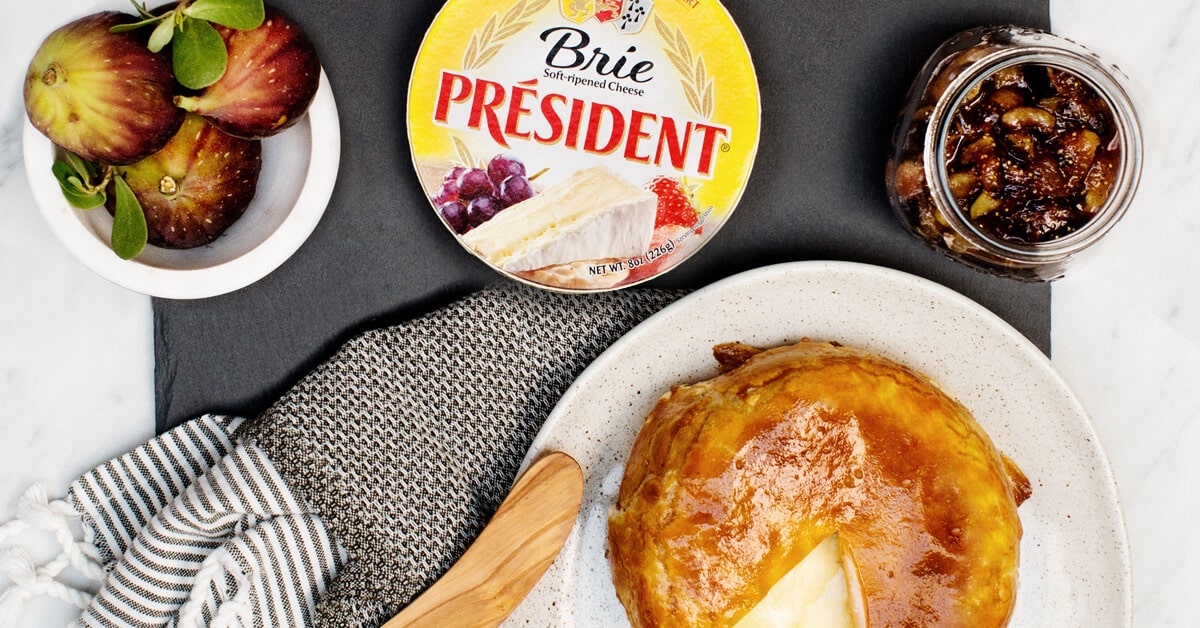 The Ultimate Brie Guide
For all there is to know about Brie, this is your guide. From the history of Brie, to how to serve it, cook it and pair it. Use this guide to not only inform yourself, but to explore inspirational recipes and other related Brie posts.
Dive in and learn about all of the ways to use and enjoy France's most iconic cheese.
The Brie Basics
Notably, France's most famous cheese is Brie. Originating from the region of Le Brie, about 1-hour east of Paris, this creamy and buttery cheese was often gifted as a tribute to French royalty. The "Queen of Cheeses" has remained a staple at parties and get-togethers throughout history.
The Président® brand has been bringing the artisanship and tradition required to make the perfect round of Brie, making us the #1 Brie brand in France and the U.S. As Europe's leading cheese expert, we'll be your guide for everything you need to know about Brie – from how it's
made to how to serve it.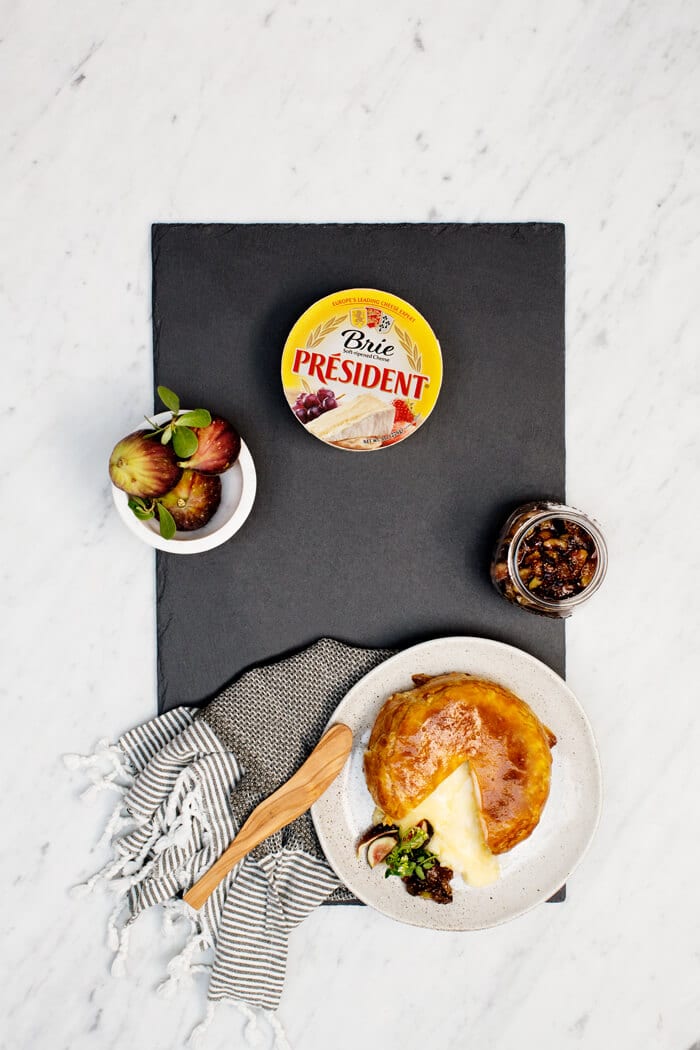 Baked Brie with Figs
How Is Brie Made?
Président Brie is made with cow's milk, which is how Brie has been made traditionally, however you can also find goat's milk Brie. Brie is made with rennet and warmed up to 37º Celsius to obtain the curd and most of its flavor. Once the perfect texture is achieved, it's ladled into the round molds where it sits for up to 18 hours. Then, the cheese is carefully salted before it's aged. The aging process allows the rind to bloom, creating a thin protective exterior.
Once properly aged, the Brie is ready to be enjoyed! Brie has a mild, buttery and creamy taste which is what makes it so versatile to pair and cook with. If you're new to Brie, we recommend enjoying the cheese with its rind, in order to appreciate the subtle nuances in its flavor. Often people think that the rind on Brie isn't edible, but this isn't true. The rind on Brie is completely edible and actually enhances its flavor over time, adding a bloomy and earthy complement to the paste's mild taste. To get the best bite of Brie, wait until the cheese reaches room temperature (at least 30 minutes after being taken out of the refrigerator). This gives the cheese time for the enzymes to regenerate, reaching its fullest flavor and creamiest texture.
While shopping for Brie, you'll notice that there are different variations such as Président Double Crème, Président Triple Crème Brie, and even a Brie Log for a more snackable Brie option. To explore all of the Président Brie options, click here. The main difference is the amount of cream used to make the cheese, so Triple Crème would have the most cream. This makes the Brie taste butterier and gives it a creamier texture.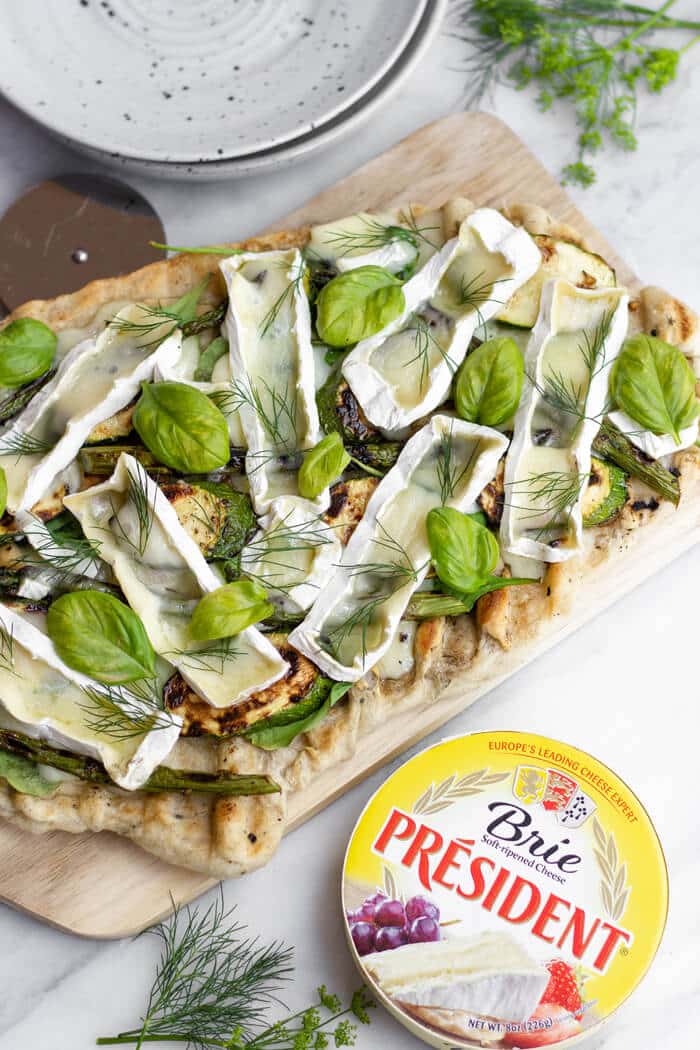 Farmer's Market Grilled Pizza
Best Ways To Cook & Serve Brie
Although known for its classic status on the cheese board, Brie is also incredibly versatile to cook with. Brie is best served at room temperature or warmer, making it great to bake for dessert, grilled for a smoky appetizer or even pressed for panini sandwiches.
Sandwiches & Wraps
A lunchtime staple with endless combinations, yet we often revert to tried and true sandwich recipes. If you're finding yourself in a bit of a rut, try elevating your sandwich with Brie cheese. Combine Président Brie, caramelized onions and apricot preserves, and then press in a panini press for a warm, gooey Brie meal. You can find the full recipe here.
If you don't have a panini press, check out this turkey wrap for a delicious way to eat through Thanksgiving leftovers. Tart cranberries bite through creamy Brie and sweet honey mustard in this slimmed-down Thanksgiving dinner – all the deliciousness with none of the post-meal sleepiness for a quick and light lunch break.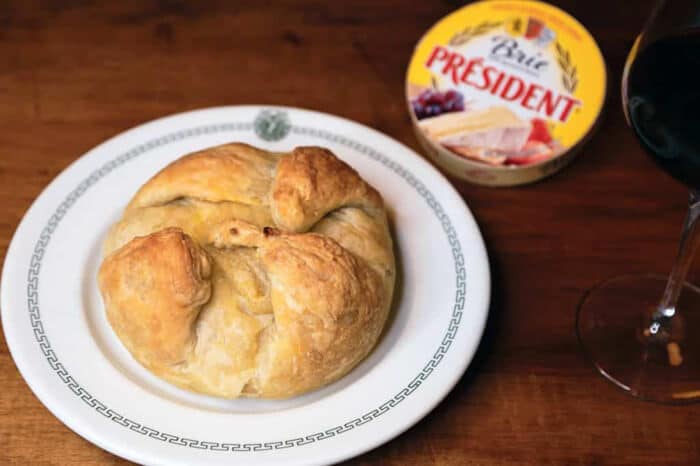 Brie En Croute
Bake
Baked Brie is a delicious and indulgent treat that can be dressed as a sweet appetizer or a savory entrée. The main trick here is to bake the Brie to point that it is gooey, but not completely melted so that it can hold its form. Another option is to wrap the Brie in puff pastry and bake it, this method is called Brie En Croute. For a detailed guide on baking Brie and all the ways to prepare it, check out our full guide: How To Make Baked Brie
Grill
Another way to cook Brie is to grill it! The texture will be similar to baking Brie, gooey, but will have a hint of smokiness from cooking over a flame. It's a simple and quick way to infuse a little extra flavor into this mild cheese. For best results, score the top of the Brie round a little bit and then wrap it in aluminum foil before grilling it. For more inspiration, read our full article on Campfire Brie.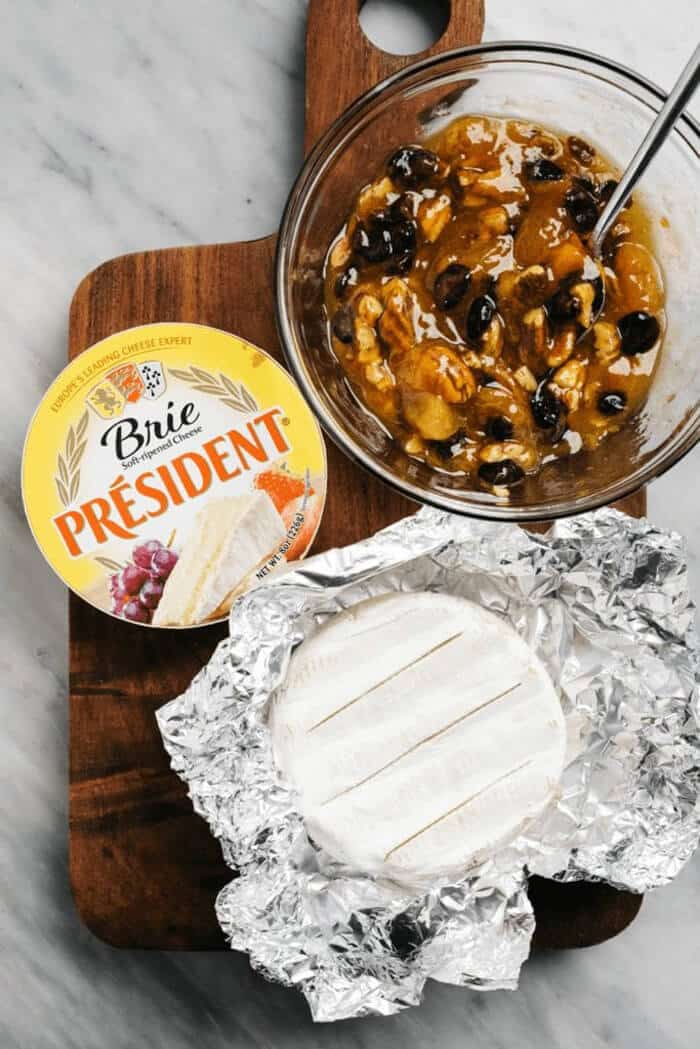 Grilled Brie
Fondue
With the holiday season fast approaching, entertainers are hard-pressed to think of unique small bites to safely bring people together. This recipe for Fondue Ricotta Brie is such a fun, untraditional way to enjoy Brie cheese. Brie is melted completely with Ricotta for a velvety rich fondue, add in some crispy prosciutto and garnish with sliced almonds, red pepper flakes and parsley for additional flavor and texture – your guests won't be able to stop talking about it.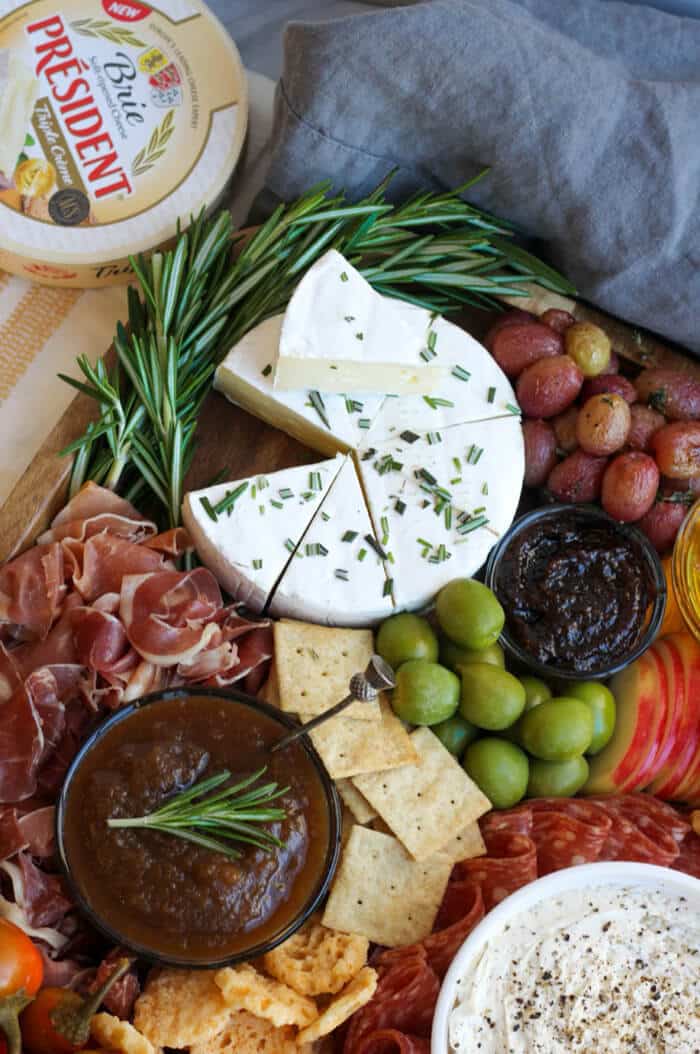 Grazing Table
Cheese Boards
This is one of the most popular ways to serve and enjoy Brie. The rest of this guide will dive into all the flavors and foods to pair with Brie, but the main rule of thumb to follow when preparing a cheese board is to order the cheeses from the mildest to the strongest. Unless you are using goat cheese, the mildest cheese will almost always be the Brie. You will also want to make sure that you place each cheese's corresponding accompaniment near the cheese on the board. For seasonal cheese board inspiration, click to this recipe for an Autumn Cheese Board. The Président brand website also has numerous cheese board recipes sure to enhance any occasion or gathering.
Brie Food Pairings
Brie has a mild and bloomy flavor profile and creamy texture which makes it easy to pair with an array of foods. This cheese isn't overpowering, so it's a simple way to enhance the flavors of its accompaniments.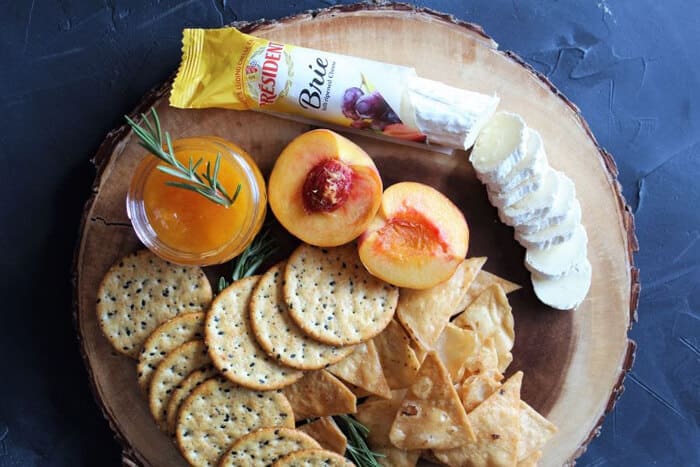 Brie Log with Rosemary Infused Peach Jam
Fruits
Brie loves being paired with sweet fruit, particularly stone fruits like peaches, figs, apricots and plums. The sweetness and juiciness of stone fruit is a lovely combination with the Brie's creamy texture, making for an easy yet indulgent treat. If stone fruit is out of season, pair Brie with grapes and berries. It's no surprise that grapes complement virtually any cheese, given their relation to wine. Président Brie's creaminess cuts through the slightly citrusy taste of grapes resulting in a delightful balance of flavors. Similarly, the tart flavors of berries and apples also contrast Brie. Fresh blueberries, blackberries, strawberries and apple slices enhance Brie's bloominess for a fresh late summer combination.
If you're looking to go a sweeter route, try cooking Brie with fruit. Caramelized plums and Baked Brie or Apple and Brie Crostatas are sure to give you all the warm and fuzzy feelings as the colder weather sets in. Featuring Brie on a dessert cheese board or a more customizable baked Brie? Adding jam and fruit preserves is the easiest way to infuse a little sweetness in your Brie dish.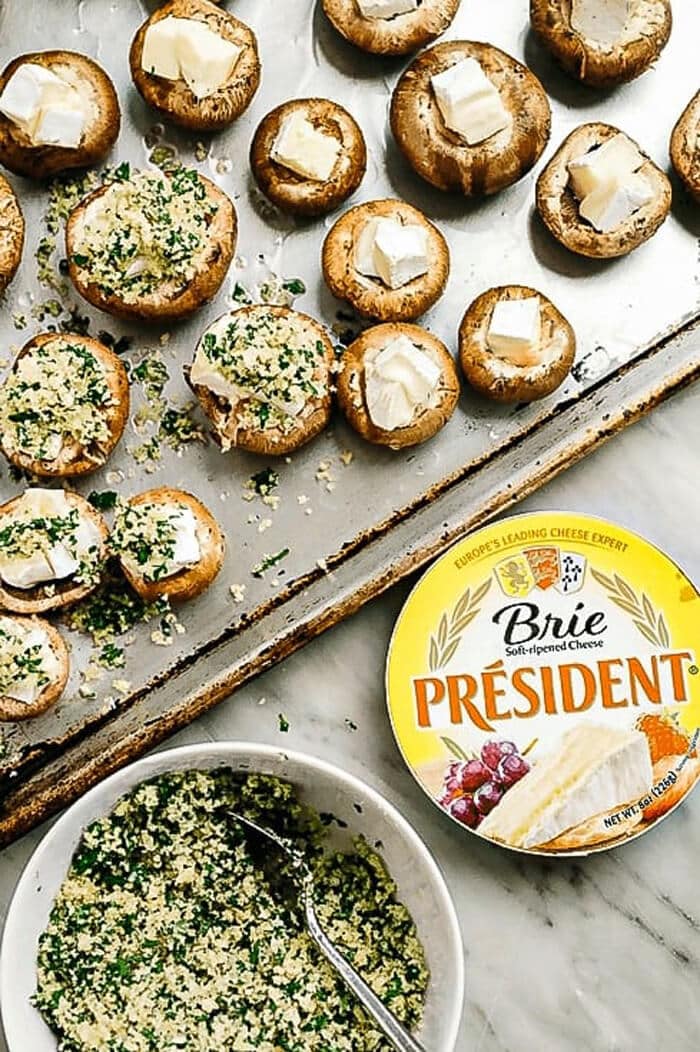 Brie Stuffed Mushrooms
Veggies
Vegetables and Brie have a more similar flavor profile, both are mild and can be earthy. The umami flavor of mushrooms, in particular, brings out the earthiness of Brie. Try Brie with mushrooms, rosemary and olive oil on your next pizza night for an herby twist on a classic dish. Another great option is combining caramelized onions and Brie for a savory-yet-sweet appetizer. Perhaps the simplest route is to emphasize Brie's buttery flavor by adding it to a fresh salad. Simply said, because vegetables and Brie are equally versatile, there's virtually no wrong way to incorporate them. Let your favorite veggies guide your Brie creations in the kitchen.
Proteins
We've touched on the creamy texture and buttery flavor of Brie throughout this guide, so it's no doubt that this cheese is absolutely delicious with proteins. In fact, you can think of adding Brie to your meat entrée almost like incorporating butter. Brie's mildness is an ideal canvas for the smoky, salty and savory flavor profile of meats and smoked fish. The creamy texture holds the marinades while complementing the meats' briny texture for a delicate yet complicated combination.
The Président Recipe Page has numerous recipes featuring protein and Brie for your inspiration. But a few favorites are the Brie Sliders with Peppers, perfectly bite-sized game-day fare. The Brie and Bacon Bites are an appetizer fan-favorite along with the Prosciutto Wrapped Brie with Figs, which fit right in at any winter holiday soirée. This recipe for Brie Stuffed Pork Chop is savory, juicy heaven – add in the crunchy walnuts and apples and oozing Brie, and your pork chop game has just stepped up to the next level. Last but not least is this Brie And Smoked Salmon Salad. Even though it's light, it packs a big flavor. Fresh strawberries cut through the chopped red onion, paired with a perfectly seasoned salmon and creamy Brie for a filling summer salad.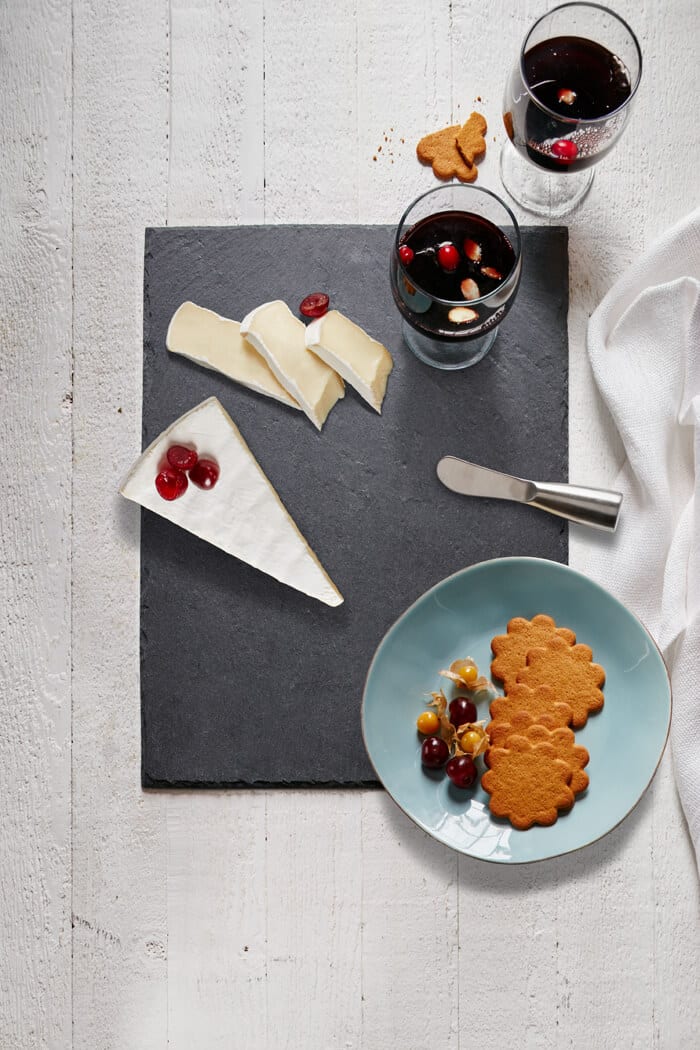 Glogg & Triple Crème Brie
Breads & Crackers
Is there anything better than cheese and bread? This pair was simply made for each other. And the best part is that there are so many ways to customize this combo that there's something to suit any occasion and anyone's taste.
The best crackers for Brie will be driven by your personal preferences, so it's important to try out the cheese with various crackers. Brie is such a versatile cheese with a smooth texture that it really loves the crunch of a good cracker. Some suggestions: An herby cracker with rosemary, garlic and thyme. Add some olive oil and truffles and you have a savory, earthy snack to tie you over between meals. A dessert option would be pairing Brie with gingerbread cookies, especially Triple Crème Brie. This ultra-creamy Brie almost acts as the icing on top of the crunch from these slightly sweet gingerbread cookies.
Not a cracker person? No worries. Bread is a staple at any table, but if you want to get the most out of a bread and Brie pairing read on.
Pumpernickel is wonderful with Brie, it's slightly sweet-yet-sour taste complements the buttery flavor of the cheese. Make sure to toast the pumpernickel to add a little crunch and warmth to your Brie. Another tasty option is to pair Brie with garlic bread! Brie and garlic is a delicious, savory pair and a one-step way to elevate your garlic bread, top it off with that classic garlic bread crunch and you have an irresistible appetizer.
Of course, we can't talk about bread and crackers without touching on pizza. A weekend staple, pizza is one of those foods you can't get tired of and for good reason – there are endless variations from toppings to sauces and cheeses. This recipe for Grilled Farmer's Market Pizza is a great way to use a bunch of veggies. Top it with mild Brie slices and throw it on the grill for a wood-fired taste made in your own home! If you're looking for an easy and elevated dinner idea for a date-night-in, look no further than this Brie and Prosciutto Pizza. This gourmet pizza starts with a tomato-garlic sauce topped with Brie, savory prosciutto and briny black olives for a sophisticated take on classic pizza flavors.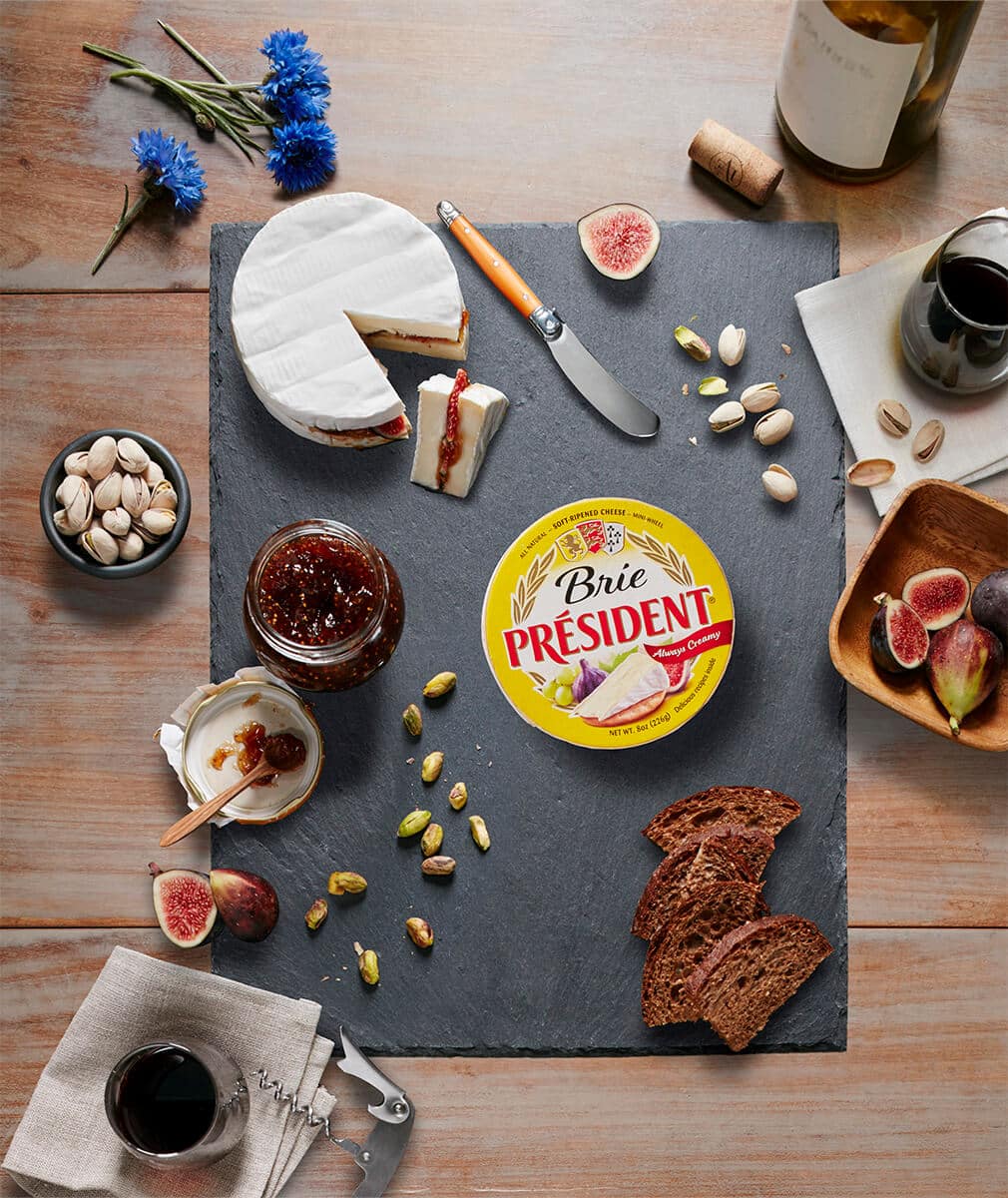 Brie with Pistachio and Pumpernickel Bread
Beer & Wine
The beverages are the final touch when serving Brie. Whether you prefer a glass of vino or a craft brew, there's a pairing option for you. A good rule of thumb when exploring wine and beer options is to take a look at the flavor profile and think if they're complimentary to Brie, based on what has been outlined in this guide. For example, a raspberry Kolsch would make a fruity, bubbly Brie accompaniment. While red wines that use currants to create a jammy flavor would also pair well with the cheese.
When pairing Brie with wine, it's important to think about which flavor or texture of the Brie you want the wine to bring out, matching the acidity level, and balancing the flavors. If you want to accentuate Brie's creaminess, open a bottle of Chardonnay or Sauvignon Blanc. For white wine, these two have a full body that can match Brie's richness and the acidity to cleanse the palate to keep it from becoming too overwhelming.
For life's celebratory occasions, pair Brie with a crisp Champagne. The bubbles really open up the Brie, enhancing its flavors. For Hors d'Oeuvres and party inspiration, check out our article on how to host a Champagne and Cheese Party. If you're serving Brie as a dessert and want to focus on its buttery sweetness, add a Riesling to your table. This wine is slightly dry but will still accentuate Brie's fresh sweet flavor.
If you prefer red wine, serve Brie with a mild Syrah or red blend to introduce some jammy flavors. Brie plays just as well with darker blends. Pop open a bottle of Pinot Noir to pull out Brie's earthiness. This old-world wine can match this cheese's flavor without overpowering it. Another option is a playful, tart Beaujolais to pull out the tangy flavors of Brie and downplay its creaminess.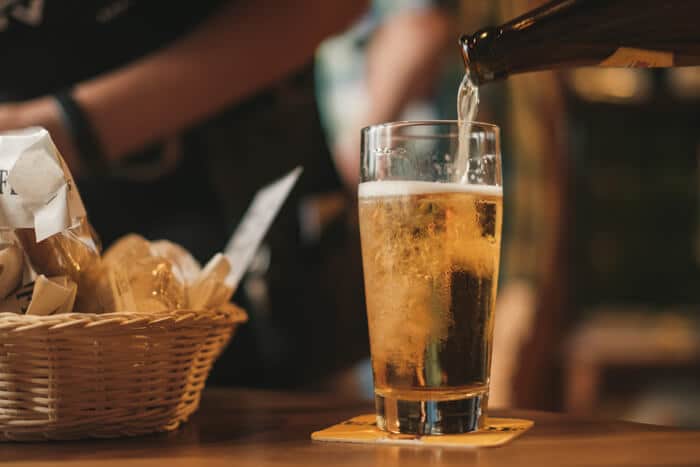 Similar to wine, when pairing beer with Brie you want to make sure it's either cutting through the creaminess or opening up the flavors. Wheat beers with citrus hops will open up the flavor with their bubbles but keep the flavor light so that the creaminess doesn't become too indulgent. Some recommendations here are a Berliner Weissbier or a Doppelbock. Another safe bet would be to select fruity beers like a raspberry Saison or a funky sour brew for an interesting Brie pairing. There's no wrong way to pair beer and Brie, just make sure to sample a couple of options before serving.
Brie is a classic cheese with a rich texture and a rich history to match! It's sure to add an indulgent and sophisticated touch to any meal, cheese board or snack without being too overpowering. Go ahead and try Brie in new ways and be sure to share your creations with us by tagging @presidentcheese on social media.